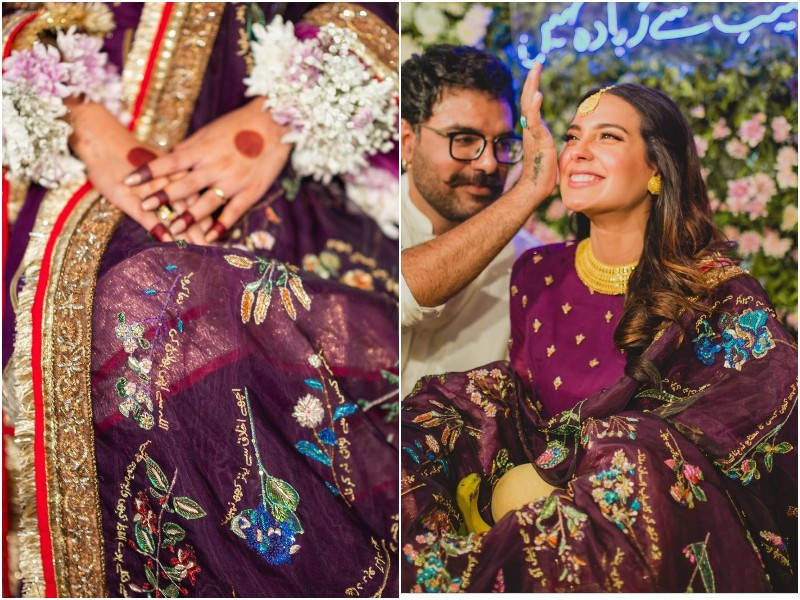 ---
Popular actors Iqra Aziz and Yasir Hussain revealed they are going to be parents soon on their social media yesterday, leaving fans and fraternity members in awe.
The duo shared a series of adorable pictures from the prior's Godh Bharai, which saw her donning a traditional purple peshwas with intricate golden embellishments paired with a gharara featuring gota work.
The dupatta of her dress, however, had another story [read stories] to tell, which were narrated by the dress's designer, Fahad Hussyn.
Hussyn's official Instagram page shared its own set of photos from the actor's Godh Bharai, a rasam rarely observed anymore, and informed its followers about Iqra's organza dupatta, which apparently carried a 100 duas (prayers) for the baby that is due in July.
Looks like the Ranjha Ranjha Kardi actor took the trend of weaving one's groom's name onto the dupatta of their wedding ensemble a step further. And for this auspicious occasion, there's no questioning why she wanted to needle it down.
Hussyn's posts captioned, "We congratulate lovely couple Iqra Aziz, Yasir Hussain and soon to be family, [and wish them] a happy, healthy and prosperous life. We loved to be a part of your new beginnings. The design of [Sau Duaien] is especially curated with lots of love to celebrate Iqra Aziz's motherhood. 100 handcrafted prayers with embellishments and zardozi work have been written on the dupatta!"
When looked closely, advices like "ilm sub say bari daulat hai (knowledge is the greatest wealth)" and "logon ke saath bhalai karoge toh log bhi tumharay saath bhalai kareinge (if you're kind to others, others will be kind to you)," could be seen embroidered onto Aziz's dupatta.
But while many lauded the thought process that went into this creative labour, several others argued why prayers, involving the name of God, had to be interwoven onto a cloth which would eventually dwindle on the floor or be sat on. Nevertheless, the Suno Chanda starlet has not addressed these reservations as yet, and seems to be focusing on the positivity, which needs to be around her at the given time.
Have something to add to the story? Share it in the comments below.