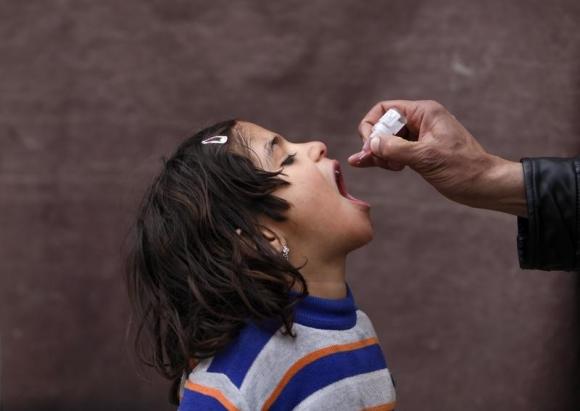 ---
LAHORE:
As polio cases are still surfacing in the country, Punjab Polio Control Programme is actively struggling to eradicate the viral infection.
In the face of adversity faced by those who fall prey to the poliovirus, 20-year-old Kashif Bari, a resident of Lahore, is doing his role in connection with awareness to parents who are still vaccine deniers and refusing to have their children vaccinated. Kashif, who is an anti-polio campaigner in the city, moves to various localities of the city simply to educate and encourage parents to immunise their children by having the anti-polio drops administered to them.
Although 2021 has so far had no active polio case identified in Punjab, as compared to last year's 20 polio cases confirmed by the polio control programme, thousands of lady health workers as well as polio workers were making hectic efforts by running a campaign to eradicate the endemic viral infection. Among these thousands of polio workers, Kashif remains a unique worker, who himself is a victim of the poliovirus.
The poliovirus affected his legs when he was a child. As a result of this, he cannot walk properly but he is doing his best to eradicate polio from the province.
Kashif is an example of determination and resilience in the face of such adversity for other polio patients as his condition did not stop him from completing his college and being recruited as a polio worker for the provincial polio control programme.
Also read Punjab's polio risk districts test negative
Speaking to The Express Tribune, Kashif shared, "I was seven months old when I contracted the poliovirus. There is no doubt that vaccine hesitancy did this to me. Vaccine rejection and hesitancy leads to many children being denied the right to be immunised against this poliovirus."
It was my bad luck that now I am suffering due to the mistakes made by society when I was growing up, he lamented.
"I do not want this to be the fate of other children. It started when I suffered fever and that fever hit my legs, especially the right leg. After a few days, the doctors told my parents about poliovirus and also told them that now I cannot walk properly ever again."
The anti-polio campaigner further said that he suffered during his school days as well. "Polio is a disease which has no treatment."
I now work for the provincial polio control programme, he highlighted. "My job here is to monitor polio campaign and encourage parents to administer the polio drops to their children. I specially visit the homes of such parents who deny the vaccine to their kids and convince them by sharing my own painful story."
There a number of parents whom I successfully convinced as earlier they were also denying vaccine for their children due to misinformation regarding the polio drops, he elaborated.
Reportedly, this year, 17 cities including Lahore, Multan, DG Khan, Rajanpur, Rawalpindi, Rahim Yar Khan and Faisalabad had environmental sample tests which were declared negative by the polio control programme.
Published in The Express Tribune, May 3rd, 2021.