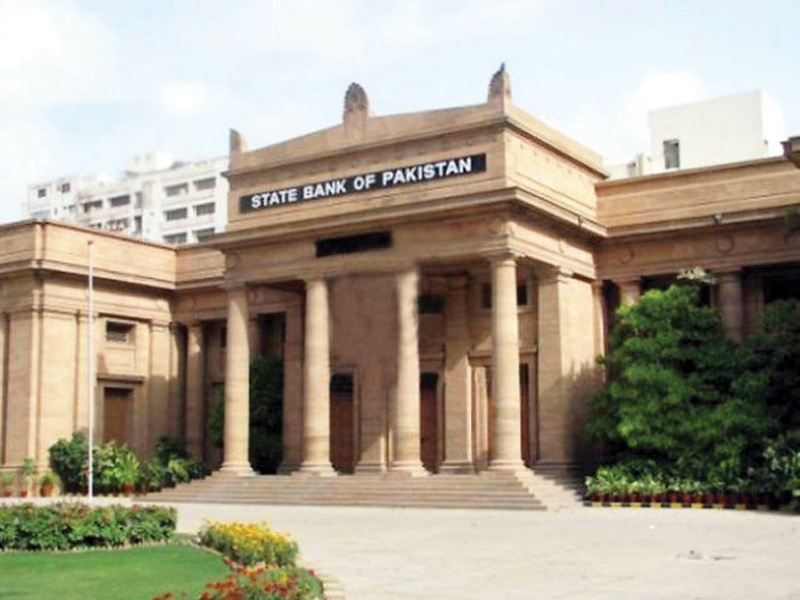 ---
KARACHI:
The International Monetary Fund (IMF) says Pakistan's economy can grow 1.5% this fiscal year. The World Bank says it can grow just 1.3%. But the State Bank of Pakistan (SBP) governor still believes the country's gross domestic product (GDP) can expand as much as 3%.
He proudly points to a strong recovery in large-scale manufacturing, better prospects of agricultural growth, meteoric rise in remittances, uptrend in exports and reversal of current account deficit as key indicators of a strong economic recovery.
And, he is right to a great extent. That is why independent economists have also started questioning growth projections of the IMF and World Bank.
One key element of strong economic recovery is private sector credit offtake. And, luckily Pakistan has started doing better on this count, too.
In nine months of current fiscal year, between July 1, 2020 and April 2, 2021, banks' net lending to the private sector went up to Rs444.5 billion from Rs332.8 billion in the comparable period of last fiscal year, according to SBP statistics.
Increased private sector lending by banks indicates that businesses are doing better than before. Some businesses are seeking working capital from banks as demand for their products has gone up, some businesses are seeking funds for capital expenses for balancing, modernisation and replacement (BMR) and some are using bank funding for augmenting their existing fixed investment.
All this means they see greater future demand for their goods and services and more upbeat spending trends by consumers.
On the other hand, part of the private sector lending by banks is directed towards end-consumers in the form of mortgage finance, auto finance or personal loans for purchase of household items or for meeting higher expenses on health, education, etc.
Read: Economy to maintain recovery pace
Points to ponder
That said, a few things cause concern and need to be analysed carefully.
First, the upswing in private sector lending by banks to businesses and consumers is largely due to the fact that Pakistan's economy shrank 0.4% in the last fiscal year and full fiscal year private sector lending tanked to just Rs196 billion.
Second, the current higher trend in private sector borrowing owes much to interest rate slashing – from 13.25% to 7%.
And third, whereas nine-month private sector lending in FY20 was as high as Rs332.8 billion, it fell to Rs196 billion in the final quarter. This means the nine-month private sector lending of Rs444.5 billion in this fiscal year may also see a declining trend in the April-June quarter. Or, at least it cannot increase much in the last quarter.
In Pakistan, the private sector lending normally starts picking up in the first quarter of a new fiscal year, ie July-September, rises in the second quarter, peaks in the third and then declines in the fourth.
We have seen some deviations in this pattern in the past – either due to interest rate adjustment or due to above-average economic growth or contraction. But by and large this trend holds.
In the fourth quarter of FY21, one can expect such a deviation from the historic trend for two reasons.
First, hundreds of billions worth of concessionary loans approved by the SBP since March 2020 are in the pipeline. Secondly, even non-concessionary loans are low-priced and the central bank has clearly indicated in its monetary policy statement that low interest rates are here to stay for a while.
This means that unlike past when businesses and consumers used to be unsure of interest rate movements and wanted to clear all debts of previous year before June, this year they are not in such a hurry.
Another thing which gives hope that private sector lending will not come down in April-June of this year is that the agriculture sector is doing well and agricultural credit demand also remains stronger than what it used to be in the last quarter of previous fiscal years.
Besides, banks nowadays are awash with liquidity and can afford to lend generously to the private sector as well as the government with equal ease.
In nine months of FY21, they have already lent Rs1.97 trillion to the federal government, up from Rs1.51 trillion in nine months of previous fiscal year.
Read more: PM hopeful Tarin will turn around economy
Political conditions
However, the higher bank funding for the private sector in a low interest rate environment alone cannot guarantee stronger performance of the private sector in the absence of political stability and good governance.
The current political situation in Pakistan can hardly be termed stable and the recent Lahore incident has exposed all claims of good governance.
What compounds the problem even further is the surge in third wave of the Covid-19 pandemic. Mini and smart lockdowns, shortened business timings and two-day market closures, necessitated by the rising cases of Covid-19, are sure to decelerate the ongoing economic recovery to a certain extent.
If political polarisation is allowed to grow and if the writ of the government is not established affecting the overall law and order situation, then there seems to be little hope for the economy to expand 3%.
So, all federal and provincial governments and all political forces must join hands to avoid a slower-than-required GDP growth.
We all know that in the backdrop of 0.4% economic recession, a 3% growth is just what is required to avoid a vortex of joblessness and pain-inflicting fall in people's net income amidst a high 9% inflation.
The writer is a mechanical engineer and is doing masters
Published in The Express Tribune, May 3rd, 2021.
Like Business on Facebook, follow @TribuneBiz on Twitter to stay informed and join in the conversation.
COMMENTS
Comments are moderated and generally will be posted if they are on-topic and not abusive.
For more information, please see our Comments FAQ