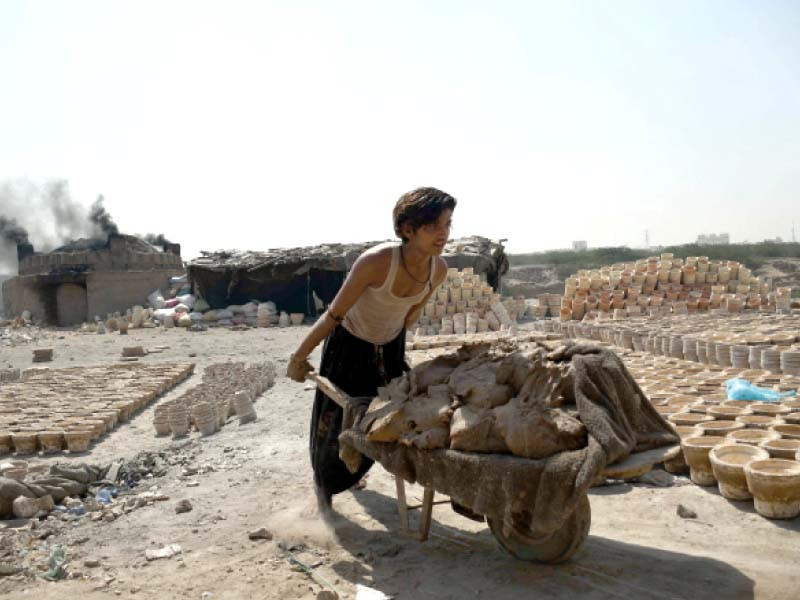 ---
KARACHI:
Pakisan's first and only National Child Labour Survey (1996) revealed that over 3.3 million children in the country were trapped in child labour, a quarter-of-a-century ago. More than two decades later, although the number of children in the workforce has surged exponentially, the unavailability of updated statistics has been a major obstacle for child rights advocacy.
However, after a painful gap of 25 years, the provincial government has finally started working on conducting a fresh child labour survey, preparations for which are reported to be underway.
The census, according to Sindh Labour Department Focal Person Ghulam Nabi Memon, will be conducted in collaboration with the United Nations Children's Fund (UNICEF).
Read: 'Free education vital to end child labour'
Explaining survey strategy, Memon said that the Provincial Labour Department plans to appoint enumerators, who will be provided with digital tablets for on-spot entries in the field. "The enumerators will be required to go through a short training course in Karachi, following the completion of which they will progress to fieldwork. We have set December 21 as the tentative deadline for completing the survey, but it may take more time due to the coronavirus situation at hand," the focal person informed.
Although the country currently stands at the risk of major cities being shut down due to ballooning Covid-19 numbers, the provincial labour department has already started booking room in Karachi's two and three star hotels for the lodging and boarding of its survey enumerators and other staff.
Per Memon, the training sessions will be conducted over a period of two to three weeks. While opting for video-conferencing, can possibly save the department a significant amount of funds and be more pandemic-friendly, the focal person believes the option may not be as viable for conducting training sessions at a district level. "It will be easier and more useful to conduct training sessions for the all enumerators at one place," he commented.
According to rough estimates, the number of child labourers in the country has climbed from 3.3 million in 1996 to over 20 million in the last 24 years. Which directly corresponds to over 20 million children who may be deprived of health, education and various other childhood rights.
"All out of school children in the country are considered to be child labourers. Presently some 20 million children are out of school in the country and we believe all of them are involved in child labour", opined Society for the Protection of Rights of the Child (SPARC) Provincial Representative Kashif Mirza while talking to the Express Tribune on the matter.
Data and information provided by the SPARC representative further suggested that Karachi, being a densely populated industrial hub, offers the worst forms of child labour across various industries. Yet however, it is rural Sindh, where the practice of bonded child labour is still widely popular, thereby stripping thousands of children of their right to all freedom and autonomy.
Read more: Corporal punishment continues to squander child rights
The Sindh government had introduced Sindh Prohibition of Employment of Children Act, 2017 and had banned employment of children under the age of 14 years. Following which, the province introduced its first ever labour policy, a year later in 2018. Doing so, it vowed to take serious measures to regulate and control employment of children in certain occupations and processes considered hazardous and injurious for their health.
Resultantly, the current law prohibits children under the age of 14 from working in the industrial sector while proscribing children between the ages of 16 and 18 years from engaging in hazardous working conditions. However, millions of children still remain embroiled in the most challenging working conditions, often against their will owing the many improper implementation of policy and lack of updated statics. Thus it is hoped, the latest survey, with the provision of relevant figures, will help the government and advocacy groups better understand the issue and work towards a child labour-free province.
Published in The Express Tribune, May 2nd, 2021.
COMMENTS
Comments are moderated and generally will be posted if they are on-topic and not abusive.
For more information, please see our Comments FAQ