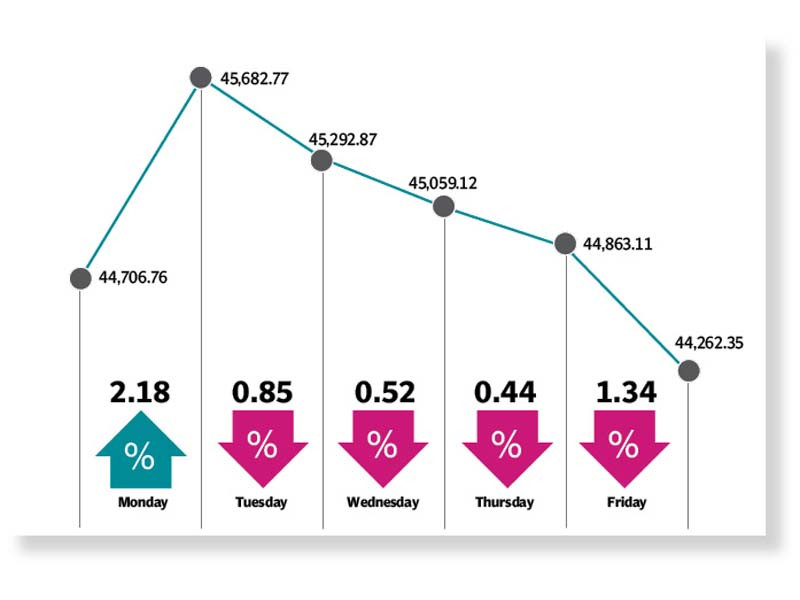 ---
KARACHI:
The outgoing futures rollover week at the Pakistan Stock Exchange (PSX) was marred by bearish trade as the KSE-100 index shed 445 points or 1% to settle at 44,262.35 points amid growing fears of lockdown as warned by the National Command Operation Centre (NCOC) in the wake of rising coronavirus cases.
During the week, trading remained under pressure on back of concerns regarding rising coronavirus infections, news flows citing stricter lockdowns and government's decision to reduce business timings.
A sharp rise in fatalities in Pakistan and neighbouring countries forced the government to take action in order to curb the spread of Covid-19, which did not bode well with the participants and prompted them to divest their stakes.
Trading kicked off on a refreshing note on Monday as the benchmark KSE-100 index surged nearly 1,000 points with vital support coming from upbeat economic numbers.
Read: KSE-100 ends rollover week in red
According to data released by the State Bank of Pakistan (SBP), the cumulative surplus in the current account balance improved close to $1 billion in the first nine months (Jul-Mar) of current fiscal year. Moreover, investments through the Roshan Digital Accounts (RDA) surpassed the major milestone of $1 billion.
However, the positive momentum could not be sustained as the index on Tuesday retreated to the red zone amid profit-taking by investors. The absence of positive triggers that could provide direction to the market sparked volatility, which continued till the end of the week. A persistent drop in global oil prices triggered a selling spree in the local oil sectors and all oil-related stocks closed with losses on Tuesday.
Moreover, unimpressive financial results, uncertainty ahead of the budget for fiscal year 2021-22 (scheduled to be announced after Eidul Fitr) and impact of rising Covid-19 cases on the economy played the role of catalysts in the market meltdown in the following sessions.
"The NCOC has instructed stricter restrictions and shorter working hours, while a complete lockdown is still a possibility, this could potentially continue to add pressure on the market next week," stated a report from Arif Habib Limited.
"The ongoing third wave of the coronavirus is likely to keep sentiment under pressure, while in addition to a strong result season (particularly cyclical sectors), we may see the market react on a positive note in the upcoming week," it added.
Average daily traded volume dropped 0.5% week-on-week to 331 million shares while average daily traded value increased 14% week-on-week to $110 million.
Read more: KSE-100 falls below 45,000 amid sell-off
In terms of sectors, contribution to the downside was led by technology and communication (110 points), cement (95 points), tobacco (555 points), engineering (49 points) and automobile assembler (43 points). On the other hand, sectors that contributed positively included textile composite (25 points) and chemical (16 points).
Scrip-wise, major losers were TRG Pakistan (82 points), MCB (65 points), Pakistan Tobacco Company (55 points), NBP (39 points) and International Industries (31 points), meanwhile, positive contributors were led by HBL (48 points), BAHL (36 points), Fauji Fertilizer (34 points), Colgate-Palmolive (31 points) and UBL (24 points).
Foreigners turned net sellers this week as they off-loaded stocks worth $13.1 million compared to a net buy of $7.3 million last week. Major selling was witnessed in commercial banks ($4.8 million) and technology and communication ($1.5 million). On the domestic front, buying was reported by other organisation ($16.1 million) followed by mutual funds ($13.4 million).
Among other major news of the week; ADB projected 2% GDP growth rate for FY20-21, ECC approved release of Rs4.1 billion subsidy against RLNG supply, fiscal deficit clocked-in at 3.5% of GDP during the first eight months of current fiscal year and funds through Roshan Digital Account surpassed $1 billion mark.
Published in The Express Tribune, May 2nd, 2021.
Like Business on Facebook, follow @TribuneBiz on Twitter to stay informed and join in the conversation.