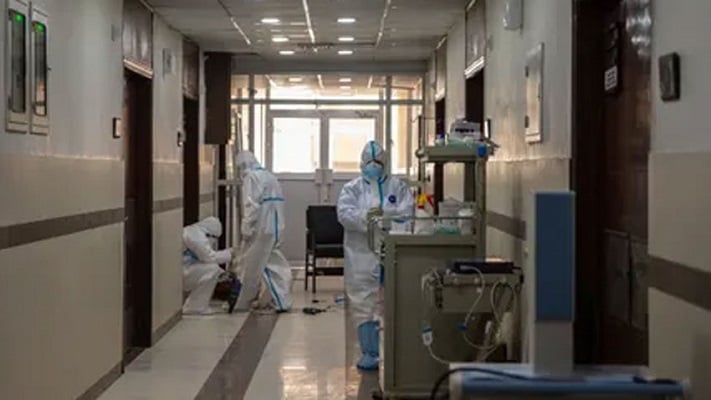 ---
Nine die of Covid in Abbottabad
184 shopping malls, markets inspected, 45 shops and restaurants sealed in Rawalpindi
---
ABBOTTABAD:
Nine coronavirus patients have died at Ayub Teaching Hospital (ATH) in Abbottabad during the last 48 hours, a spokesperson stated on Friday. They added that 17 new positive cases were admitted to the facility.
At present, 79 patients are under treatment in the hospital with 16 patients in the Intensive Care Unit (ICU) in critical condition.
The Abbottabad health department disclosed that the total number of confirmed cases has reached 4,901 while 4,311 patients have recovered so far. It was added that the number of active cases in the district stood at 352 who were admitted to various hospitals of the district whereas 194 patients have succumbed to the virus so far.
Meanwhile, the National Command and Operation Center (NCOC) said on Friday morning that 509 new positive cases were reported from the federal capital on Thursday, taking the total number to 74,640 cases with 677 deaths so far.
Furthermore, a police operation is being carried out in Rawalpindi in collaboration with the Pakistan Army and other law enforcement agencies to ensure the implementation of anti-Covid standard operating procedures (SOPs) in Rawalpindi.
During the operation, Assistant Commissioner Waqas Sikandari sealed three shops on Murree Road, imposing heavy fines while two people were arrested and a food street was cleared.
Additionally, the district officials made announcements on loudspeakers urging people to exercise caution and wear face masks.
According to a spokesperson, four shops and restaurants were sealed in Commercial Market, two were fined and three shopkeepers were arrested while 31 shops were sealed in Sadiqabad.
The district authorities also filed three first information reports FIRs while 11 people were arrested. In addition to that, two restaurants and eight shops were sealed in Pir Wadhai while 10 people were arrested whereas two restaurants and three shops were sealed with two people being arrested at Imam Bara Chowk.
Moreover, Rawalpindi Deputy Commissioner Anwarul Haq stated that in total 74 mosques and madrasas were inspected district-wide and none of them were found flouting anti-Covid SOPs.
He added that 24 education centres were also inspected out of which two were sealed. Additionally, 33 raids were conducted against transport vehicles, and Rs85,000 was collectively imposed in fines.
Separately, 54 public places and parks were inspected and penalised. Rs4,400 while Rs4,000 penalty was imposed during inspection of seven railway stations and bus stands.
Furthermore, 184 shopping malls, markets, and plazas were inspected, out of which 66 were sealed for violating SOPs.
Similarly, 14 marriage halls and 83 restaurants were also found flouting SOPs and were imposed Rs57,500 in fines while two marriage halls were sealed and Rs20,000 fines were imposed, collectively.