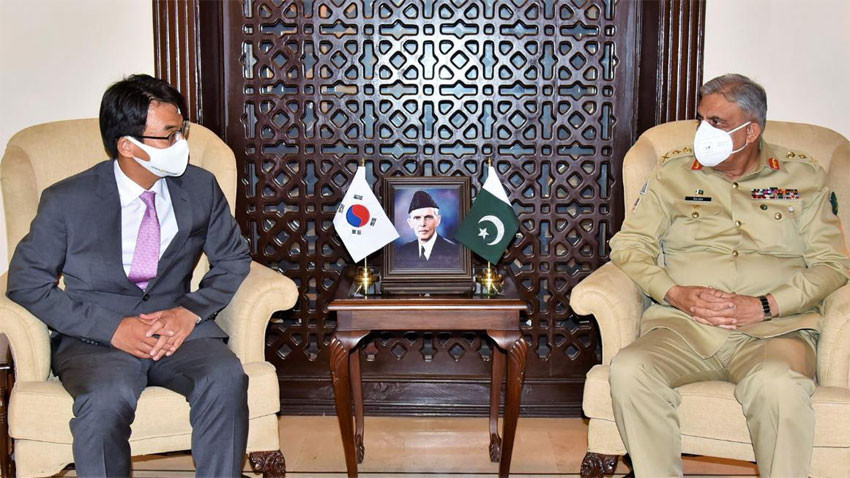 ---
Korean Ambassador to Pakistan Suh Sangpyo called on Army Chief General Qamar Javed Bajwa on Thursday, according to the Inter-Services Public Relations (ISPR).
During the meeting matters of mutual interest, regional security and enhanced bilateral and defence cooperation were discussed.
The army chief said that Pakistan attaches great importance to furthering bilateral relations with the Republic of Korea in all domains.
Read more: Pakistan values relations with Poland, says Gen Qamar
The ISPR said that both reiterated the desire to further enhance bilateral relations including efforts for peace and security in the region.
The visiting dignitary appreciated Pakistan's sincere efforts for bringing peace and stability in the region, especially the Afghan peace process, the statement further added.
Earlier this month during a meeting with Foreign Minister of Russia Sergey Lavrov, General Qamar had said that Pakistan welcomes all initiatives which can bring peace and stability in Afghanistan as the whole region will benefit from it.
Also read: Pakistan welcomes all initiatives for Afghan peace, COAS tells Russian FM
During the meeting held at the General Headquarters in Rawalpindi, matters of mutual interest including enhanced defence and security cooperation, regional security particularly the Afghan peace process came under discussion, according to the ISPR.
"We have no hostile designs towards any country and will keep on working towards a cooperative regional framework based on sovereign equality and mutual progress," Gen Qamar was quoted by the ISPR as conveying to the visiting dignitary.
COMMENTS
Comments are moderated and generally will be posted if they are on-topic and not abusive.
For more information, please see our Comments FAQ