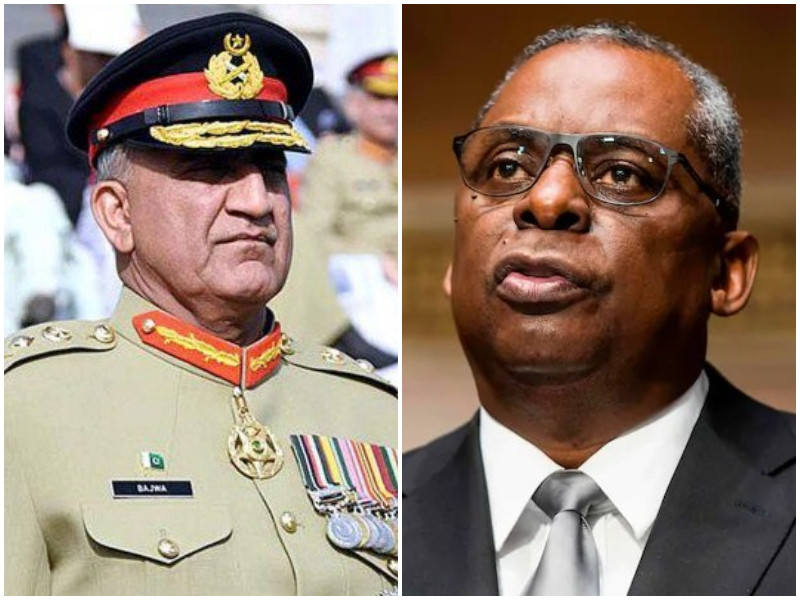 ---
ISLAMABAD:
US Secretary of Defence Lloyd J Austin on Wednesday telephoned Army Chief General Qamar Javed Bajwa to discuss the drawdown in Afghanistan as the US-led international forces prepare to end a 20-year-long military campaign from May 1.
The separate statements issued by the Inter-Services Public Relations (ISPR) and Pentagon said that the two spoke by telephone to discuss the Afghanistan situation as well as bilateral cooperation.
"Secretary of Defence Lloyd J Austin III spoke by phone with Chief of Army Staff General Qamar Javed Bajwa to discuss regional stability and security," Pentagon Press Secretary John Kirby said in a statement.
During the call, Secretary Austin reaffirmed the importance of the US-Pakistan bilateral relationship and expressed appreciation for Pakistan's support for Afghanistan peace negotiations, it added.
Read more: US orders staff to leave Kabul due to threats
The official statement said Secretary Austin and General Qamar also discussed the drawdown in Afghanistan.
US defence secretary and and army chief also discussed the importance of regional stability and the desire for the United States and Pakistan to continue working together on shared goals and objectives in the region.
The ISPR handout said that during the call matters of mutual interest, regional security situation including latest developments in Afghan peace process, drawdown and bilateral cooperation in various fields were discussed.
Gen Qamar said that Pakistan will always support "Afghan-led Afghan-owned" peace process based on mutual consensus of all stakeholders.
Also read: Pakistan to continue Afghan peace efforts
He also reiterated that peace in Afghanistan means peace in Pakistan.
The US dignitary also acknowledged Pakistan's continuous efforts for peace and stability in the region and pledged to further enhance bilateral relations between both countries.
The telephonic conversation came just days before the US will start withdrawing from Afghanistan, ending America's longest war in history.
The drawdown would complete by September 11 as per the announcement made by President Joe Biden.
However, there is a worry not just in Pakistan but other regional countries that drawdown without any peace deal may push Afghanistan into another phase of unrest.
The Taliban have so far refused to join the peace negotiations after the Biden administration extended the troops withdrawal deadline.
Pakistan and other players have been pushing the Taliban to join the Istanbul Conference being hosted by Turkey in cooperation with Qatar and the United Nations.
The summit, part of the Biden administration's strategy to seek a political settlement, has been postponed twice after the Taliban refused to be part of it.
A Pakistani delegation headed by Special Envoy on Afghanistan Ambassador Muhammad Sadiq during a recent visit to Kabul assured Afghan authorities that Pakistan would use all available means to persuade the Taliban to attend the Istanbul meeting.
Pakistan believes that it will be a "huge mistake" on part of the Taliban if they stay out of the negotiations.
US special envoy on Afghanistan Zalmay Khalilzad while testifying before the Senate Foreign Relations Committee said no regional countries including Pakistan wanted to see the return 'Islamic Emirate' system led by the Taliban.
COMMENTS
Comments are moderated and generally will be posted if they are on-topic and not abusive.
For more information, please see our Comments FAQ