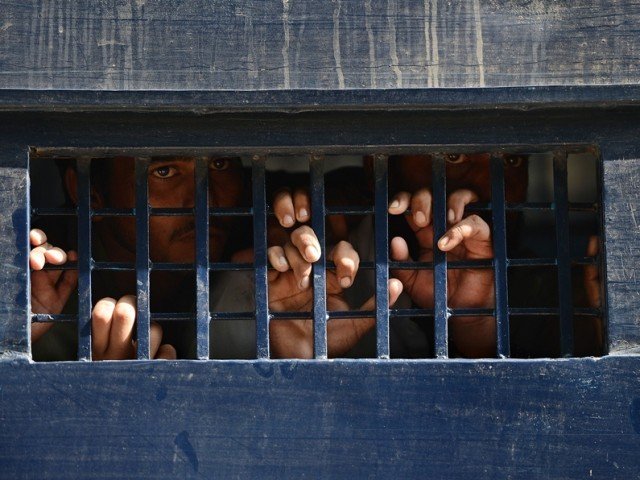 ---
Over 1,000 prisoners get anti-Covid shots
Vaccination under way at jails across province, says Sindh prisons IG
---
KARACHI:
Vaccination of prisoners against novel coronavirus disease (Covid-19) is underway in jails across Sindh, said Inspector General of Prisons Qazi Nazir Ahmad on Sunday.
Prisons have hundreds of inmates besides prison officials living in closed environment which increases the risk for the spread of virus.
So far, more than 1,000 prisoners have been provided first dose of the vaccine to prevent the spread of the disease, Ahmad said adding that over 250 officials and officers have also been vaccinated.
Read: One million more doses of Covid-19 vaccine flown in from China
The top officer of the prisons across the province assured of completing the vaccination process soon. He said that vaccines are being administered all over the world to contain the pandemic.
Initially, lists of more than 18,00 inmates over the age of 50 were compiled. About 650 officers and personnel were also selected for the vaccine.
IG prisons said that the process of vaccination of inmates in all the jails across Sindh was started from the 6th of this month which will be completed soon. After the first dose, the second dose will be given to all inmates and staff members according to the schedule. According to statistics, 43 inmates and 34 officers and staff have been vaccinated in Karachi Central Jail.
The highest numbers of vaccines have been given to 258 inmates and 59 staff members in Hyderabad Central Jail.
Read more: Sindh seeks deployment of army to ensure Covid SOPs' adherence
Similarly, inmates of other jails in the province are also being vaccinated. In all, more than a thousand prisoners have been vaccinated against coronavirus, while more than 250 officers of the department have also been administered vaccine.
IG Ahmad said that all the precautionary measures are being taken in all the prisons at the time of vaccination against the virus. Teams of medical staff and specialists come to the prisons.
Before vaccination, all people's blood pressure and temperature are checked, and even after vaccination, they are kept under observation for half to an hour so that if anyone has any side effects, it will expose, but so far in any prison no side effects have been reported.
Published in The Express Tribune, April 26th, 2021.