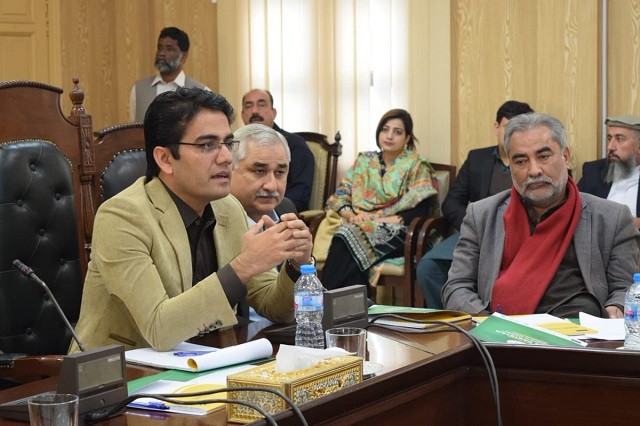 ---
Mardan put under complete lockdown for a week
Decision taken as positivity ratio in district reaches over 40 per cent
---
PESHAWAR:
The Khyber-Pakhtunkhwa government decided on Sunday to enforce a complete lockdown in district Mardan for seven days, starting tomorrow, the provincial government's spokesperson announced on Sunday.
In a statement, Kamran Bangash said that markets related to food items, basic commodities and medicines will remain open during the period.
He informed that the ratio of positive cases of Covid-19 in the district currently stands at over 40 per cent.
The spokesperson appealed to the masses to follow precautionary measures.
Earlier today, another doctor died in K-P due to the virus. As many as 64 doctors have succumbed to the virus in the province since the start of the pandemic.
Read 11.9% Covid positivity sets off alarm bells in K-P
Assistant Professor Muhammad Ali, serving at the psychiatric department of the Naseer Teaching Hospital in Peshawar, had fallen prey to Covid a few days ago.
He was receiving treatment at a private hospital of the provincial capital, and breathed his last on Saturday night.
According to the provincial doctors' association, so far, 97 members of the medical staff died due to the virus, including 64 doctors, 15 paramedics, six nurses, and 13 class-IV workers.
118 death in 24 hours
Today, Pakistan witnessed another day of high fatalities due to Covid-19, with at least 118 deaths recorded during the 24-hour period and as many as 5,611 new cases, the National Command and Operations Centre (NCOC) reported.
The country's tally for confirmed cases has now reached 795,627 whereas the death toll stands at 17,117.
The fresh positive cases were recorded against a total of 55,128 tests conducted on Saturday.
According to the NCOC, among the day's fatalities, 40 were of patients on ventilator support, whereas 110 of these patients were hospitalised. Most deaths occurred in Punjab, followed by Khyber-Pakhtunkhwa.