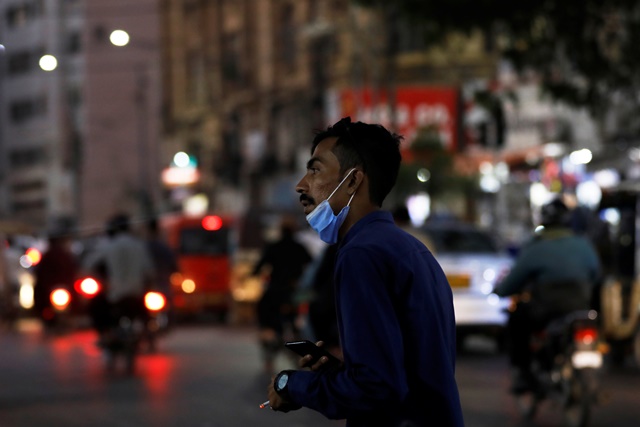 ---
KARACHI:
With 923 new cases, Sindh hit its highest single-day coronavirus tally in three months. Besides, six patients lost their lives to the virus over a 24-hour period.
This was the highest number of cases reported in a single day since January 29 when 1,323 people were infected.
Sindh Chief Minister Syed Murad Ali Shah confirmed on Saturday that six more patients succumbed to coronavirus as the death toll surged to 4,593. He further said that 267 patients recovered overnight.
In a statement, Shah said 12,104 samples were tested and 923 cases diagnosed, forming a 7.6 per cent detection rate. He added 3,549,387 tests had been conducted, thus far, and 277,592 cases were diagnosed. Of the total, 94.4 percent or 262,138 patients had recovered, including 267 overnight.
The CM said of the 10,861 patients currently under treatment, 10,263 were in home isolation, 10 at isolation centres and 498 at different hospitals. He added the condition of 464 patients was critical and 52 of them were put on ventilators.
'Deadlier than ever'
Federal Minister for Planning, Development and Special Initiatives Asad Umar reiterated that the current wave was deadlier than ever. The minister issued the alarming statement as he gave a detailed briefing to Pakistan's President Dr Arif Alvi.
During a meeting of senior officials Umar brought the president up to speed with the precautionary steps and the import of vaccines.
The minister said there had been a significant increase in coronavirus cases and meeting the demand for oxygen at hospitals was one of the biggest challenges. According to Umar, the current number of critically ill patients is 30% and the rate is even higher than June 2020.
Read: 'Sindh govt doesn't believe in health cards'
"This is the reason that the public is being urged to take precautionary measures or else authorities will be forced to impose lockdown again," said the minister. He added orders had been issued to take action against those not following SOPs. He hoped other restrictions would reap benefits.
"A few more sanctions have been imposed so far. Hopefully, the results will be positive."
Meanwhile, President of Pakistan Dr Alvi urged people to remain careful and save the lives of loved ones by taking a few precautions. He stressed that the government, once again, needed their cooperation of the masses.
Sindh Governor Imran Ismail told the meeting that other provincial governments had been consulted on the implementation of SOPs and restrictions were ensured.
He assured that the federal government was taking decisions with the confidence of the provincial administrations.
The meeting was also attended by federal minister Ali Haider Zaidi, Senator Saifullah Abro, Member of National Assembly Jai Prakash as well as provincial assembly members Firdous Shamim Naqvi, Khurram Sher Zaman, Haleem Adil Sheikh and Bilal Ghaffar, among others.
Asad Umar, who also heads the country's nerve centre on Covid-19 response, announced that from April 25, walk-in vaccination for those who are between the ages of 60 and 64 would get under way.
All those falling in this age group, who are already registered with the 1166 service, can visit their vaccination centre.
Published in The Express Tribune, April 25th, 2021.