 ---
Ramadan is celebrated worldwide for the immense blessings it brings forth while healing wounded hearts and strengthening treasured bonds. In the world of marketing, we see myriad heartwarming campaigns that surround the concepts of goodness, forgiveness, and selflessness.
One such campaign that is surely going to tug at your heartstrings is 7UP's latest campaign, featuring two, charismatic 'men of few words.' 7UP, a brand that has always been associated with celebrating the love for food because of its uniquely exquisite pairing that adds zest and tantalises the taste buds of foodies worldwide.
This Ramadan, 7UP has outdone themselves by taking their celebratory narrative a notch higher to explore the importance of openness in the family through the unique relationship of a father and son.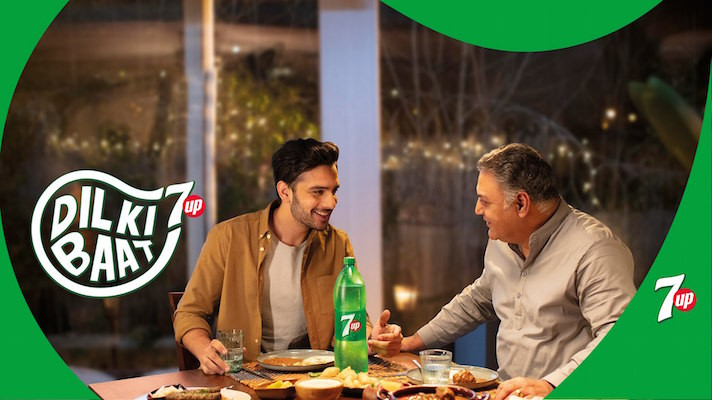 Typically, men are known to be introverted beings who are taught to hide their emotions and show their 'macho' side while adhering to masculine traits or what should ideally be known as toxic masculinity. Beautifully put together, the campaign highlights the essence of accepting one's mistake and forgiving while putting egos aside. It incredibly captures the importance of openness in families and emboldens affection by light-heartedly encouraging millennials to express themselves and build unbreakable bonds with their families. It sheds an innovative light on the intricately complicated relationship sons often have with their fathers.
In the storyline, 7UP showcases a situation where a son nervously musters up the courage to admit his fault, which in the ad pertains to him accidentally bumping his car into a pillar. The upbeat background music adds a quirkiness to the situation where the father, played by the alluring gentleman Asif Raza Mir, who is undoubtedly the pride of Pakistani showbiz industry, opens up an enticing, chilled bottle of 7UP and serves the son with a delightful smile on his face, without uttering a word.
Bin bolay kuch kr gaya… dil thora khaali tha bhar gaya…
7UP brilliantly conveys that apart from being every Pakistani's favourite drink to quench thirst, it also helps unbottle positivity while bringing down the walls around emotional vulnerability and helps Pakistanis overcome their internal struggle of apologizing for their mistakes, no matter how big or small they may be. The light-hearted TVC unravels the need of unbottling emotions pertaining to gratitude, and appreciation.
What makes this TVC touch hearts of millions is the fact that the father is shown under a positive light where he understands and can relate to his son's situation up to some level. His adorable expressions communicate to the audience that he is reminiscing his own youth as his faint smile says it all. At the same time, however, he also wants to maintain the quintessential role of a Pakistani parent by not revealing too much of his own emotions.
The ad depicts the carefully woven family ties to depict that no matter what the relationship or situation may be, kabhi kabhi mushkil hota hai kehna dil ki baat, but now you can express your gratitude without having to say anything by just sharing some 7UP. The ad inevitably positions 7UP as the perfect canvas for portraying all emotions that are sometimes left unspoken due to myriad reasons.
The suave aesthetics, soulful music, handsome cast, and of course the luscious visuals of chilled 7UP will definitely make you want to express your #DilKiBaat.
COMMENTS
Comments are moderated and generally will be posted if they are on-topic and not abusive.
For more information, please see our Comments FAQ