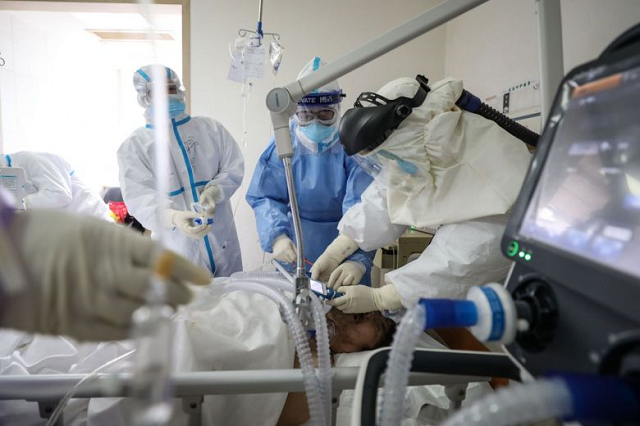 ---
MULTAN:
Eight more patients died of coronavirus during last 24 hours in Nishtar Hospital Multan. The total death toll has surged to 587.
The number of coronavirus patients undergoing treatment has risen to 108 whereas 22 patients are said to be in critical condition. Coronavirus isolation ward is filled with patients. The number of beds in the ten wards of coronavirus isolation has been increased to 294 in which 63 beds are vacant while patients are on 231 beds while 15 out of 80 ventilators are empty.
Nishtar Hospital spokesperson Dr Irfan Arshad said 65-year-old Bashir Ahmed, 50-year-old Musaddiq, 45-year-old Musarrat, 38-year-old Murtaza, 56-year-old Sughran and 75-year-old Shamshad, 60-year-old Javed Akhtar residents of Multan and 55-year-old Haq Nawaz, residents of Muzaffargarh, undergoing treatment in isolation wards of Nishtar Hospital, died.
The total number of deaths due to the pandemic between April 1, 2020 and April 22 has risen to 587 while the number of patients undergoing treatment at Nishtar Hospital has risen to 108. Out of which 74 patients are from Multan. The condition of 22 patients under treatment is critical,
While 72 patients are being treated on the suspicion of corona whose reports are awaited. Meanwhile, 5,342 people were reported suspected of corona in Nishtar Hospital this year, of these, 2,018 have tested positive for Covid-19.
Meanwhile, the corona isolation ward of Nishtar Hospital is full of patients where 231 patients are currently undergoing treatment. The number of beds has been increased from 255 to 294. Out of which 63 beds are vacant while out of 80 ventilators only 15 are vacant.
Published in The Express Tribune, April 23rd, 2021.