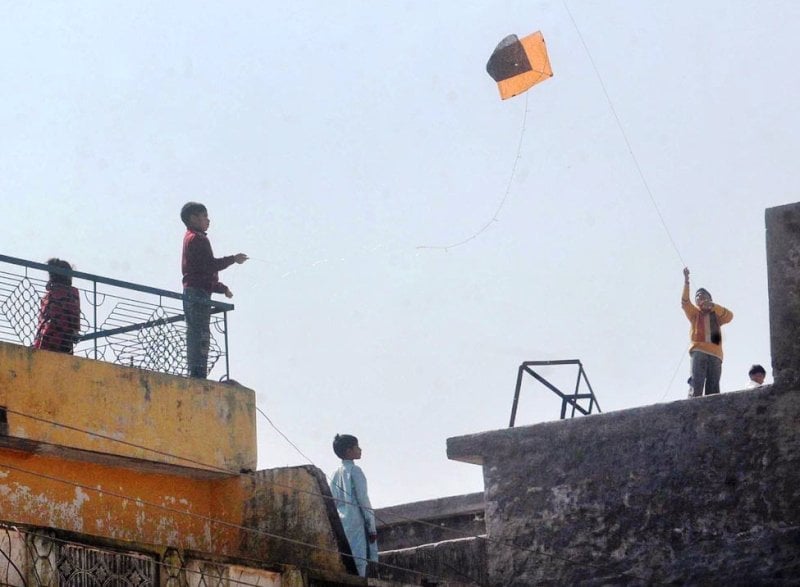 ---
ISLAMABAD:
Kite flying has been a potential threat to human lives as many cases have been reported mostly in Punjab of kites with sharp metallic threads slitting throats of motorcyclists as well as pedestrians.
It has now emerged that these kites also get entangled in power transmission lines causing trippings and power outages.
A spokesman of National Transmission and Despatch Company Limited (NTDC) disclosed that a number of incidents of tripping at 500kV and 220kV transmission lines have been reported due to kite flying in areas of Lahore, Faisalabad, Rawalpindi, Attock, Gujranwala and Kasur.
Read more: Police grab ladders to catch rooftop kite flyers
He said that due to frequent trippings of the transmission lines resulted in a substantial loss in terms of revenue, equipment damages of NTDC, said a press release issued the other day.
While revealing the details, the spokesman said that the undue trippings of transmission had been noted due to the use of metallic thread in kite flying in areas of Lahore like Kot Lakhpat, Faisal Town, Johar Town, BOR Society, Iqbal Town, Awan Town, Sabzazar, Shahdara Village, Rana Town, Gujjar Pura, Shalamar, and Collar Wala Village near KSK Motorway Interchange.
The spokesman said NTDC authorities had taken up the matter with district administration of respective areas for stringent action against the kite flyers and requested to take action against the people involved in kite selling business to avoid tripping of NTDC transmission system.
Published in The Express Tribune, April 23rd, 2021.
COMMENTS
Comments are moderated and generally will be posted if they are on-topic and not abusive.
For more information, please see our Comments FAQ