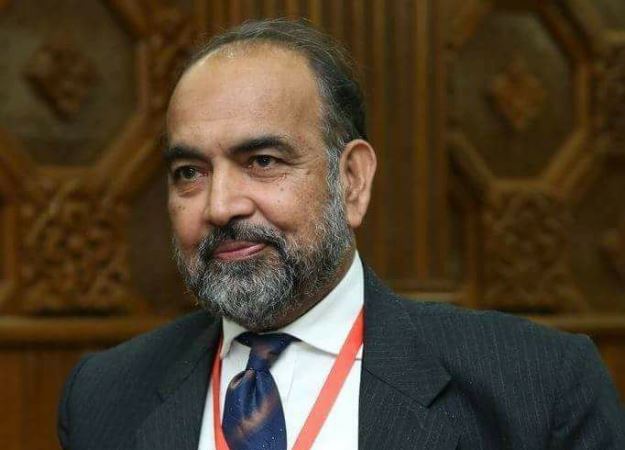 ---
ISLAMABAD:
Don't comment on sensitive issues, CII members told
Council of Islamic Ideology (CII) Chairman Dr Qibla Ayaz advised members of the body to refrain from commenting on sensitive issues, including Namoos-e-Risalat, after the 11 newly-elected members and the chairman assumed their responsibilities on Wednesday.
He expressed this in an event organised to welcome the new members of the body as well as the chairman who was reappointed on the post.
CII Chairman Ayaz, Hafiz Tahir Mahmood Ashrafi, Dr Umair Mahmood Siddiqui, Allama Muhammad Hussain Akbar, Syed Ziaullah Shah Bukhari, Maulana Hameedul Haq Haqqani, Mufti Muhammad Zubair, Pir Abul Hassan Muhammad Shah, Syed
Habib Irfani, Maulana Nasim Ali Shah, Hassan Haseebur Rehman and Pirzada Junaid Amin took charge of their duties.
"Before any recommendation from the council, the members should not comment on sensitive topics as they are part of a constitutional institution," said the chairman in his welcome speech.
Ayaz also expressed gratitude to Prime Minister Imran Khan and President Dr Arif Alvi for selecting a scholarly team for the council, saying the new team had the capacity to influence policy-making and together "we will enhance the prestige and importance of the council".
Addressing on the occasion, Ashrafi, a council member and Special Assistant to Prime Minister on Interfaith Harmony and Middle East, said the Council of Islamic Ideology had to play a major role in the current times for the guidance of people.
"In the modern era it is difficult to define and explain religion. In this regard, the council can guide and fulfill the gap in society," he said, adding they had to make the council into such an entity that its views could be considered as final decisions.
COMMENTS
Comments are moderated and generally will be posted if they are on-topic and not abusive.
For more information, please see our Comments FAQ