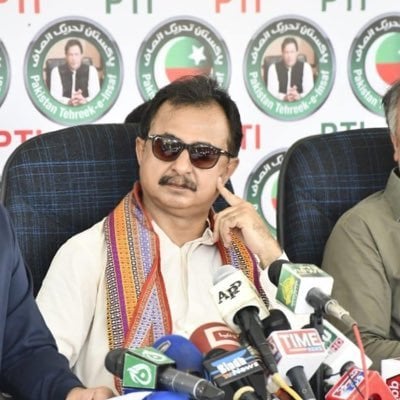 ---
KARACHI:
Only one man stands in the path of Sindh University's establishment - and that is the province's chief minister Murad Ali Shah. This was stated by Pakistan Tehreek-e-Insaf (PTI) Vice President Haleem Adil Sheilkh as he spoke to a press conference on Monday.
Sheikh, who is also the leader of the opposition in the Sindh Assembly, was flanked by MQM-Pakistan parliamentary leader Kanwar Naveed, his PTI counterpart Bilawal Ghaffar, PTI MPA Jamal Siddiqui, Shahnawaz Jadoon and others.
Moving on from his jab at the Pakistan Peoples Party (PPP)-led Sindh government, the PTI man took the chance to talk favourably of his own party. He said Prime Minister Imran Khan had announced a package of Rs446billion in Sukkur, while a total of Rs1,200billion had already been announced for Sindh. Sheikh claimed over Rs8,780 billion had already been released for Sindh, but its fruits had only been borne in the "sector of corruption".
The PTI leader turned his attention back to the Hyderabad University and said that setting up the institute was a matter of educating the youth. "The charter of the university has already been passed, but the Sindh Chief Minister Murad Ali Shah had been sitting on the summary." He said the federal government had already tagged Rs1.7 billion for the varsity.
The leader of the opposition continued that corruption was the order of the day ever since powers to run universities had been transferred to the CM. "Postings of vice-chancellors and officers are based on bribery," he alleged.
He continued that the summary of the Hyderabad University had been gathering dust in the office of the Sindh CM since July 2020, but was yet to be signed. "Had it been a summary of the Omni Group or Nooriabad captive power plant, it would have been signed ages ago." The PTI leader said this was due to the ample opportunities available for corruption.
Published in The Express Tribune, April 20th, 2021.