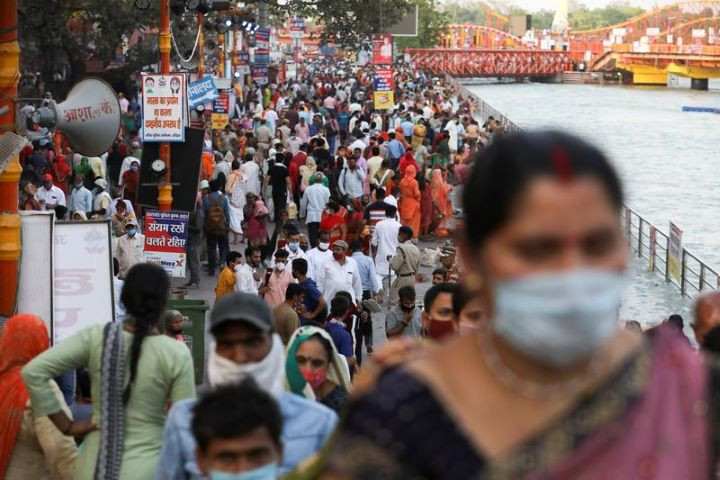 ---
Pakistan on Monday imposed a ban on travellers arriving from India via the air, sea and land routes after a more transmissible and potentially more deadly new variant of novel coronavirus originated in the neighbouring country.
India is currently recording more new cases of coronavirus than any other country, and this week it is expected to rise above the high tide of the epidemic seen in the United States, when daily new cases peaked at nearly 300,000 in early January.
Deaths in India have risen to nearly 179,000.
Read more: Britain is investigating variant originating in India
Epidemiologists and doctors attribute the sudden rise of cases in India to the new "Indian variant" of Covid-19, also known as B1617.
Doctors at New Delhi's All India Institute of Medical Sciences have found that one patient is now infecting up to nine in 10 contacts, compared with up to four last year.
The decision to ban passengers from India was taken during a meeting of National Command and Operation Centre (NCOC) presided over by its head, Federal Planning and Development Minister Asad Umar. The meeting was briefed on the spread of the new variant.
NCOC also placed India in Category C countries. The situation will be reviewed in another meeting of the forum on April 21.
On Sunday, British health officials had said that they were investigating the new variant but as yet they do not have enough evidence to classify it is as a variant of concern.
Also read: Covid-19: Indian variant detected in UK
Speaking on the Andrew Marr Show on BBC television, Susan Hopkins of Public Health England (PHE) said: "We have not got enough data about this variant yet to be able to clarify whether it's a variant of concern. We have put it as a variant under investigation."
"To escalate it up the ranking we need to know that it's increased transmissibility, increased severity, or vaccine-evading, and we just don't have that yet, but we're looking at the data on a daily basis."
PHE has said it has identified 77 cases of the variant in Britain.
British Prime Minister Boris Johnson, earlier today, cancelled a planned trip to India, scheduled to take place next week, due to the current coronavirus situation in India, Johnson's office said.