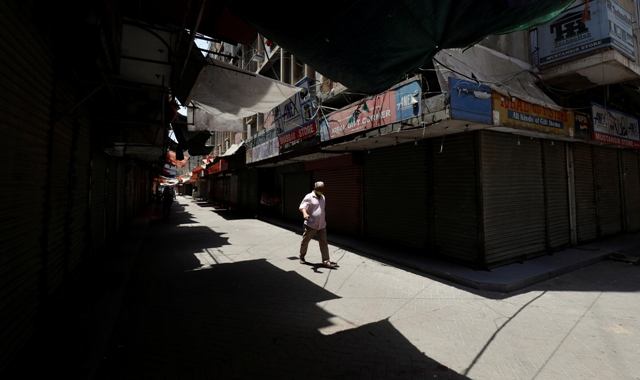 ---
QUETTA:
The Balochistan government imposed a smart lockdown for two weeks on Saturday due to the increasing number of coronavirus cases in the largest province of the country.
According to a notification issued by the district administration, the provincial authorities will temporarily close the border with Afghanistan and Iran. However, people will only be allowed to cross the border during an emergency.
Saturday and Sunday have been declared holidays and all businesses, markets and shopping malls are directed to remain closed on the weekends. Inter-provincial travel will also remain suspended on these days.
The timings of markets and offices have been revised to 6pm while the ban on all indoor and outdoor gatherings remains in place.
Tourist spots and parks throughout the province will also remain closed, while restaurants are allowed to continue outdoor dining, delivery services and takeaways from iftar till 12am.
The notification further adds that mosques have been directed to hold Taraweeh prayers outdoors.
The lockdown will be in place from April 17 till May 1.
According to the Balochistan health department, 82 new coronavirus cases were reported over the past 24 hours. The province has a positivity ratio of eight per cent in Quetta.
Two schools were sealed last week after a number of students tested positive for Covid-19.
Addressing a press conference in Quetta, Balochistan government spokesperson Liaquat Shahwani said steps are being taken to control the spread of coronavirus in the province.
"Coronavirus cases are on the rise because people do not take the third wave seriously," he said, adding that the current wave is more dangerous than the first two.
"Implementation of standard operating procedures devised by the government has reduced cases to an extent," Shahwani said. "All wards at Fatima Jinnah Hospital are full."
Urging the public to not panic, Shahwani also said that arrangements are underway to make sure other hospitals do not run out of beds. He directed scholars to play their role for the prevention of coronavirus.
"Wearing masks and mass vaccinations helps decrease cases," the government spokesperson said. "Our first priority is the lives of the people."
Towards the end of his press conference, Shahwani maintained that there will be a complete lockdown imposed in Balochistan if the situation worsens.
"Any shopkeeper violating SOPs will not only be fined but also punished," he concluded. "The government will take legal action against them."
Published in The Express Tribune, April 18th, 2021.