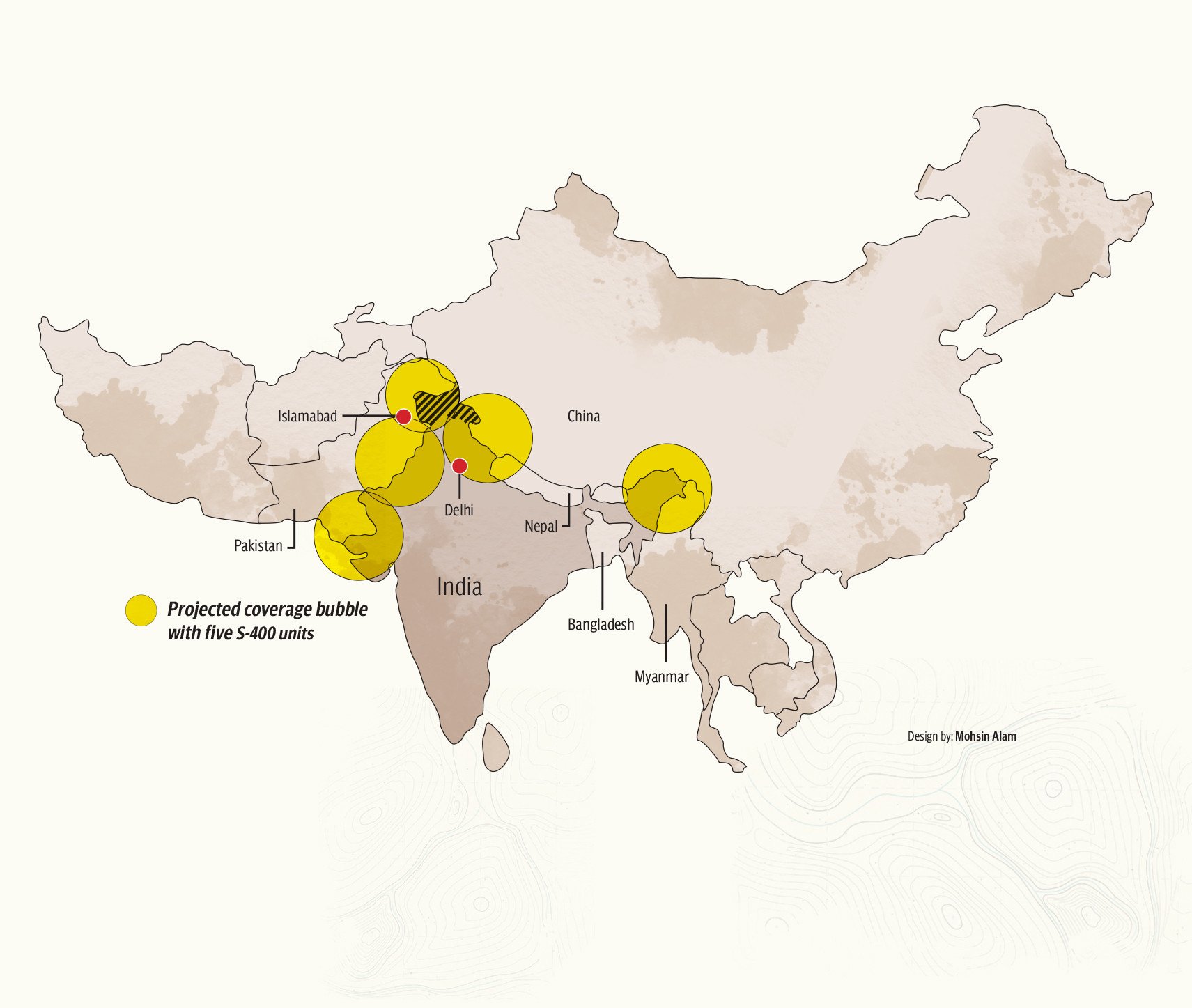 ---
KARACHI:
Arming a military seems simple enough to most of us. Sure, there are questions of funding and availability, but once those are sorted, the rest should be easy, right? Military authorities just figure out what they need and the relevant departments just shop around for the best deal possible?
In truth, though, defence deals are rarely, if ever, straightforward. The entire process is deeply mired in politics, even for nations that appear to have no shortage of willing suppliers.
In recent months, one big-ticket defence item – a Russian air defence system known as the S-400 – has become a bone of contention for US planners. This is not so much for how capable the system is or whether the US fears facing it in action. The headache, rather, comes from its appeal to certain nations the US would very much like to keep in its camp in terms of defence cooperation.
Three nations in particular, namely Turkey, India and Saudi Arabia, have made no secret about their interest in the Russian developed system. Two of those – India and Turkey – have deals in place to integrate it into their defence arsenal.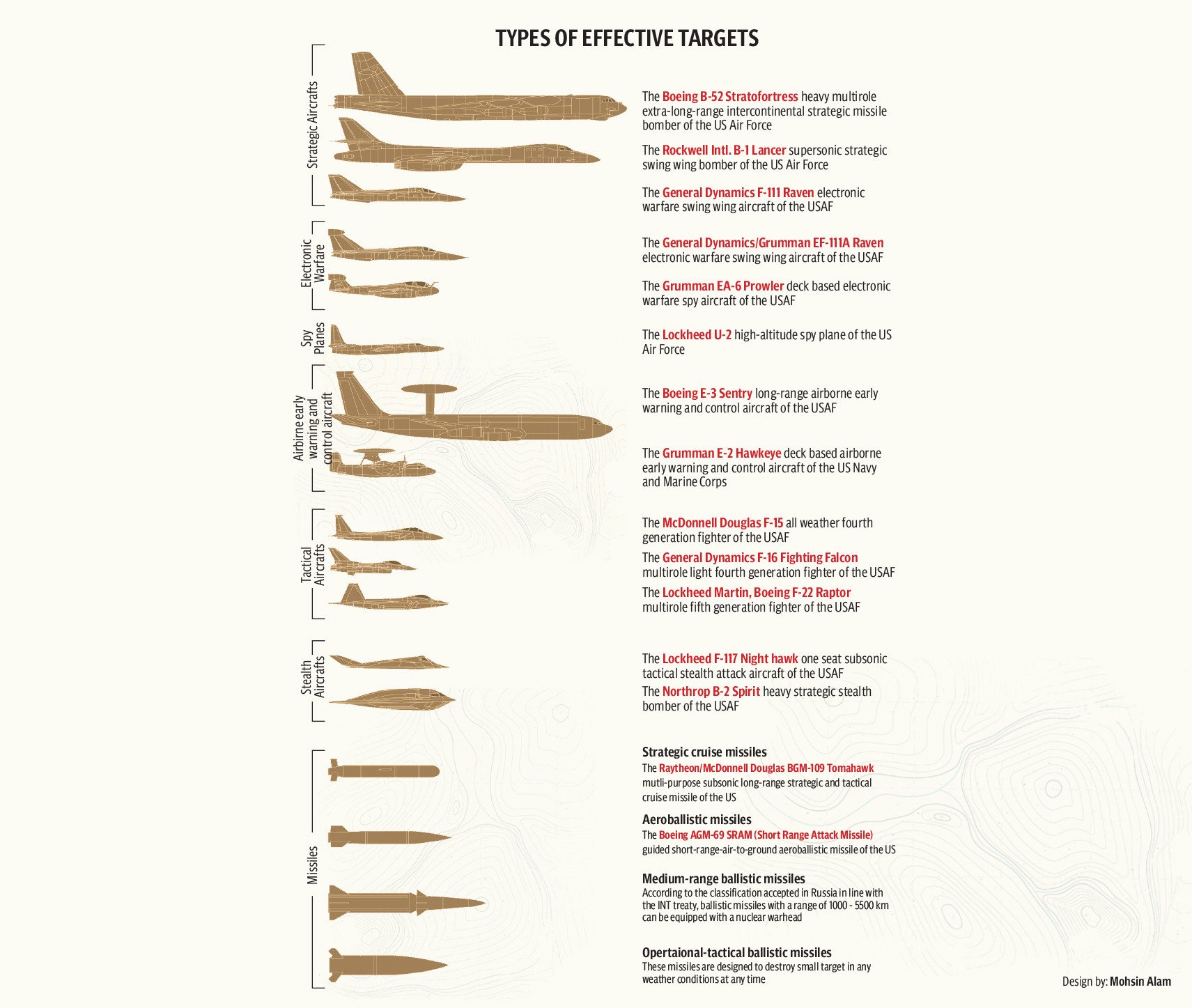 Creative: Mohsin Alam
Towards the end of last year, the US government slapped sanctions on Turkey despite its status as major Nato partner after it went ahead with its purchase of the S-400 system.
With India poised to do the same, the question is will US do the same especially as it reorients its entire focus against China. A key node of the US strategy to rein in Beijing is to build up India as a counterweight, both in terms of military and economic potential. India is already part of the Quadrilateral Security Dialogue with US, Japan and Australia – which some observers see as the beginning of a new Pacific-oriented 'Nato'.
The Express Tribune put the question before both local and foreign analysts to learn how a single military procurement could have far-reaching geopolitical ripples.
The S-400 mystique
So, what is the S-400 and why is it so coveted by some nations? On the surface, in simple terms, it is a missile-based air defence system that is can shoot down aerial threats from the ground within a very potent range.
According to Australian Strategic Policy Institute's Dr Malcolm Davis, however, there is much more to the S-400 than just that. "The S-400 Triumf (NATO reporting name SA-21 Growler) is a 'double digit SAM' [that is] part of a family of very highly capable ground-based air defence (GBAD) systems designed for long-range air defence and which also has a limited BMD capability against short-range ballistic missile systems," he explained.
"It's key advantages are very long-range – approximately 400km and at very high altitudes, with the system able to attack multiple targets simultaneously. A typical S-400 battalion in the Russian military would have eight launchers and 32 missiles as well as a mobile command post. The system has been in service since 2007, and is gradually replacing older S-300 systems."
"[But] The S-400 is a 'system of systems' meaning there are other shorter range missiles which will protect the longer range systems, and its also designed to be effective against stealth aircraft," he added. "Acquiring S-400 would give a state long-range air defence, and in the case of India, deployment of a S-400 capability would allow it to control the airspace over most of Pakistan if three battalions were deployed in Gujarat, Rajasthan, and the Indian-side of Jammu-Kashmir. If deployed against China it would significantly boost India's ability to defend its northern border across the Himalayas. That may be a more pressing concern than imposing control of the air over Pakistan for Delhi."
According to Moscow-based American political analyst Andrew Korybko, the S-400 system's capabilities are not just limited to targeting ballistic and cruise missiles, and enemy aircraft. "Recent Russian tests have also reportedly proven that it's capable of destroying incoming hypersonic missiles too," he shared. "They are coveted because they can equip the recipient with the best air defense capabilities presently available at this time and likely for the foreseeable future."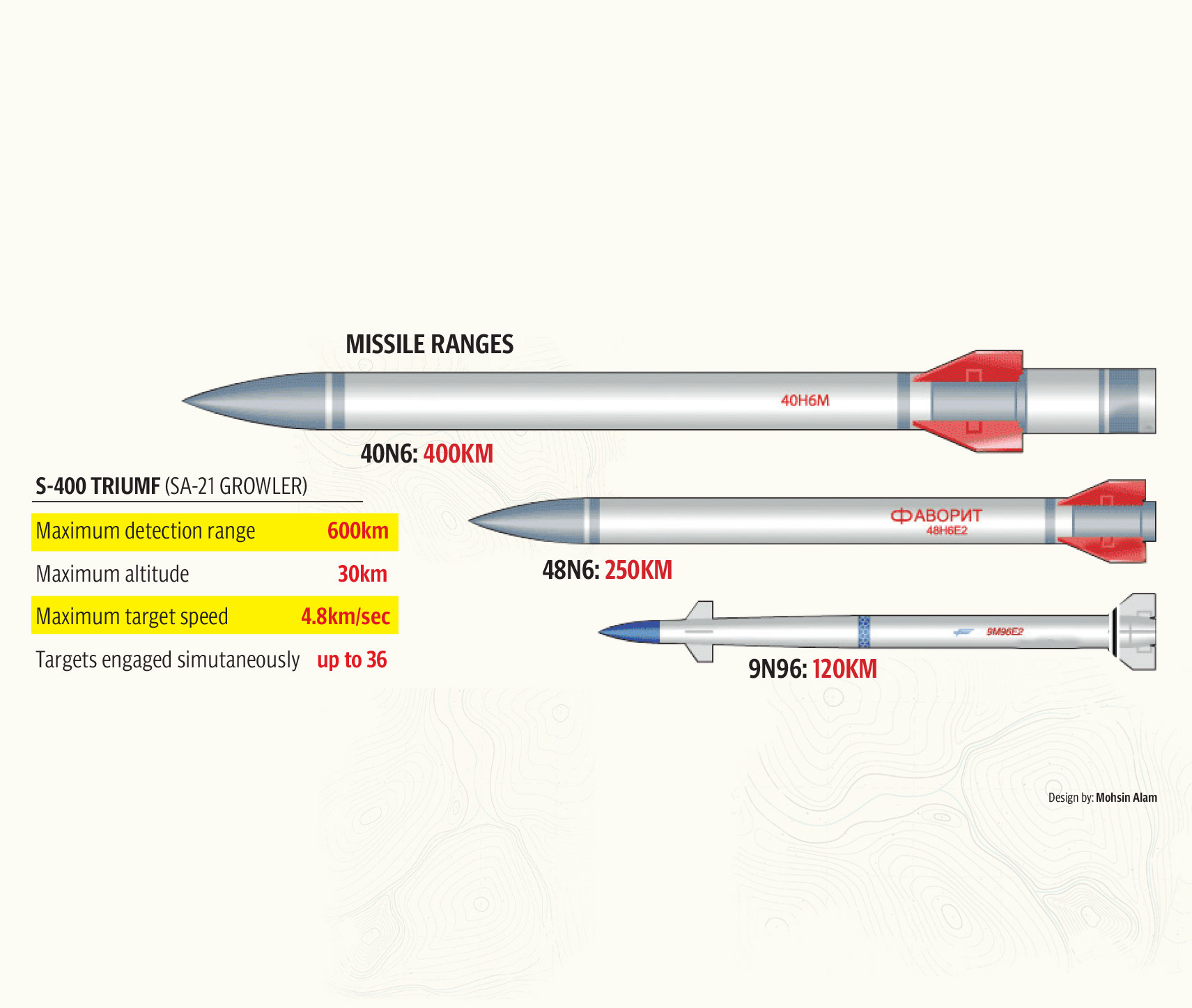 A tale of two nations
In 2017, Turkey's President Recep Erdogan brokered a deal reportedly worth $2.5 billion with his Russian counterpart Vladimir Putin for the S-400 missile system. His intentions were almost immediately met with criticism from US and Western officials, who deemed integrating a non-Nato air defence system into Nato's air defence net 'unthinkable'.
As Turkey began receiving deliveries of its first S-400 batteries, the US first removed the country from the programme to develop and receive the fifth-generation F-35 fighter jet. As Turkey firmly entrenched in its decision to operate the Russian SAM, in December last year, the US imposed sanctions on the nation under the Countering America's Adversaries Through Sanctions Act (CAATSA).
In recent years, the US has made several overtures to India as it seeks to build its military capabilities in a bid to contain China. Big-ticket defence items India has received from the US include the P-8 Poseidon maritime patrol aircraft, C-17 military transport aircraft and state-of-the-art AH-64 Apache attack helicopters. The US has also offered the Indian Air Force F-15, F-16 and F/A-18 fighter jets to meet its Medium Multirole Combat Aircraft requirements. For the F-16, Lockheed Martin has even gone as far as offering to shift its manufacturing to India.
Even so, India's interest in S-400 predates Turkey's move. India signed an agreement with Russia to receive the missile system at a 2016 BRICS summit. A formal deal was signed a year after the Turkish deal in 2018. According to a report published by The Hindu earlier this week, the deal remains on track and India is set to receive its first batteries in November.
According to Dr Davis, a major concern for the US was the S-400's ability to detect and potentially track F-35, and the presence of Russian technical experts associated with the deal. "The concern was that the radar system on the S-400 would compromise the F-35 technologies, and there was a lack of trust over Turkey's willingness to prevent F-35 technology being transferred to Russia. I think if India were to acquire S-400 it is doubtful that it would then be offered the F-35."
Dr Korybko said the argument that military suppliers from one nation could spy on another nation's systems within an integrated network could be made in theory. "Washington, however, hasn't publicly disclosed any specific technical details for how that could happen," he noted, adding that the same argument could be made against US systems as well.
A spanner in the works
Speaking to The Express Tribune on Western reservations to the S-400, Dr Davis said the concern is mainly that buying the system would reinforce Russian influence over the future shape of Indian defence capability and posture.
"Its not just a missile, its a complete system, and India's air defence capability would have to reshape to accommodate it," he said. "This was a much bigger concern with Turkey as a Nato partner, and the US quite correctly saw Russian moves regarding the S-400 with Ankara as an attempt to divide Nato, and tempt Turkey to align to Moscow," he maintained.
According to Dr Davis, the same might the said with regards to India, "though its not as acute as Turkey was."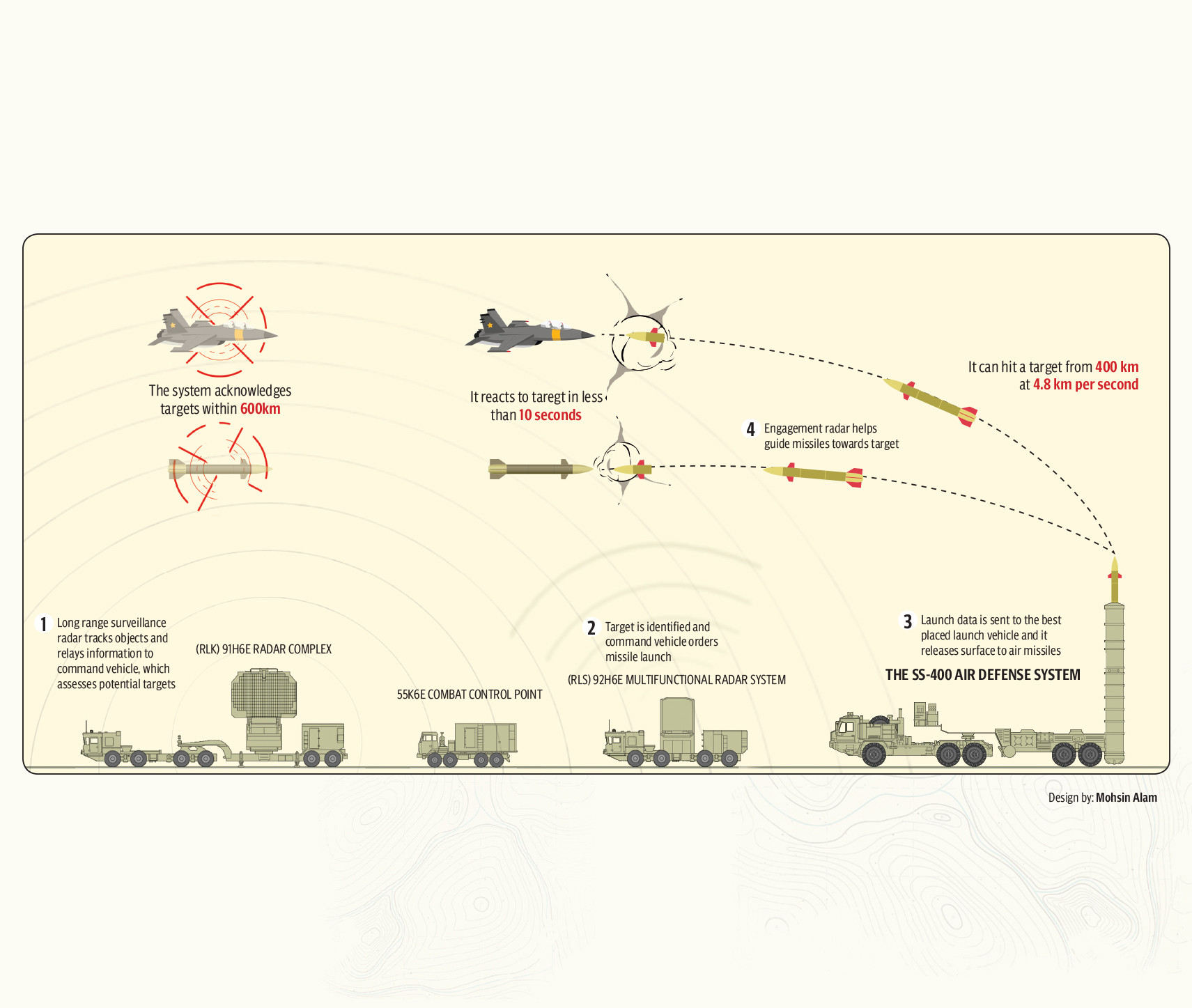 "But the US is wanting to boost defence cooperation with Delhi, and its difficult to do that if India is doing deals with Moscow that would see closer cooperation between the two. I think if India were to acquire S-400 from Russia, this would complicate future defence capability acquisitions from the US," he stressed.
"The S-400 system would likely be supported by Russian technicians, who could use the system's advanced radar to monitor any US systems operating in the region – particularly if India were to seek to follow Turkey's example and buy the F-35. I think that purchase would be quickly off the table," Dr Davis shared. "But more generally, it would create an air of suspicion as to India's engagement with Russia, a US adversary in a key area of defence technology. That could potentially undermine the Quad, which if it occurred, would be a real setback for US Indo-Pacom strategy."
A balancing act
Asked if India's persistence to procure the S-400 was intended to balance its relations with Russia and the US, Dr Davis said "I think that that might have been the motivation during the Trump Administration – there was real concern about how much allies could count on the US under Trump, so states like India were hedging their bets, and a defence deal with Russia was one way to maintain India on that 'non-aligned' balancing point."
"Obviously whilst there is uncertainty about the future – might Trump, or the 'Trumpists' return in 2024? – I think with Biden currently in charge, India would be wise to engage with the US through the Quad, rather than get drawn into an India-Russia relationship, given Russia's close relationship with China," he suggested. "I think India would have more to lose by sacrificing the Quad now, especially when its making real progress, to engage in a foolish deal with Russia, as it would ultimately play into China's hands (China also has the S-400)."
Moscow-based analyst Andrew Korybko chose to view India's move from a different angle. "Military relationships naturally have political dimensions, and those countries like India that are attempting to balance between two or more patrons are more likely to be conscious of this," he said. He was of the view that since Russia's military relations with India are much older than the US' "it's actually Washington that's politicising the S-400s."
According to Korybko, this could be in order to "gain a competitive edge with New Delhi by increasing the costs of that planned purchase through sanctions, including the threat of limiting further arms cooperation with it that some observers suspect is driven by their shared interests in containing China."
"It's generally a rule of thumb nowadays that a country benefits most in the battlefield whenever its weapons systems are integrated as much as possible. That's more difficult to do when mixing between different suppliers," he pointed out.
"India sees the S-400s as the best product on the market, but going through with the deal despite American threats is also intended to send a political message to Russia that New Delhi will bear the costs of maintaining their military relationship despite recently diversifying towards Western suppliers, partly in order to help Moscow balance between it and Beijing instead of pivoting towards the latter as some in India fear," he said. "So in that sense, the S-400s are being politicised by the US to divide India and Russia, but are also a political instrument for India to help uphold Russia's balancing act between it and China."
The threat of sanctions
Even so, both analysts agreed that the threat of US sanctions should India go ahead with its purchase was very real.
"There are some parallels in this situation with Turkey's move to purchase S-400 systems as well. That episode resulted in Turkey facing CAATSA sanctions from the US," said Dr Davis, when asked about ramifications on US-India cooperation. "Does that put US in a Catch-22 situation? Could India face similar sanctions or, if not, how would that be seen in Turkey and other US military partners outside of Nato? I think it would end any prospect of India getting the F-35, or for that matter, having real access to advanced US military capabilities in the future."
"All indications suggest that the US will be consistent in imposing CAATSA sanctions against India if it goes through with its planned purchase of Russia's S-400 air defense systems just like it recently did with Turkey, though perhaps also limiting them only to so-called targeted sanctions and not blanket ones for pragmatic reasons," shared Korybko, when asked the same. "It's likely that the US would remain consistent with its policy of denying the F-35s to countries that purchase Russia's S-400s. Making exceptions would erode America's credibility with Turkey and other countries."
Dr Davis was of the opinion that by going for the S-400, Delhi would be sacrificing a lot for not much in return: "an advanced SAM system, with lots of political strings attached, and China strengthened because the Quad would become more vulnerable to failure."
"In the same way Turkey has achieved little with its dalliance with Moscow, India would suffer a similar outcome. Furthermore, India could approach the US for systems such as Patriot, THAAD, or even more significantly, work through the Quad to develop new GBADS capabilities that could checkmate S-400. Certainly all four Quad states need to take the long-range GBADS capability area more seriously, so an S-400 purchase by India would represent a missed opportunity," he suggested.
Asked about the likelihood of the US offering India a system that it did not provide Turkey despite it being a part of Nato, Dr Davis said: "I think the US doesn't want to see the Quad fail – especially given China's aggressive behaviour in the region."
"So the short answer is that the US might be prepared to re-offer India an alternative – Patriot, and THAAD. The latter might be problematic vis a vis Pakistan, because it would tend to erode Pakistan's nuclear deterrent capability… [and] I think a US offer to India for Patriot, would certainly risk increasing tensions with Ankara, potentially seeing Russia once again try to get Erdogan to align Turkey more closely with Russia (it would likely be unsuccessful), but it would also open up opportunities for other key US allies – Australia – to take a look at Patriot and THAAD," he added.
Korybo, however, suggested that sanctions could do more harm to US interests in the region than that of India's. "The imposition of anti-Indian sanctions of any nature by that country's newfound Quad ally could prompt New Delhi to reduce its commitments to that seemingly anti-Chinese military alliance. It could also cause domestic controversy inside Indian society and even the ruling BJP by making it seem like India has accepted becoming the US' junior partner by continuing to militarily cooperate with it despite being disrespected with sanctions," he said. "Such uncomfortable optics would risk raising questions about the ruling party's true commitment to its well-known rhetoric about national interests, patriotism, sovereignty, and strategic autonomy."
Regarding the US offering India equivalent systems to dissuade it from purchasing the S-400, Korybko said: "Some reports earlier suggested that India was offered analogous systems but they don't meet the country's defense requirements." He added that India might in theory buy them, "but for political reasons to placate the US, though only on the condition that it's allowed to also purchase the S-400s without being sanctioned."
"Based on New Delhi's existing policy as evidenced by its repeated statements on the matter, it appears unlikely that it will ditch the Russian deal and replace the S-400s with whatever the US is offering. If that happened, though, then it would be a watershed event in Russian-Indian relations, irreversibly harm their special and privileged strategic partnership, and compel Moscow to recalibrate its delicate balancing act by moving closer to Beijing, ironically turning New Delhi's nightmare into a self-fulfilling prophecy. "
A sceptical partnership?
Speaking to The Express Tribune, Pakistani defence analyst Maj-Gen (retd) Inamul Haq offered a third perspective on the India-US partnership. He suggested that the US is not doing India any 'favours' and "it badly wants to position India as a counter to China in the region."
"India is not foolish. For one, it knows how the US used and treated Pakistan, and so it is wary of a similar fate. India can also balance itself against China without the US, and the reason for that is that India's grand strategy towards China is aimed at avoiding conflict," he said. "India will maximise its potential, but never take this bait. India will continue to take benefits from both US and Russia as much as possible. Militarily this means it will keep purchasing hardware from everywhere to maintain a diverse inventory."
Maj-Gen Inam drew attention to the depth of India's historic military tries with Russia. "India's joint production ventures with Russia are to the tune of $25-$32 billion. They include such big-ticket programmes like the Brahmos cruise missile, T-90 tanks and the Sukhoi Su-30 fighter jets. India wants to diversify its military inventory, but 70 to 74 per cent of it is Russian in origin," he pointed out. "India is also one of Russia's five biggest export destinations. Russia ditching India would be extremely unlikely."
"Russia's foreign policy is aimed at overcoming its historic insecurities – it's sparsely populated land mass and food insecurity, which combine to limit its power potential, along with the threats it faces due to its soft underbelly and from the rise of extremist Islam," he elaborated. "Partnerships with nations like China and India are vital to Russia's foreign policy and foreign military sales are a huge part of its diplomacy. Last year, Russia made foreign military sales to the tune of $46 billion."
Maj-Gen Inam agreed that both Russia and China want to keep India from veering away and want keep the South Asian nation focused regionally. He noted that Russia is not happy with the Quad and that is why it has moved to upgrade its relationship with Pakistan. "If India-Russia ties improve in terms of foreign military sales and India does not join groupings Moscow sees as anti-Russia, Pakistan will remain where it is. If India does join such groupings in a meaningful way, then I believe Russia will get upset."
Maj-Gen Inam added that since the US thinks that India is the only country in this region capable of standing up to China, it will accept India's purchase of the S-400 as fait accompli, like it did with Turkey.
S-400 and the region
As mentioned earlier in the article, India would not be the only user of the S-400 in the region, should it go ahead with its procurement. "China has the S-400, and has used it as a basis for developing its own long-range air defence systems. It has six batteries and S-400 allows China to cover all of Taiwan, as well as the Senkaku Islands in the East China Sea," shared Dr Davis. "S-400 deployed into the South China would allow China to cover most of the South China Sea. S-400 is considerably more capable than China's HQ-9, which is closer to the S-300 system (200km – 300km range)."
According to Andrew Korybko, Russia decided to sell S-400s to both China and India as part of its "balancing act between them which sometimes sees the employment of so-called 'military diplomacy'."
"This contrasts with the US' strategy of selling state-of-the-art systems to its regional allies in order to give them the military edge against their rivals, which in turn might inspire them to behave more aggressively and thus risk sparking a conflict (even by miscalculation) because of their newfound confidence afforded by the selfsame system(s)," he said. Korybko added that this dynamic "reduces the attractiveness of political means for resolving disputes and could contribute to dividing and ruling the affected regions."
"This is against Russia's official policy, especially whenever rival pairs of countries that it's partnered with are involved, such as fellow BRICS and SCO members China and India."