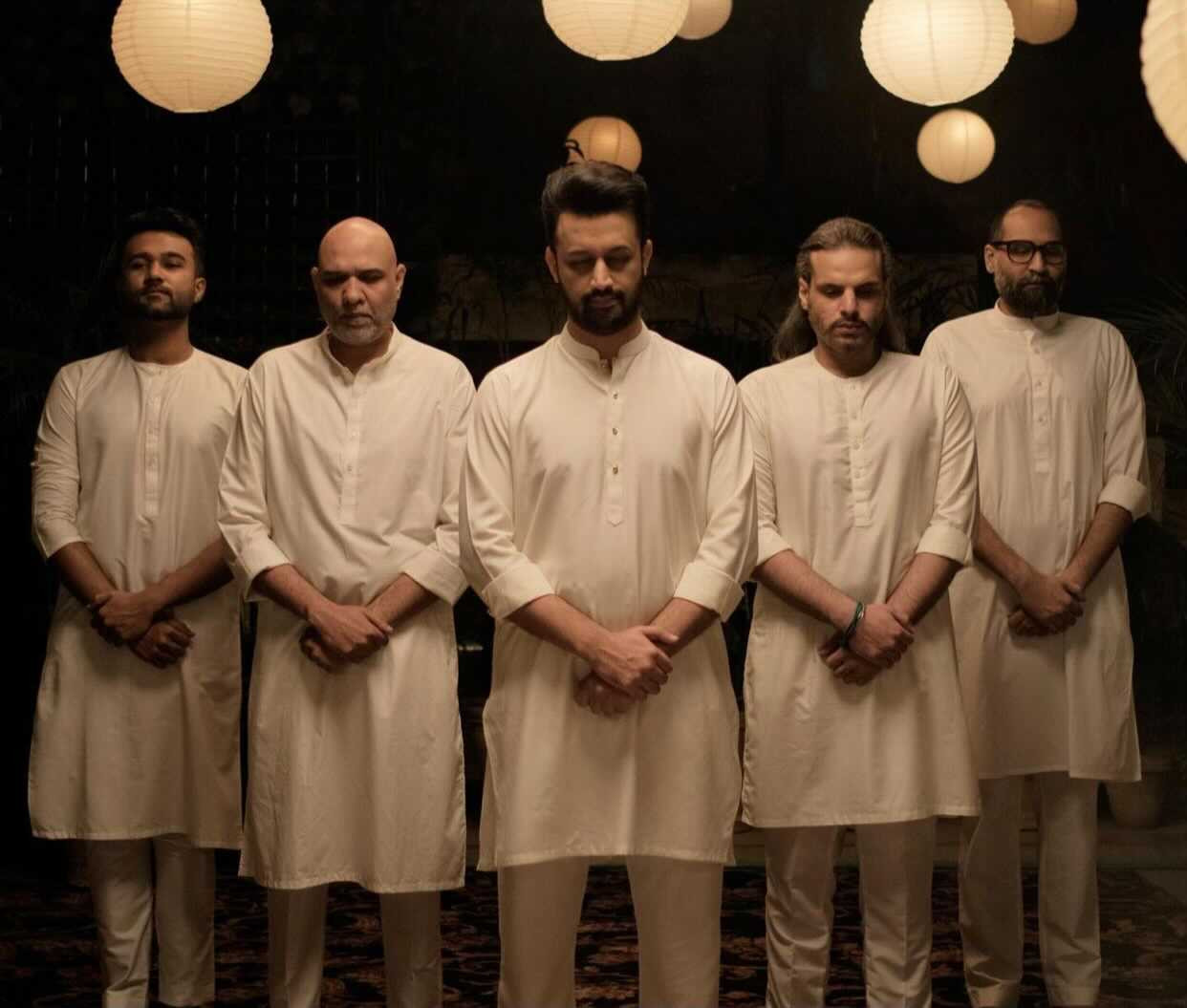 ---
KARACHI:
Every time Atif Aslam raises his hand in prayer a blessing falls from the sky, and with it, a kalaam that everyone listens to. The crisp white kurta shalwar and the soft top lighting almost give the impression that divine light is embracing Pakistan's most sought-after voice.
Maybe, it has already entered his heart and is trying to find a place in his voice; a voice that fumbled surprisingly when he recited Wohi Khuda Hai. The fumbling didn't look bad, just like nothing coming out his throat feels bad, it rather felt odd, as if he is onto something, both musically and spiritually, that something however wasn't clear yet.
Indeed, the journey is strictly inner, personal, and not up for public scrutiny. But the way Atif Aslam's recent non-devotional releases, namely Kaddi Tay Hass and Raat failed to pick up on the internet as wildly as the rest of Atif, explains how devotional music has certainly taken the singer seriously even if one doesn't get to see that seriousness replicated in his devotional expression. As they say, if destiny wants it then the sea expands to quench the thirst of the far-away traveller.
Atif's recent offering is an ensemble rendition that ticks all the boxes of his signature Naat/Hamd presentation minus a beverage bottle hovering somewhere in the background. Mustafa Jaan-e-Rehmat Pe Lakhon Salaam is also typical in the sense that the rendition is divorced from the rules of Urdu/Arabic diction with words such as Aaqa and Qaahir being casually stressed in the song as Aaka and Kaahir with a K sound instead of a Q, the way it is supposed to be rendered in both Urdu and Arabic.
The rest of the singers in the ensemble aren't very different either with minor exceptions of Ali Pervaiz Mehdi and Kumail Jaffery who render the phrases with relentless ease and command over the Naat genre if not the language. Ali Pervaiz Mehdi does mispronounce the word "Shafa'at" as "Shifa'at". The other singers include Nouman Javed who has also directed the video and Ahsan Pervaiz who has produced the audio.
The glorious kalam
You won't see a person reciting (or singing) Mustafa Jaan-e-Rehmat or Lakhon Salam all alone in a mosque or a khanqah. Never. For over a century, this kalaam, written by Ahmed Raza Khan Barelvi, has always been performed by a Naat Khwan or a qawwal with the audience religiously joining in the chorus. As if it has an inherent function to connect with its reciters; a unique performative aspect that is not written but understood.
Composed in Raag Bhairavi, the tune seems to have been exclusively reserved for this evergreen kalaam which is always recited at the end of a Mehfil-e-Naat or, in some cases a qawwali mehfil.
Yes, you will always hear it at the culmination of a religious gathering. It's a norm. And you won't find any other kalam sung in this tune. It's exclusive. What else you won't find is a Sufi follower, at least in the subcontinent, who has not heard it for hundreds of times. This naat is recited after Fajr prayers in mosques in the holy month of Ramazan, after Friday prayers the whole year, in graveyards, at shrines. It's on our devotional syllabus.
Nevertheless, not many people are aware that this magnum opus has 171 couplets. And if we get to count the kalaams written by other poets on this radeef – Lakhon Salam (A Hundred Thousand Blessings) – hundreds and thousands of couplets can be found in Naatia literature.
A new dawn for Naat
Following his bold take on Tajdar-e-Haram, Atif's rendition of Lakhon Salam seems to be a revivalist movement for Naat Khwani, particularly for the younger generation. Over the past few years, a bizarre Bollywood-pop music style introduced in Naat Khwani overshadowed the traditional style of eminent Naat reciters, such as Qari Waheed Zafar Qasmi and Saeed Hashmi. Ironically, the rich religious tradition was taken to a point where some Naat reciters-turned-Youtubers ended up making their recitations 'meme material'.
The Naat art form even saw a phase where naats were regularly composed on the tunes of popular Bollywood songs. Of course, ripping off a Bollywood melody is as bad as ripping of any other song but a number of times the tune would be so familiar that the listener would end up humming the original song in the flow, not realising, how something devotional turned into a rather sleazy exchange of romance.
On the contrary, qawwals based in Pakistan blame Bollywood for 'commercialising' qawwali. Whatever 'commercialising' actually means here is a separate debate, but on further inquiry, you find out it implies, that Bollywood took the sacred away from qawwali. Starting from Rishi Kapoor's famous Pardah Hai Pardah in Amar Akbar Anthony to Shah Ruk Khan's Tum Se Mil Ke Dil Ka from Main Hoon Na, the qawwals have a list of qawwalis to cite as an abomination of Hazrat Amir Khusrau's baby.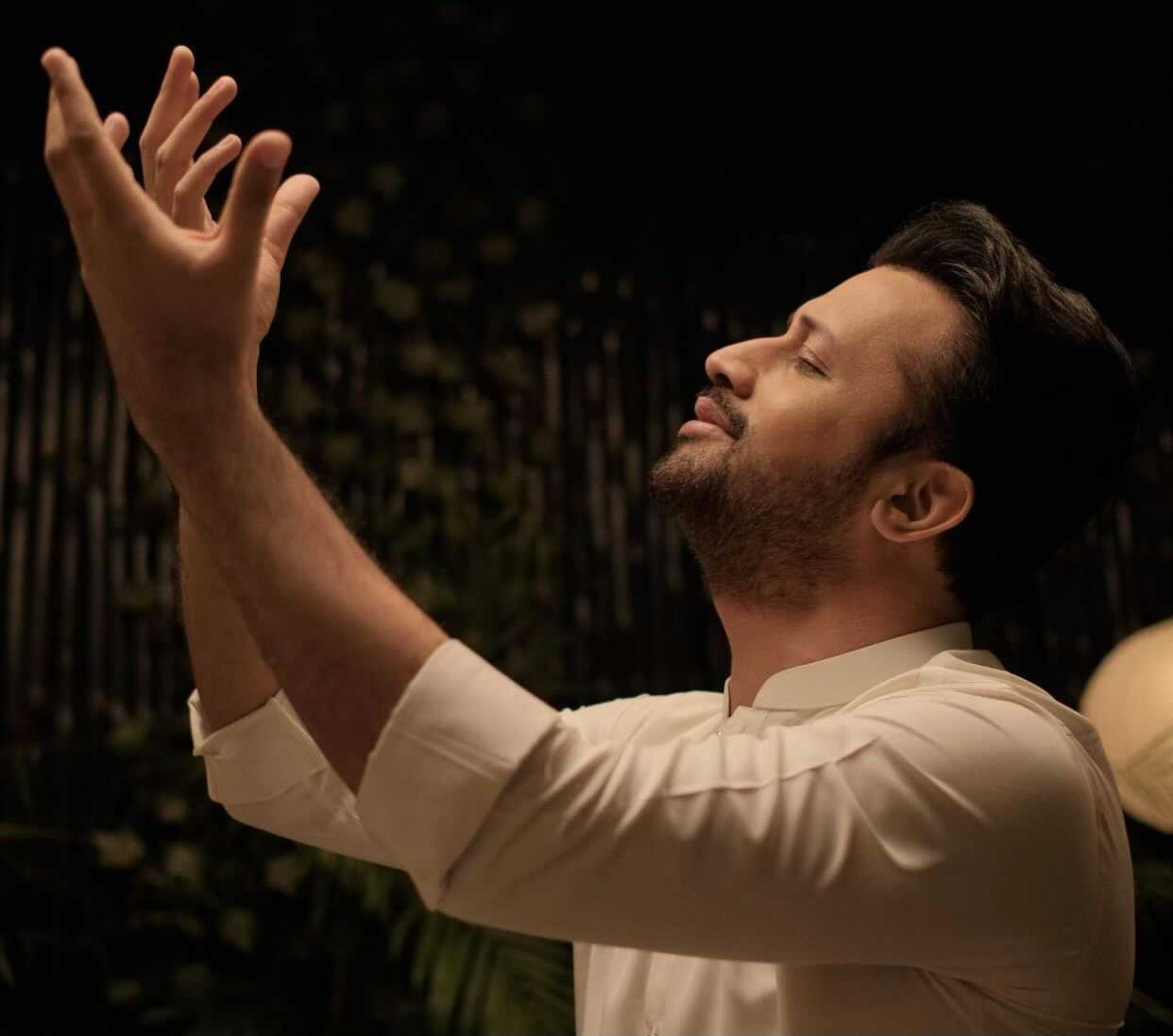 While the NFAK and Rahat chapter in this conversation is usually muted or ignored the more important dialogue waiting to be had is at what point does the sacred get sucked away from Naat? Can someone with no family history in the tradition or lineage of scholars appear from peripheries of devotional music and inspire a completely new generation of listeners to recite Durud?
Can that person have the impact and voice that connects with today's listeners without the usual religious credibility? Najam Sheraz showed glimpses of that after his overt acceptance of religious transformation and subsequent release of Na Tera Khuda Koi Aur Hai, Atif Aslam seems to be riding that wave without accepting or rejecting anything.
For many generations, Naat was synonymous with a serene and soothing voice, though with a respectful show of vocal magic – exactly the one which we get to hear from Atif's companion Ali Pervez Mehdi in Mustafa Jaan-e-Rehmat. What needs to be appreciated about the ensemble as a whole is how they have managed to retain the decorum of Naat, despite the obviously sloppy jump cuts in the video and diction issues discussed earlier.
Eventually, this rendition is a testament to how Atif has become the poster boy of devotional pop without giving into state-funded patriotic endeavours. His is a solo effort that has brought him from being the voice of Ranbir Kapoor singing to woo Katrina Kaif when it was needed, to being the epitome of spiritual singing for a generation that considers him their icon, because it is being demanded.
Atif seems to have turned what was a niche for others, into the mainstream for him, as the likes of Rohail Hyatt continue to negotiate the avatar of a modern Sufi on Twitter. Let's hope neither of them ends up like the Sufi who fought Jihad with a guitar. On that note, Ramazan Mubarak!
Have something to add to the story? Share it in the comments below.