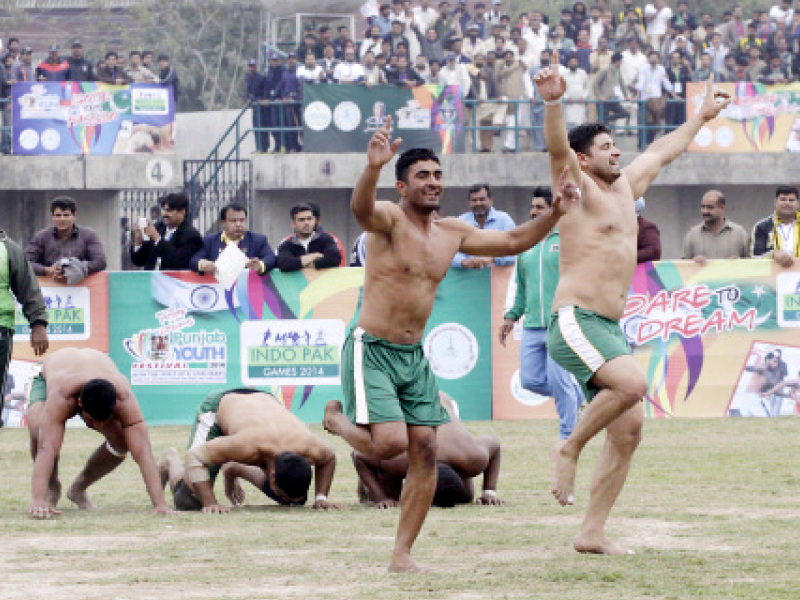 ---
LAHORE:
Pakistan and India may not be able to face each other in cricket in a bilateral series due to the political turmoil between the Asian neighbours, but no one can stop them from fighting it out in Kabaddi.
Pakistan Kabaddi Federation (PKF) secretary Rana Sarwar has announced that Pakistan and India will face each other in a three-match Kabaddi series in November this year.
Sarwar said that the No-Objection Certificate for the event has been received and the event will take place in Kartarpur.
He further said that the series was supposed to take place in May this year, but due to the deteriorating Covid-19 situation in both Pakistan and India, the series has been pushed forward to November.
Sarwar was happy to announce that Kartarpur will host the Kabaddi series between Pakistan and India for the first time. He said PKF plans to organise a spectacular event.
Kartarpur Corridor is a visa-free crossing, connecting the Gurdwara Darbar Sahib in Pakistan to the border with India.
The 4.1-kilometre corridor that links the Dera Baba Nana shrine in India's Gurdaspur with the Gurdwara Darbar Sahib in Kartarpur was closed shortly after its inauguration in 2019. Since the onset of the coronavirus pandemic in March 2020, the Indian government completely stopped pilgrims from crossing into Pakistan.
However, after more than a year of tough restrictions, India's Sikh community has finally received the government's nod to attend upcoming religious festivals in Pakistan.
The permission, which is conditional, will allow pilgrims to attend the Vaisakhi and Khalsa commemorations, which are two very important dates in the Sikh calendar.
According to details gathered by The Express Tribune, the Indian government has allowed pilgrims to visit Pakistan only if they are vaccinated before their departure. These pilgrims will be required to take a polymerase chain reaction (P.C.R.) test before returning to India.
During their two week-long stay in Pakistan, the devotees will also visit some of Sikhism's holiest sites, including the final resting place of Guru Nanak, the founder of the faith.
While ties between India and Pakistan, the two nuclear neighbors remain frosty, this is the first time since the onset of the global pandemic that India has relaxed border restrictions from its side.
According to the itinerary, the Sikh devotees will visit a number of holy sites in Pakistan after their arrival on April 12. The visit culminates with celebrations related to Khalsa and Vaisakhi festivals at Gurdwara Panja Sahib Hassanabad.
COMMENTS
Comments are moderated and generally will be posted if they are on-topic and not abusive.
For more information, please see our Comments FAQ