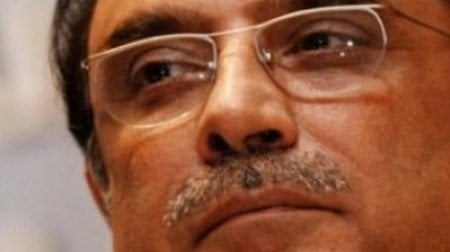 ---
President Asif Ali Zardari has said that "we will not take revenge of Benazir Bhutto's murder, but this does not mean that investigation will not be carried out".

"The UN inquiry commission had no mandate to arrest anybody," he said while addressing PPP workers and office-bearers on the 57th birth anniversary of Benazir Bhutto in Naudero on Monday from a podium adorned with a huge self-portrait alongside pictures of his wife and father-in-law.

He said that Benazir Bhutto had extracted vengeance from "the dictator, who is now on the run", adding that Bhuttos were still living and lying under the shadow of Pakistan's flag and "it is a message to enemies".

He said that former dictator and president Pervez Musharraf is moving from country to country but he is not able to come to Pakistan.

He said there will be tougher times ahead, but "I will not budge an inch to ensure a prosperous future for Pakistan".

He added: "I will be wrong if I say all is well in Pakistan, all is certainly not well…but the path we have chosen is the right one."

Highlighting his party's achievements, he said that the PPP had achieved across-the-political-divide consensus not once but again and again -- on the National Finance Commission Award, the adoption of the 18th amendment and the all-encompassing Balochistan package, granting autonomy to the Gilgit-Baltistan region and the renaming of the NWFP to Khyber-Pakhtunkhwa.

Lashing out against his political opponents, President Zardari again termed them "political actors" and said that they "are worth nothing".

He said that he will take on board all political forces to promote an environment of harmony and reconciliation.

He said there is threat to democracy but all conspiracies against the system will be foiled.

The President said that a particular group in Punjab "is against our policies" and "our battle is against the very same group". "We are not afraid of jails and fake lions and with sagacity we have adopted the reconciliation policy," he said, adding that the PPP will advance the mission of its "martyred" leaders Zulfiqar Ali Bhutto and Benazir Bhutto.

He said there is no political prisoner in the country and "we have no desire to become leaders by sending our opponents to jails".

He said he is the first president who delegated his powers to the parliament. He said he has to think for the future problems therefore he has to keep working with a futuristic approach. (With additional input from Online)

Published in The Express Tribune, June 22nd, 2010.
COMMENTS (2)
Comments are moderated and generally will be posted if they are on-topic and not abusive.
For more information, please see our Comments FAQ