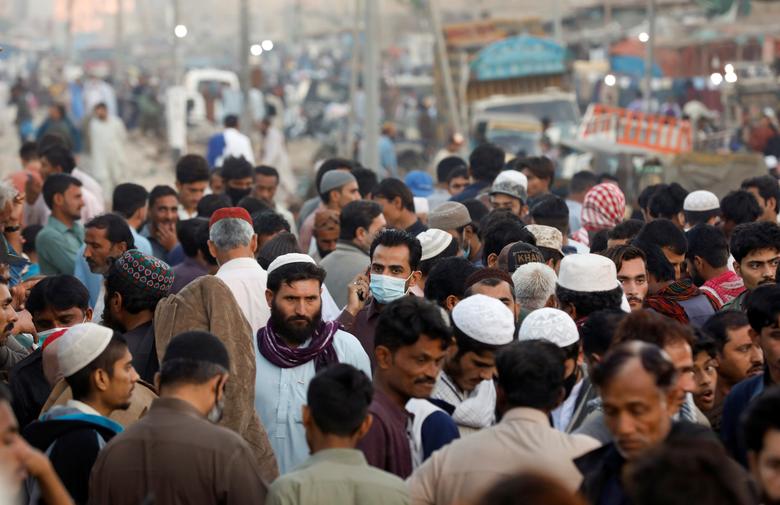 ---
Pakistan records 5,050 new Covid-19 cases, 114 deaths
As per NCOC, Punjab recorded majority of deaths, followed by K-P
---
PAKISTAN:
Pakistan recorded a total of 5,050 new cases of coronavirus and 114 deaths in 24 hours, reported the National Command and Operation Centre (NCOC) on Sunday.
Out of the total deaths, 104 patients died in hospitals, whereas the remainder of deaths occurred outside of hospitals. Moreover, 43 of the patients who succumbed to the virus on Saturday were on ventilators.
Moreover, the NCOC added that the majority of deaths were reported in Punjab, followed by Khyber-Pakhtunkhwa (K-P).
Currently, the total number of active Covid-19 cases across the country is 73,875. A total of 4,920 patients were admitted across Pakistan in about 630 hospitals with Covid-19 facilities.
Out of 518 ventilators occupied across the country, the highest number of ventilators were occupied in Gujranwala at 88 per cent occupancy, followed by Multan at 81 per cent, Lahore at 79 per cent and Islamabad at 57 per cent.
The NCOC further reported that the highest number of oxygen-bed occupancy in the country was again in Gurjranwala at 85 per cent, followed by Peshawar at 72 per cent, Gujrat at 71 per cent and Swat at 63 per cent.
About 46,066 Covid-19 tests were conducted in the last 24 hours out of which 8,685 were conducted in Sindh; 19,016 in Punjab; 8,414 in K-P; 7,223 in Islamabad; 1,160 in Azad Jammu and Kashmir (AJK); 829 in Balochistan and 739 in Gilgit Baltistan (GB).
About 631,700 people have so far recovered from the deadly virus across the country.
The NCOC also reported that out of a total of 721,018 cases detected so far, 268,750 were detected in Sindh; 248,438 in Punjab; 98,301 in K-P; 65,700 in Islamabad; 20,241 in Balochistan; 14,461 in AJK and 5,127 in GB.

Moreover, out of a total 15,443 deaths reported in Pakistan so far, there have been about 4,529 deaths in Sindh; 6,972 in Punjab; 2,618 in K-P; 607 in Islamabad and 215 in Balochistan