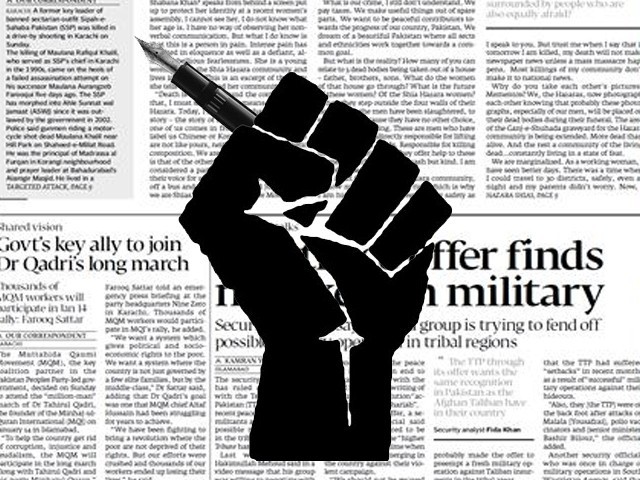 ---
What's missing from today's journalism is the practice of following up on issues, said renowned journalist Rahimullah Yusufzai during the second part of Razia Bhatti Memorial Lecture organised by the Centre for Excellence in Journalism (CEJ) at the Institute of Business Administration (IBA) on Friday.
The lecture series, a brainchild of the founding members of Newsline, a Pakistani monthly English current affairs and political magazine, is held to honour the work of its founding editor Razia Bhatti who died in 1996.
Yusufzai's talk focused on his 1998 interview with Osama bin Laden and came as a reminder that quality journalism would keep its status even as the profession battled with the likes of Facebook and Twitter in this social media. Yusufzai said journalism would always keep its place if reporters did their work with honesty.
"What's missing from today's journalism is the practice of following up on issues," said Yusufzai during the talk titled, 'Reporting in Troubled Times: Tea with Osama Bin Laden'.
"When you go for an interview, do your background research, ask tough questions and don't sleep on it. Get the story out as soon as possible," he added.
Recalling his interviews with Laden, Yusufzai said that after the now infamous press conference in which OBL declared war against the United States, all reporters sat down for tea with the leadership of Al Qaeda. He said the other reporters were speaking among themselves or enjoying their tea, but he used this as an opportunity to sit beside Laden and ask him about details of his life that weren't previously known.
"I asked him some tough questions and even though Laden was a soft-spoken man, I saw him get visibly upset at some of them."
The talk also featured comments by IBA executive director Dr S Akbar Zaidi, who said there had not been "another" journalist who has understood or written about what has happened in Khyber-Paktunkhwa, Afghanistan, and the wars on terror."
However, Dr Zaidi also shared his concerns on journalism standards in the contemporary age, saying that the quality had seen a decline. "I wonder who we will call next for the memorial lecture."
Published in The Express Tribune, April 11th, 2021.
COMMENTS
Comments are moderated and generally will be posted if they are on-topic and not abusive.
For more information, please see our Comments FAQ