KARACHI:
Forced to retreat from K2 to a remote area of Skardu, mountaineer and philanthropist Greg Mortenson in his his book 'Three Cups of Tea' has this to say about the beauty of the region and its people: "Here we drink three cups of tea to do business. The first you are stranger, the second you become a friend and the third you join our family, and for our family, we are prepared to do anything — even die."
Until one wanders into this area, it is impossible to fathom how true those words ring true in describing the warmth and charm of people who live here. The hilly area surrounded by beautiful lakes, encircled by dramatic waterfalls and rolling farmlands that produce fruits and vegetables, is also an area of artistic villages and towns that possess historic architectures.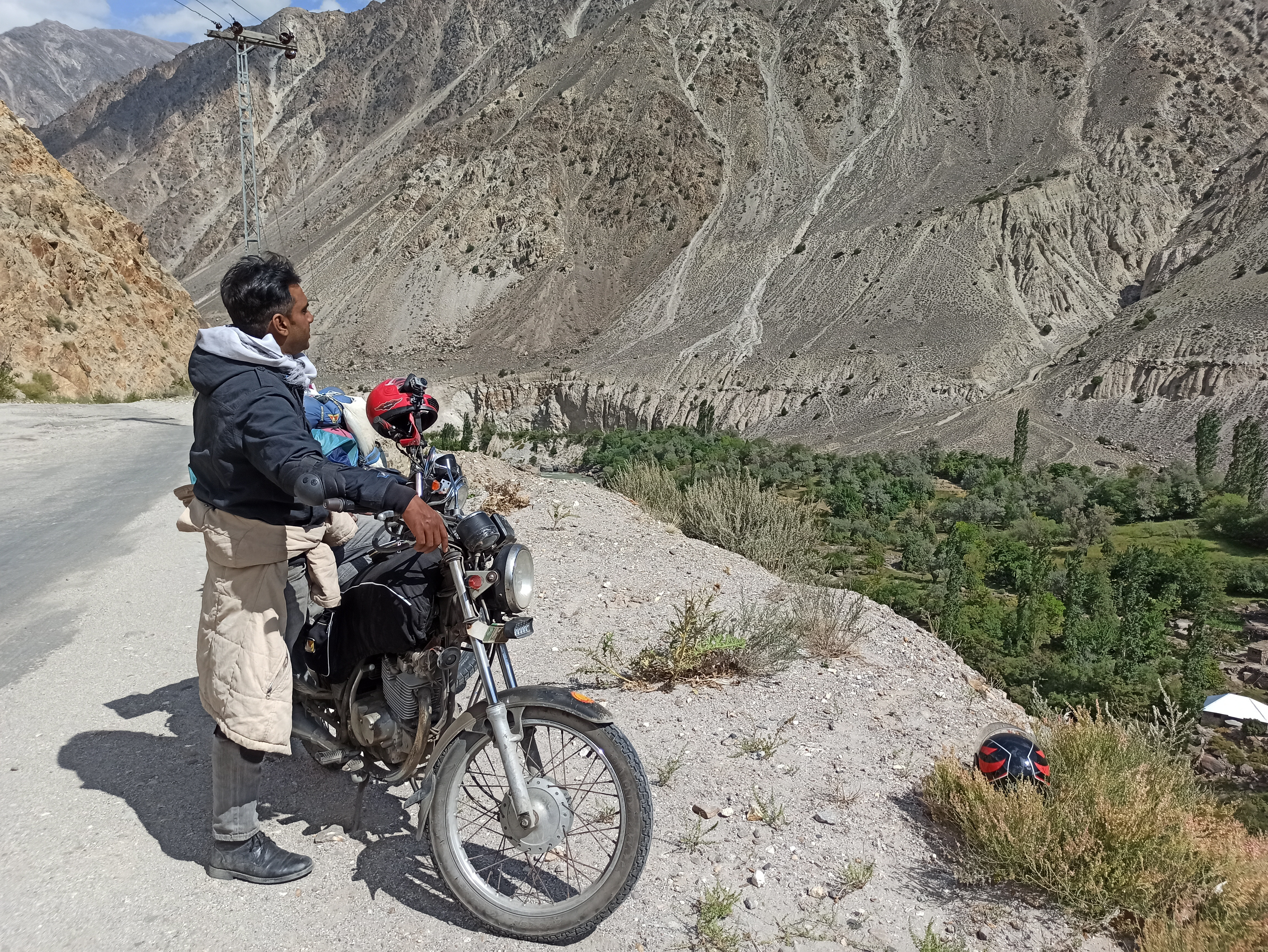 Despite their less than privileged living conditions, people in these areas are considered to be the happiest people in the world. Moreover, the traditional foods and the mountain peaks that glitter in the night sky, always impress the visitors. The region also attracts the hikers, mountain climbers and thrill seekers who explore the region and want to fill their souls.
Three decades earlier, an Irish nurse named Dervla Murphy felt the same tug to these mountains. Murphy, who crisscrossed the Karakoram in the deep winter on horseback, later wrote in her book 'Where the Indus Is Young': "None of the adjectives usually applied to mountain scenery are adequate here. Indeed, the very good scenery is comically appropriate. Splendor or grandeur are useless to give a feeling of this tremendous ravine that twists narrows and dark and bleak and deep mile after mile after mile. Only the jade-green Indus sometimes tumbling into dazzle of while foam relieves the gray brown of crags and sheer precipices and steep slopes."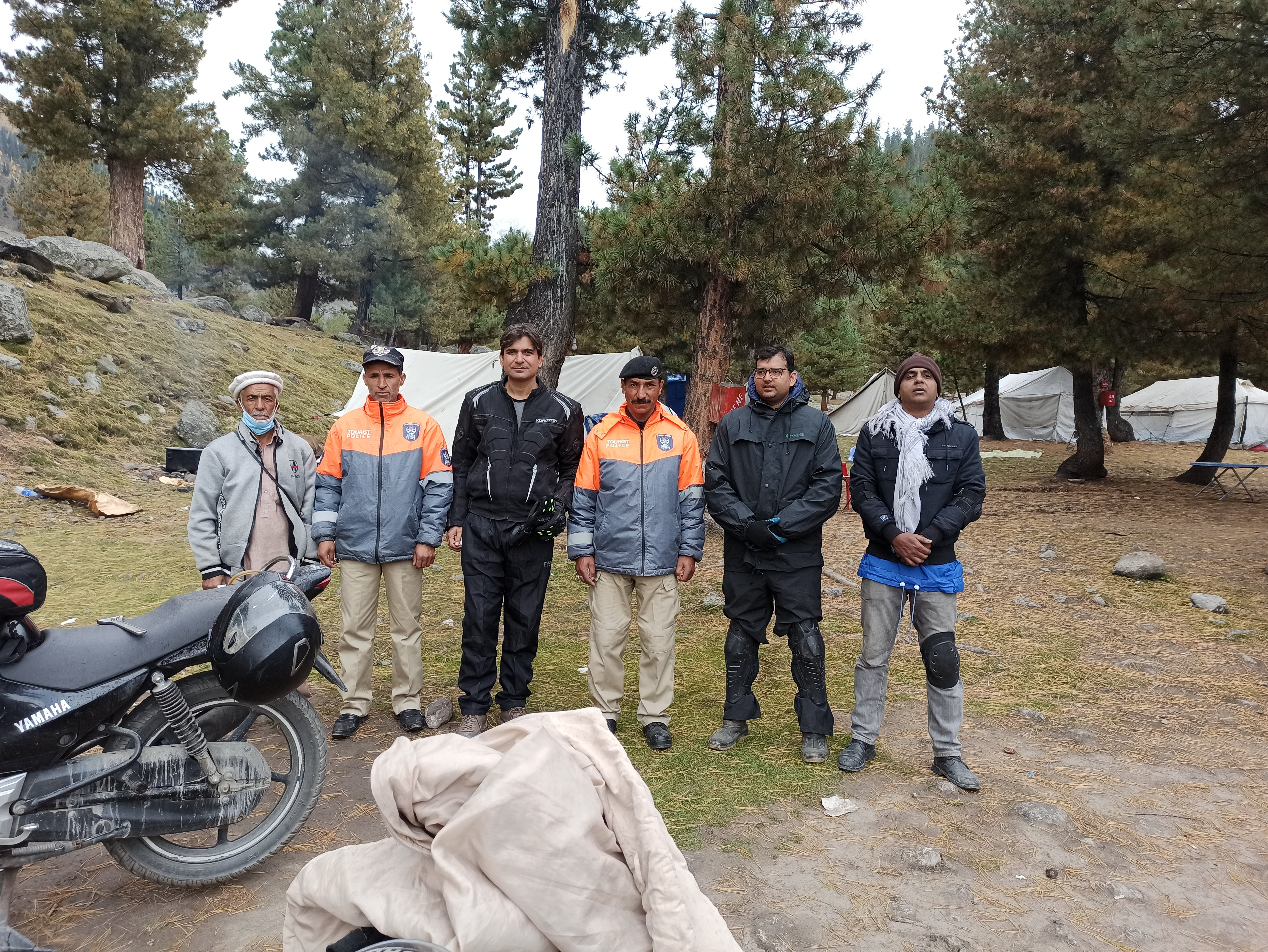 To follow the footsteps of these tourists, I and Kifayat Ali Shah, a fellow journalist, uploaded our two wheelers onto the train leaving for Lahore from Karachi.
As a preference, I never try to see an entire region in one visit. This way, each visit offers a distinct and vibrant world all on its own. My companion and I both decided to reach Skardu directly and enjoy the mountainous peak in the region.
However, riding a bike in hilly areas is not an easy task. Hassan Ali Khan, another biker from Karachi, whom I encountered in Mansehra precisely described the journey: "We just need 'dil' and 'gurda' (heart and kidney) to ride the bike all the way in order to explore the mountainous area of the North."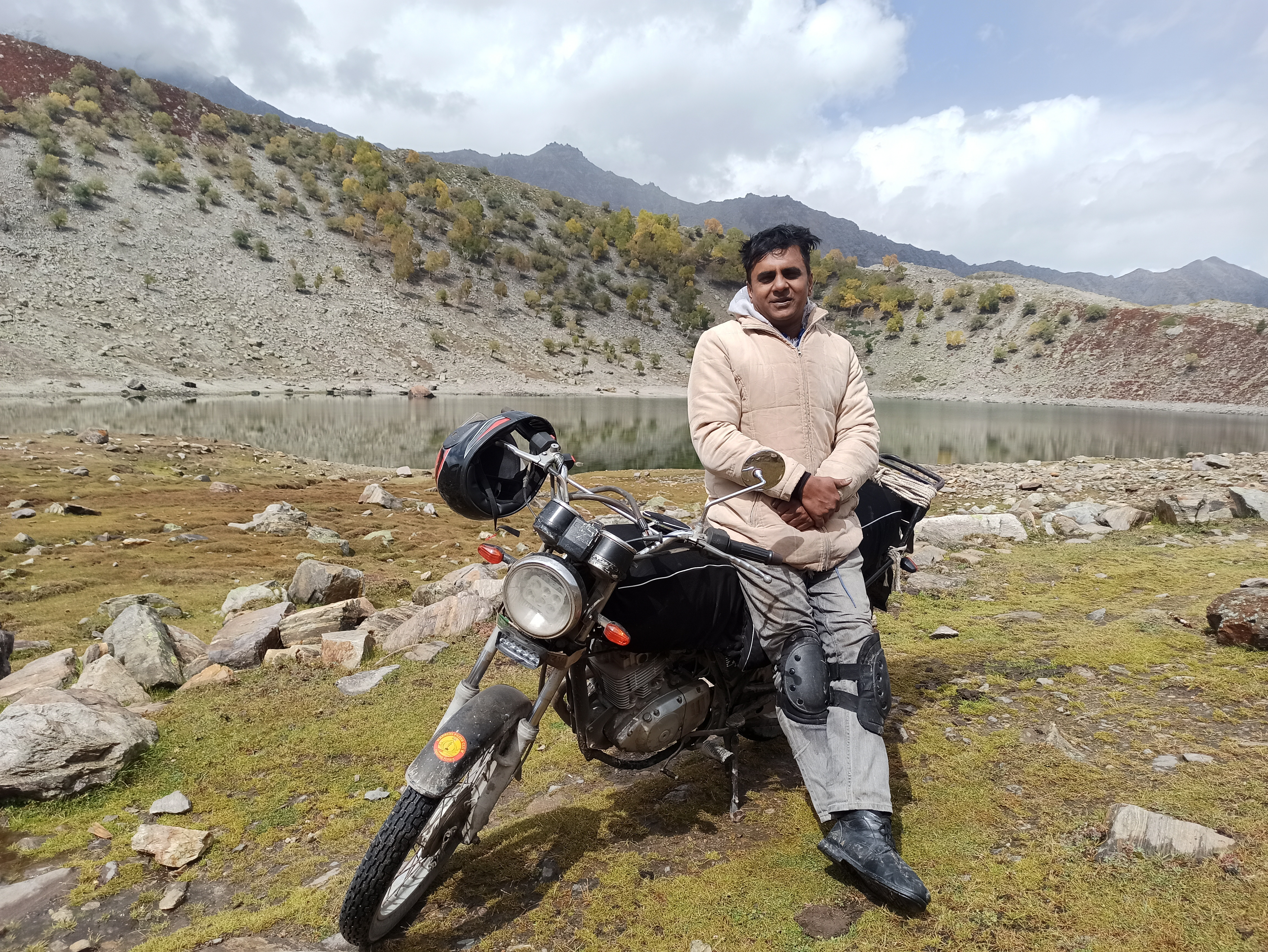 When I started my ride from Lahore, it took seven hours to reach Islamabad, where after having dinner I again took off for Mansehra. After we reached Abbottabad, we stayed there for a few hours and after dinner we took off again, finally reaching Mansehra at around 12 o'clock. After 17 hours of travelling, when I staggered to bed, I was so exhausted that I fell immediately into a comatose sleep that likely even a bomb going off in the nearby area would not woken me up from.
People in the northern areas are so loving but they desperately yearn for education and economic prosperity. "People in recreational areas around the world have been living privileged lives but in Pakistan the situation is worse," said a hotel waiter in Mansehra.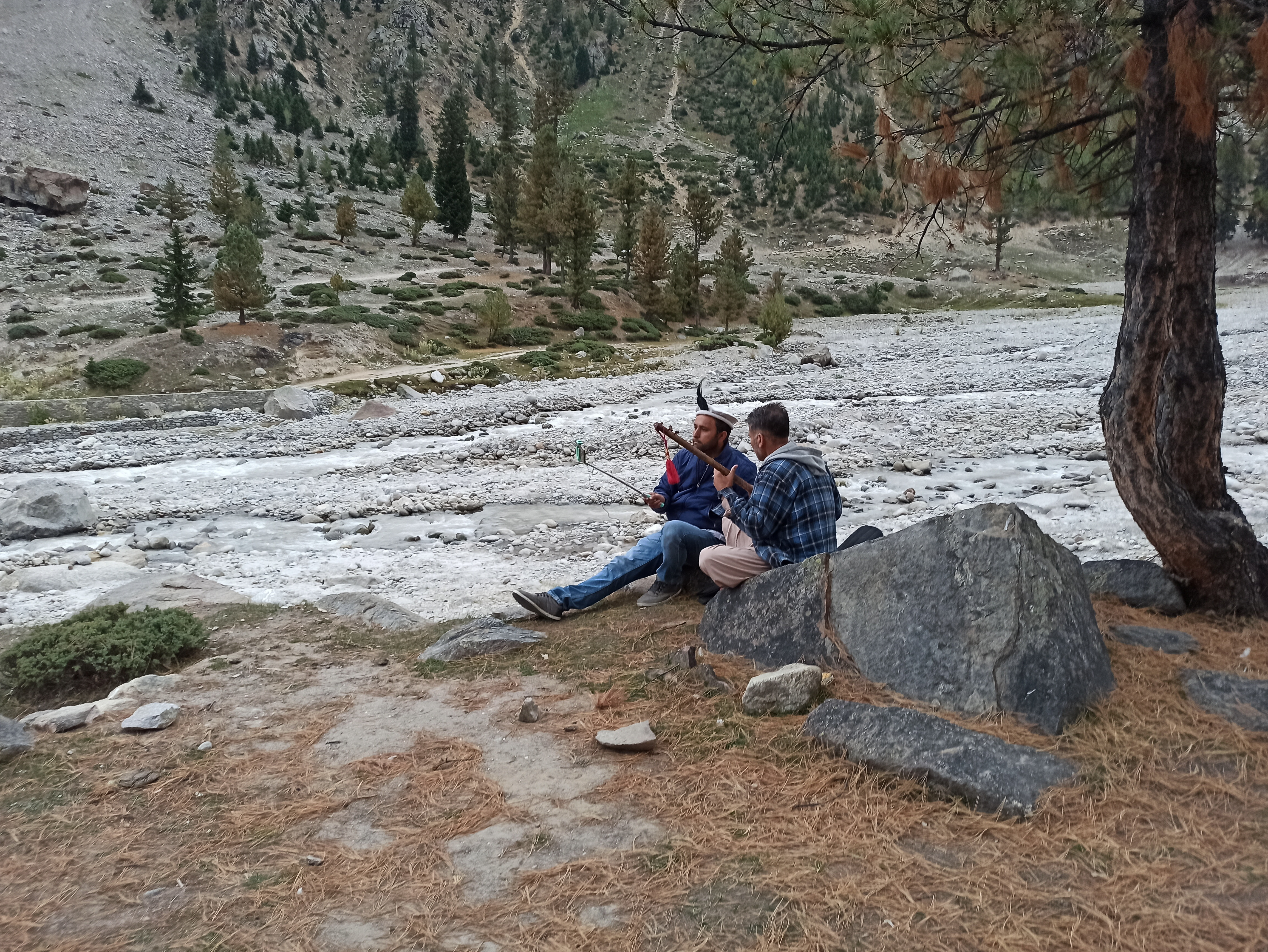 The second day, I started my journey with Kifayat at 3pm in the afternoon and when we reached to Kaghan valley, the sun was setting. After eating Kaghan's famous Shahbaba Chapli Kebab, I began my ride again and reached Naran by 9pm. The night journey on my bike between the mountainous hill and trenches in between from Kaghan and Naran also heightened the adventure as people usually avoid traveling on these treacherous mountains after dark, due to fear of driving off of them.
The next day we reached Babusar Top, 13,700 feet high from the sea. After taking some and photo shots our actual journey began from Babusar top, when we reached dangerous slopes called 'Babusir ki utrai aur charhai' (Babusar's climb and descent).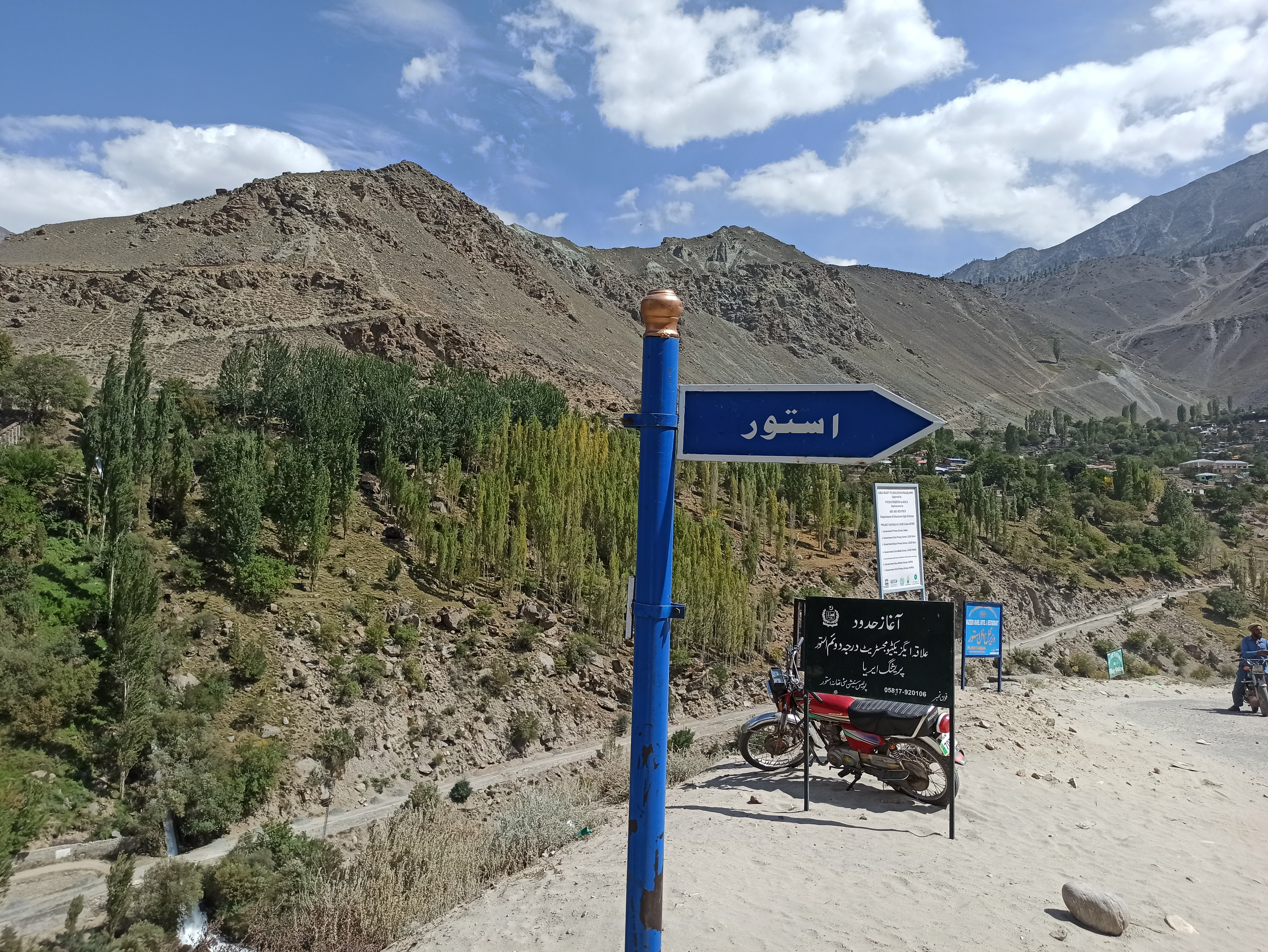 Babusar Pass is at a distance of 80 km from Naran. It is on the way to the pass that the Kaghan Valley's scenery becomes most dramatic. Battakundi is at a distance of 16 km from Naran and provides access to Lalazar Plateau, lake Dodiputsar and lake Lulusar, which is the biggest natural lake in Hazara and the source of Kunhar river. The road is wide and accessible for all kinds of vehicles.
I crisscrossed the Chilas district on my way to Raikot, where I encountered natives who complained about the misbehavior of the visitors who come to the area. Usually, people avoid staying in Chilas due to its hot weather. An incident that took place some years ago, when extremists shot down more than 14 people, is also a deterrent to visitors from a security perspective. However, the people in Chilas maintain their charm and are always ready to help anyone in need. They believe in hospitality and give the message that people must come visit Chilas without any fear.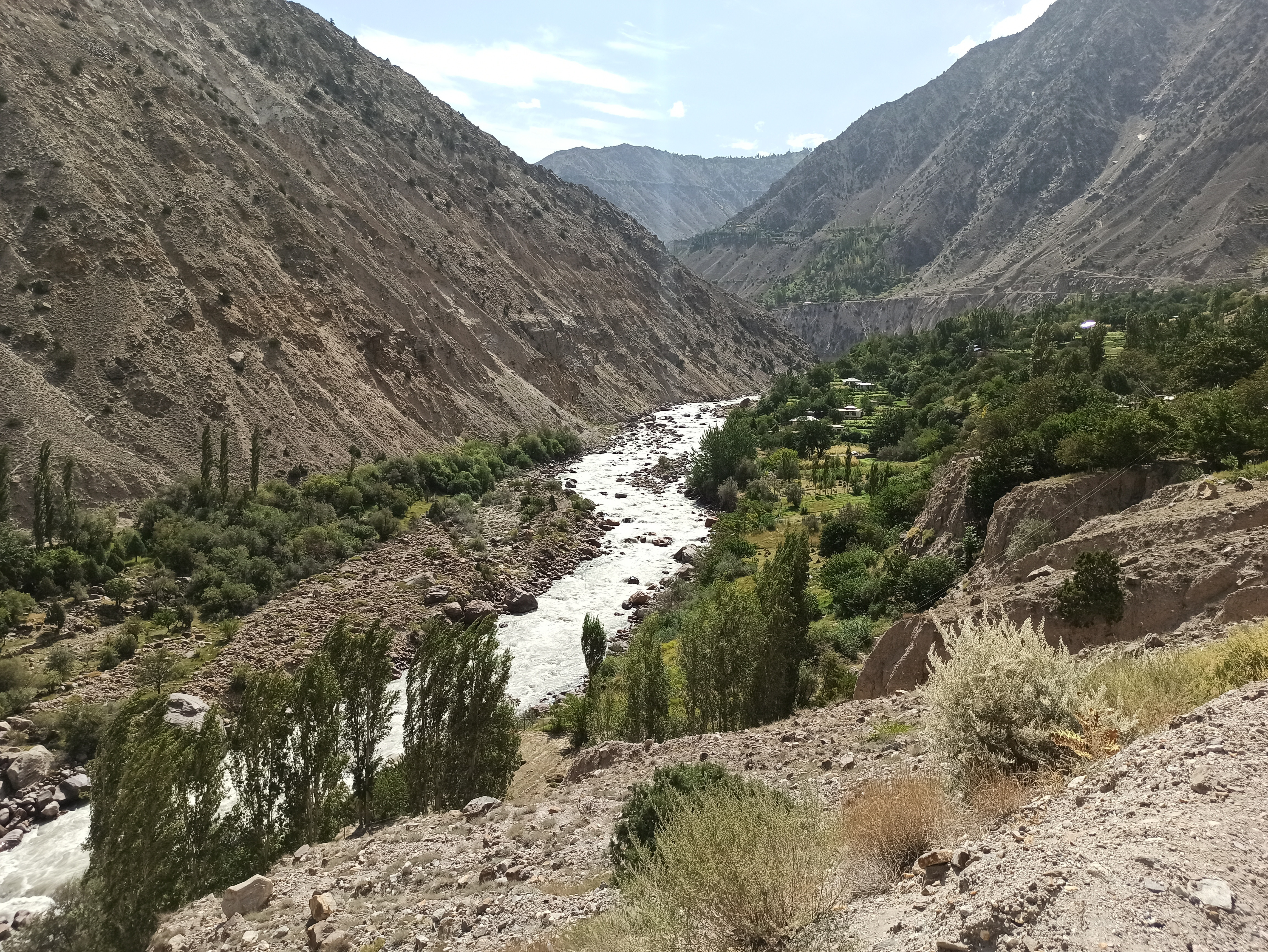 While driving on the Karakoram highway after crossing Raikot we reached Juglot city. From there, we turned towards Astore city. The road towards Astore is in a bad shape and at some places roads do not exist at all. Rama meadows is 10 km away from Astore and after passing Rama valley we were on a road that is quite steep. The valley itself is thickly forested with huge pine, cedar, fir and juniper trees.
Once in Rama meadows, where locals made some makeshift arrangements for the visitors, the humble Abdul Latif greeted us and gave us a tent for us to rest. Abdul Latif briefed us that the valley is about 3,300 meters (10,800 feet) above sea level and thus is covered with snow for seven to eight months of the year. In summer, the valley transforms into a lush green.
After spending a night at Rama tent city we started our journey again to the lake. I can say that it was an extreme thrill as not many travellers would have chosen to make their journey to the lake on their bikes and while the lake is great, it is the mountains surrounding it that are just as mesmerizing as the lake itself. If you enjoy a good, long trek, you can choose to go around and come down to the pine forest instead of going back the same way.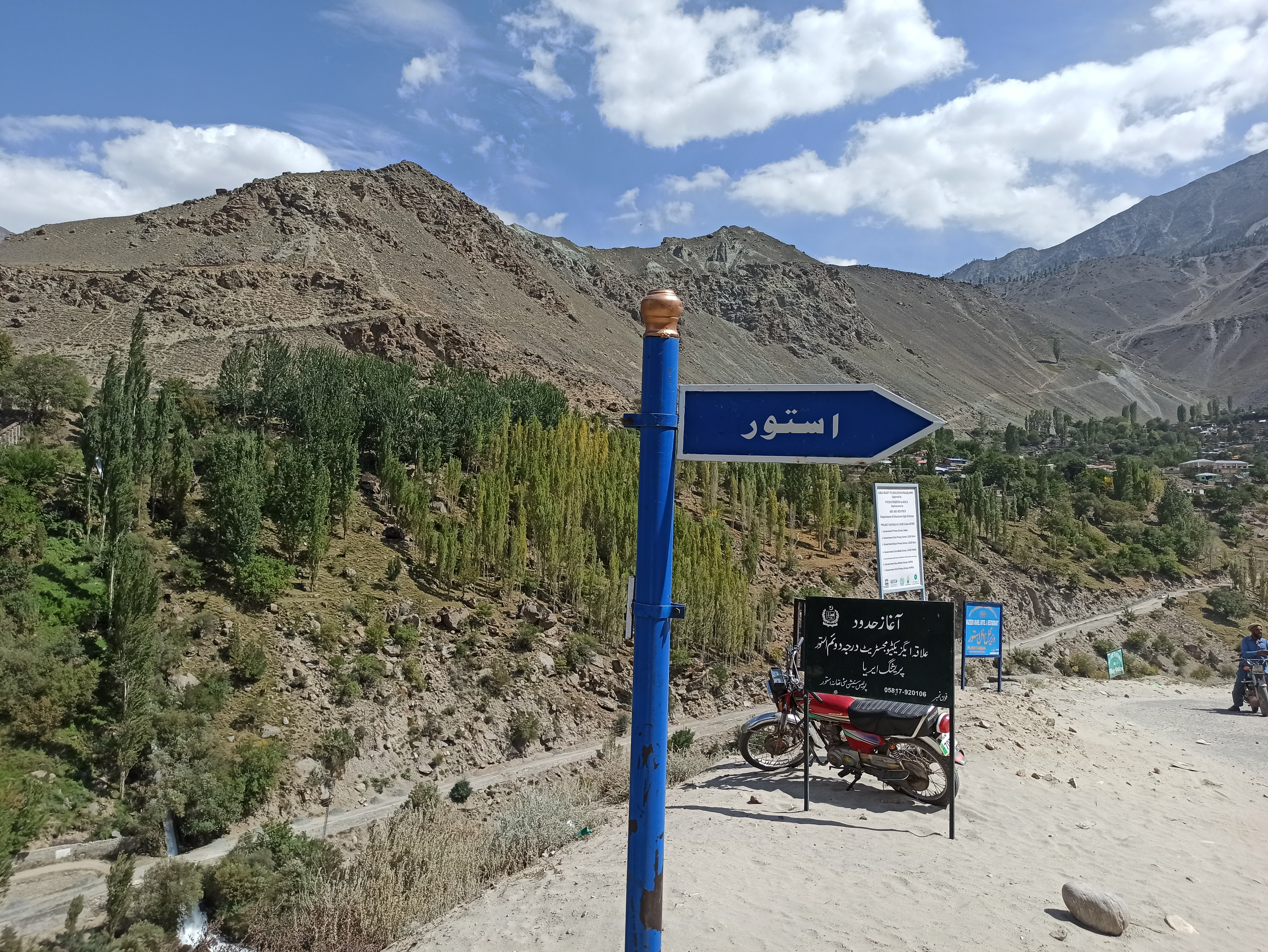 Helena Norberg Hodge, who spent 17 years living in these mountains and wrote, 'Ancient Future,' argued that Western development workers should not blindly impose western 'improvements' onto ancient cultures. She wrote that a close relationship with the land can enrich human life beyond all comparison with material wealth or technological sophistication: "I have learned that another way is possible."
Tajamul Hussain, a businessman from Gilgit, who also came to Rama Lake, said while talking to The Express Tribune, that the area was rich in minerals but people in the area need stability and need to be accepted. "You see, the people are keen to learn the education but current political and economical conditions have made nothing for them," he said, adding that "People are highly educated here and they are not of an extremist mindset but just need political certainty."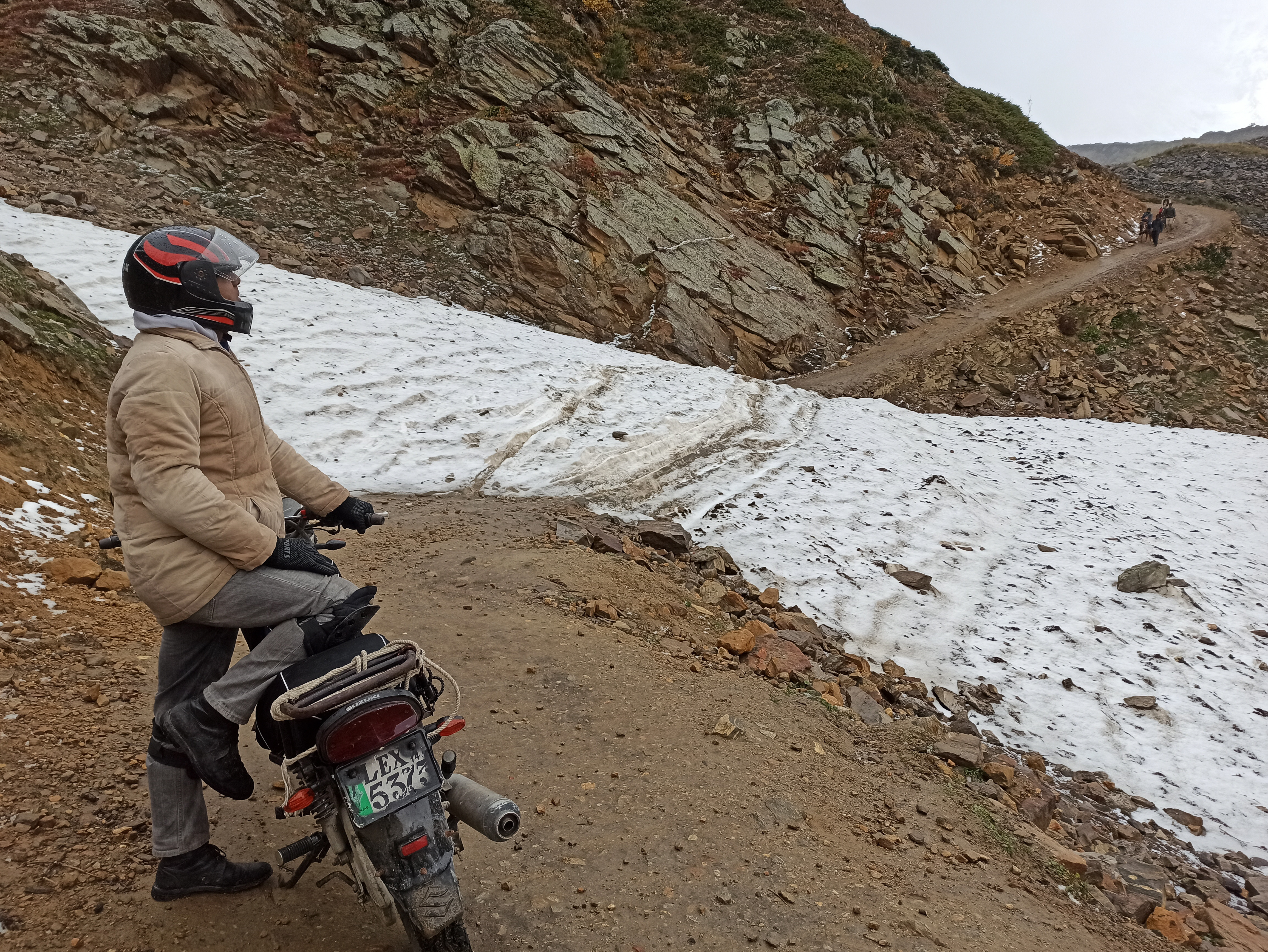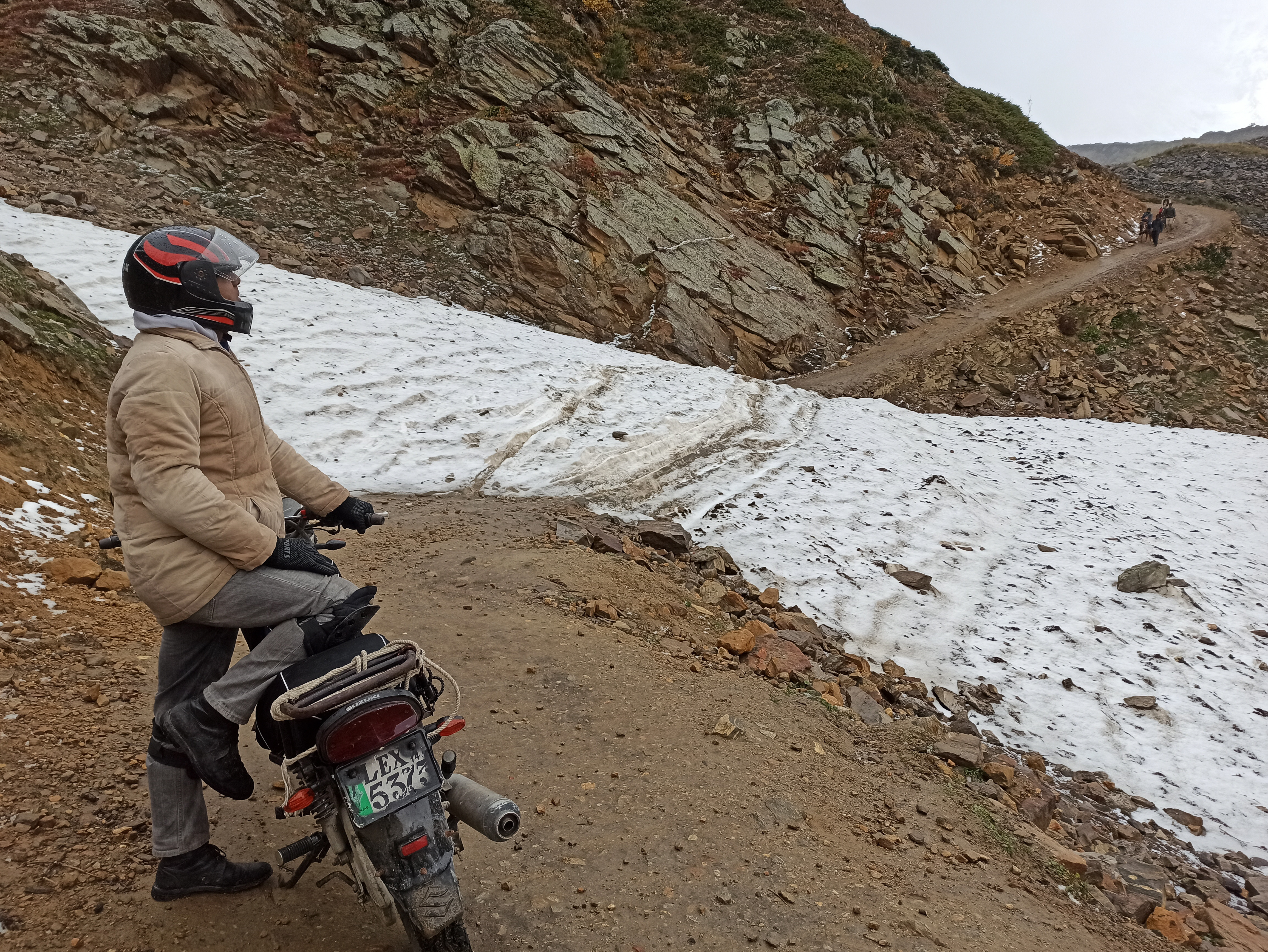 After tasting the flavor of Rama Lake, I began my journey to Skardu through the Deosai plateau. The Deosai Plateau is one of the world's most wilderness-rich areas. With its unobstructed views and countryside, dotted with cabins, it is one of the more picturesque landscapes.
Also in the north there is the face of Nanga Parbat, the greatest single unbroken pitch of rock on earth. But it is my most unfortunate that I could not reach Deosai due to snowfall, so I decided to go there on my next visit as well as Skardu.
There is a famous saying that, "Jobs fill your pockets, adventures fill your soul." So after filling our souls, Kifayat Ali Shah and began our journey back to Karachi.