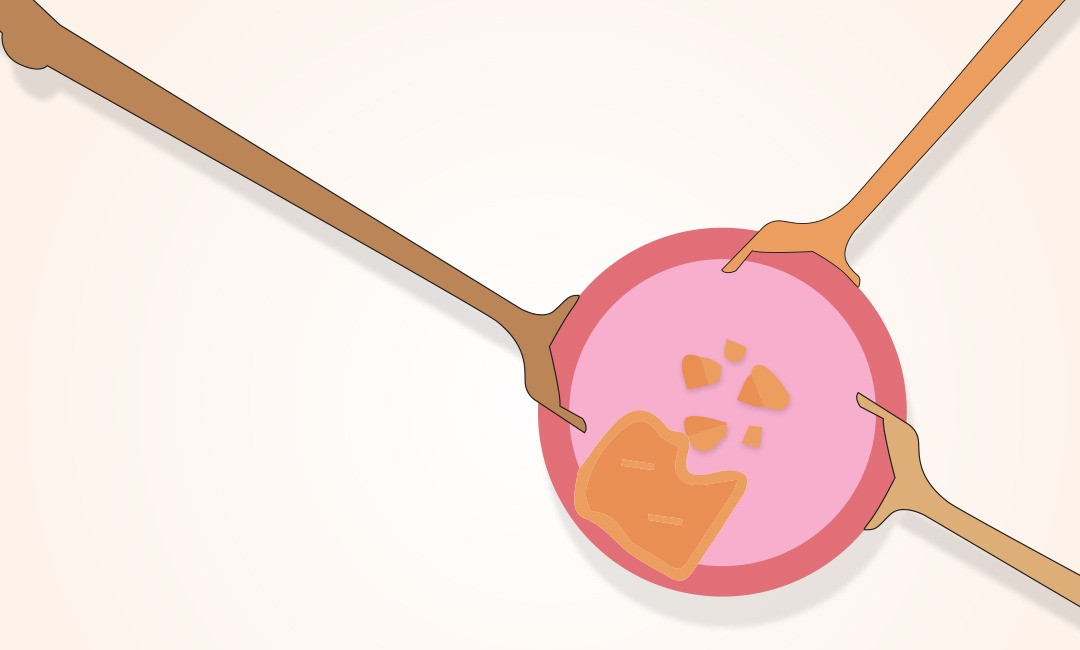 ---
KARACHI:
Over a third of all children in Pakistan are chronically malnourished (stunted), while 30 per cent of under children under the age of five are acutely malnourished (wasted). This situation contributes to high mortality and morbidity rates among children under the age of five, undermining their mental and physical growth and leading to a significant economic impact on their development and prosperity.
Malnutrition of this nature occurs when the mother or the child do not get the right amount of nutrition increase with every year. While the government has been building healthcare centres, it has been unable to cope with this situation due to the unavailability of qualified dieticians and the lack of a unified policy on this across the country.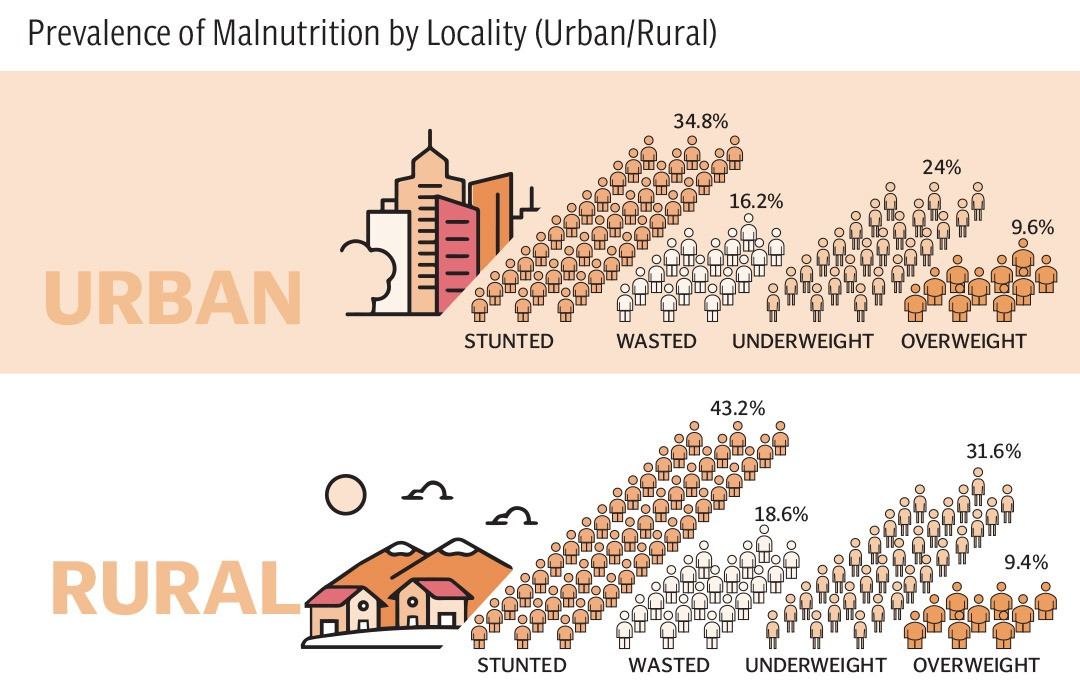 Creative: Ibrahim Yahya
Pakistan is not the only country facing the malnutrition issue but many countries worldwide have taken measures to tackle these issues. The reasons and levels of malnutrition in children, however, differ between Pakistan and other countries. The Director of Global Health Economic Outcomes Research and Policy at Abbott, Suela Sulo, who has been studying these issues for years, told The Express Tribune, "Malnutrition occurs when the body doesn't get the nutrients it needs and can happen in both underweight and overweight individuals. It is a common issue affecting children and adults in both developed and developing countries worldwide – including Pakistan and its neighbouring countries."
Higher mortality risk
A new finding shows that nearly 5 per cent of children are simultaneously affected by both stunting and wasting - a condition associated with a 4.8-times increase in mortality. The incidence of stunting and wasting is highest in the first 6 months of life but also exists in part at birth. For maternal nutrition, although the prevalence of undernutrition (low body mass index) has fallen, anaemia and short stature remain very high.
The Lancet published the latest series on Maternal and Child Undernutrition Progress, which reiterates that previously highlighted interventions continue to effectively reduce stunting, micronutrient deficiencies, and child deaths and emphasise the importance of delivering these nutrition interventions within the first 1,000 days of life. However, despite this evidence, programme delivery has lagged behind the science and further financing is needed to scale up proven interventions.
Another research report by Economist Intelligence Unit (EIU) indicates the current state of clinical nutrition in Pakistan's hospitals and clinics and how outcomes can be improved for patients. The report discusses food insecurity, a dearth of nutritionists and dietitians, the underprioritising of nutrition and the fragmented policy landscape in Pakistan.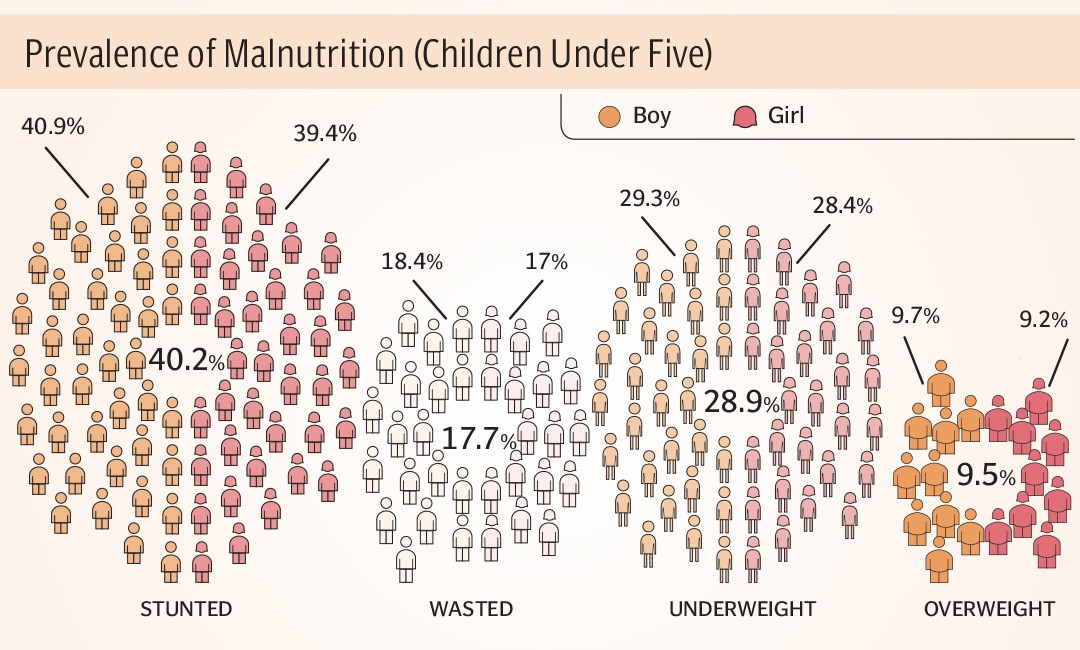 Food insecurity
Both the reports discuss food insecurity, a condition in which households lack access to adequate food because of limited money or other resources, which afflicts almost 37 per cent of Pakistan's households. As a result of this insecurity, malnutrition— when a person's diet does not contain the right amount of nutrients—is commonplace. About half of adult women in Pakistan suffer from anaemia, over a third of children are stunted, and about 30 per cent of under five-year-olds are underweight.
AKU faculty Professor Zulfiqar A. Bhutta and Dr Jai K. Das are senior and lead authors of two papers in the Lancet series. They noted that Pakistan, like many developing countries, faces the challenge of the triple burden of malnutrition where stunted growth and deficiencies of essential nutrients are prevalent alongside a trend of rising overweight and obesity.
"More than half of Pakistan's population is food insecure and many essential nutritional interventions such as breastfeeding and complementary feeding indicators are far below the desired levels. Pakistan needs to reinvigorate its focus with a sustained viable strategy for ensuring improved health and nutrition for all to meet global targets soon," the report states.
Preventative over curative healthcare
As people don't get the right amount of food and nutrition, they end up with malnutrition-related health issues. According to Professor Javed Akram, Vice-Chancellor University of Health Sciences, Lahore, and the founding President of the Pakistan Society of Internal Medicine, people focus more on curative health and not on preventative health.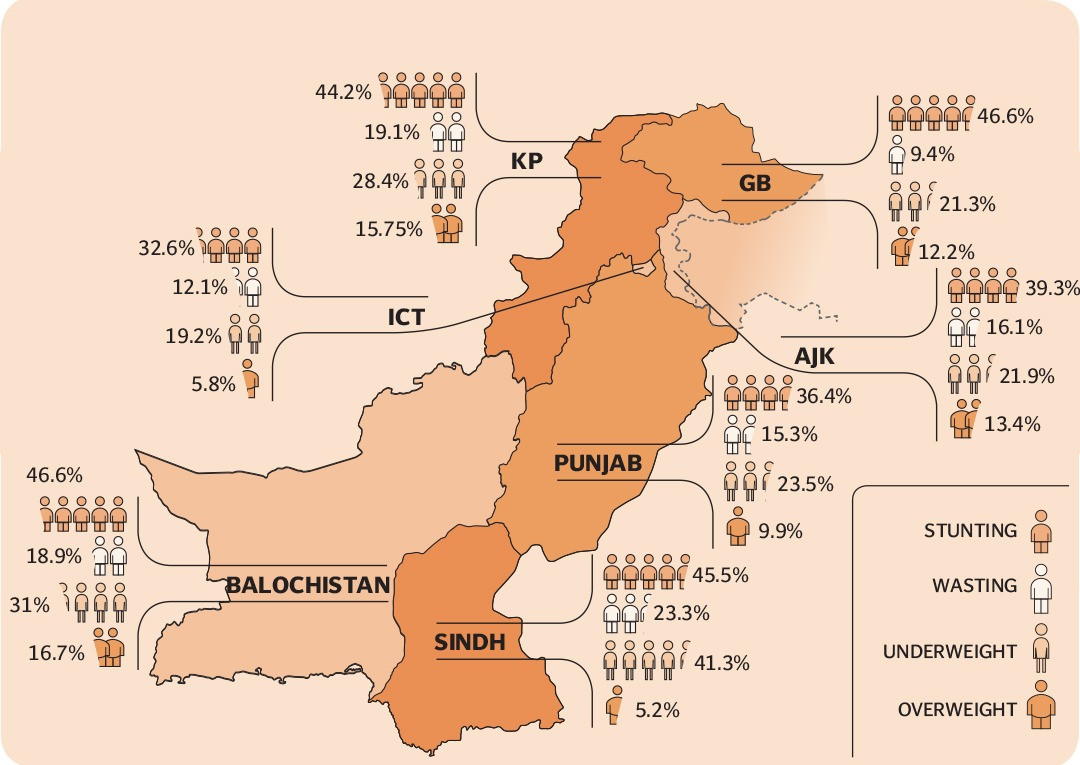 "People here focus much on curing the disease rather than focusing on preventing the health issues. During the ongoing Covid-19, we have seen many people spending more on getting their dear ones out of the hospital rather than focusing on why they ended up in the hospital in the first place. We have to educate the people that if they spend a small amount on the preventative side, they can save thousands on the curative side," he said.
He further added that the hospital stay is also what people don't want and spend millions on getting their dear ones out of the hospital as soon as they can. "The condition of the hospitals are not good in Pakistan. They are also not focusing much on nutrition according to the need of the patient. This is also one of the major reasons for malnutrition," he added.
Explaining it further, he said nutrition is what the public does at large, whereas what we do around nutrition in the clinics is clinical nutrition. "Both require adequate nutrition, not over or under, which is not being focused on and results in clinical malnutrition," said Akram.
Clinical malnutrition
Many factors combine to stifle the development of better nutritional care in Pakistan. The problems begin when the patient enters a healthcare facility, for most patients are not screened for Malnutrition upon admission. As a result, many commence their stay facing a hurdle, and more than two-thirds of patients with malnutrition decline further during their stay.
The EIU report states that malnutrition is also found in hospitals and other clinical settings in Pakistan and worldwide. It is estimated that globally, malnutrition affects almost 50 per cent of patients admitted into the hospital. And yet, only 7 per cent of these are typically diagnosed, leaving millions potentially undiagnosed and untreated, while other patients can develop the condition while in hospital. Clinical malnutrition can lead to the need for high-dependency clinical care, lengthen recovery times, and increase the likelihood of high-risk complications.
Clinical malnutrition also has consequences for hospitals and the broader health system: increased costs resulting from longer lengths of stays, more intensive clinical care and higher readmission rates can cripple health system administrations.
On the other hand, based on this new evidence, the series presents a new framework for categorising nutrition actions into direct and indirect interventions and health and non-healthcare sector interventions. This framework highlights that evidence-based interventions continue to be a combination of direct interventions (example, micronutrient supplementation and breastfeeding counselling) and indirect interventions to address the underlying determinants of malnutrition (example, family planning and reproductive health services, cash transfer programmes, and water, sanitation and hygiene promotion). Nutritional interventions delivered within and outside the healthcare sector are also equally crucial for preventing and managing malnutrition.
A dearth of nutritionists and dietitians
Moreover, a lack of nutritional knowledge among clinical staff in Pakistan is a persistent issue. "Hospitals are not very receptive towards a dietitian," laments dietitian Lieutenant Commander Anwar, a practising dietitian and former President of the Pakistan Nutrition and Dietetic Society - a body that is dedicated to upgrading the professional knowledge of dietitians practising in Pakistan. "Those practitioners who are locally educated in Pakistan don't support dietitians. They want to prescribe their own diet, and they tell the dietitian to only make the menu for it," he said.
Some hospitals do focus on nutrition—about 10-15 per cent Anwar estimates—and those hospitals are getting results. "They have reduced complication rates, length of stay, readmission rates, mortality and cost of care. They have seen the overall benefits," says Anwar. She also adds there are fewer readmissions if discharged patients' nutritional status is good.
"It is not humanly possible for me to do a malnutrition assessment of every patient," laments Anwar. "We have minimal staff in hospitals. Some hospitals have more dietitians, some of the hospitals have fewer dietitians, so it is not universal here."
Often the terms nutritionist and dietitian are used interchangeably. However, the Pakistan Nutrition and Dietetic Society require a dietitian to have dietetics qualifications and training, whereas a nutritionist does not. As a result, all dietitians are nutritionists, but not all nutritionists are dietitians. The role of registered dietitians and nutritionists is to provide care to patients in various settings; they are responsible for assessing patients' nutritional needs, providing appropriate diet-related care plans, and educating patients and families on a diet.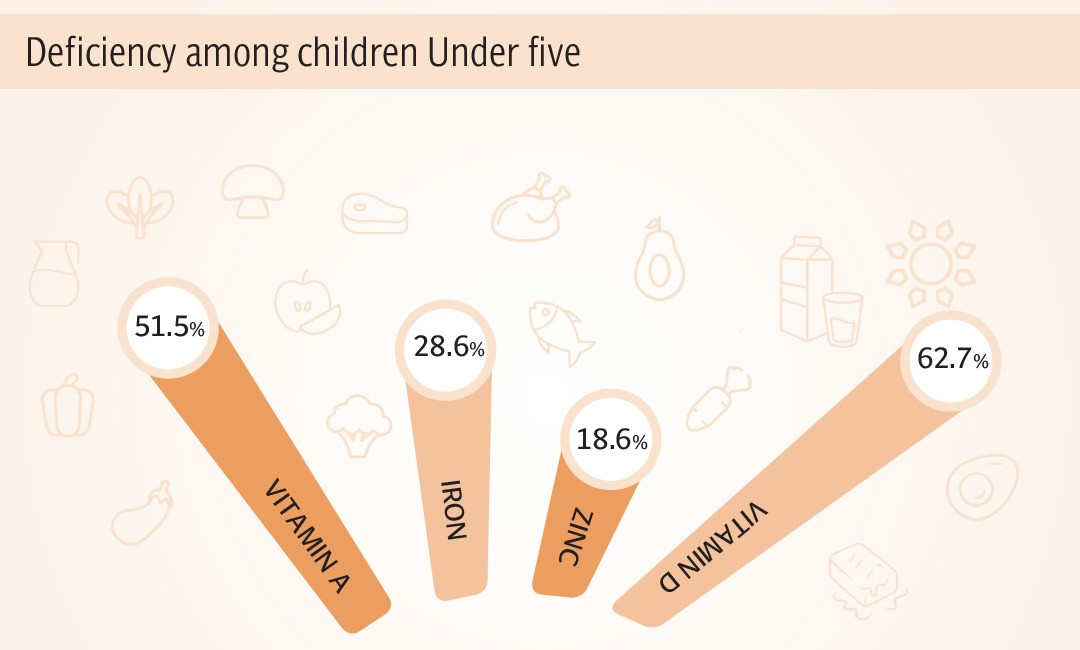 Dr Rubina Hakeem, Principal, RLAK Government College of Home Economics Karachi and founding chairperson of Nutrition Foundation of Pakistan, says that the problem begins with a lack of appropriate education programmes. "Many of the colleges continue to run high-quality dietetic programmes, producing home economics graduates with specialisation in nutrition. However, because of the limited supply of graduates from these colleges, many programmes have been founded in Pakistan were few, if any, of the faculty has studied or practised dietetics or clinical nutrition. These programmes can vary in the content and quality of education. "That is a very, very concerning area because those new graduates are now a huge number," she states.
Suela Sulo, talking about the importance of dietitians, says that, "Dietitians play a critical role in providing nutrition care, addressing malnutrition requires a multidisciplinary team approach, especially when personnel or resources are limited. Growing evidence shows the importance of malnutrition screening, which can be done by asking two questions and can take less than five minutes upon hospital admission or at a clinic visit by a nurse. Quickly and efficiently identifying individuals at malnutrition risk can help streamline the nutrition care process, allowing dietitians to complete a nutrition assessment and work with a physician to treat individuals found to be malnourished."
The quality of food in hospitals
The EIU report also suggests that the most straightforward, safest and cheapest way to provide nutritional care and support is to get the patient to eat more of the food given to them. But a recent survey titled 'Hospital food' in Pakistani hospitals, concluded that patients were generally unhappy with the quality of hospital food—they were often not inclined to eat what they were given. This is not unique to Pakistan. A British survey, 'Evaluation of Hospital Food Waste', showed that average food intake is 75 per cent less than what is recommended and that between 30 and 50 per cent of hospital food is wasted, particularly among the elderly population. The reasons for such wastage varied from the menu not taking into account cultural differences to food being unappetising or meals simply being served at inconvenient times.
It has been suggested that a solution to this aversion to hospital food in Pakistan may be to allow patients to provide immediate comments on their meals, therefore creating a continuous cycle of feedback. This could lead to a demand for more frequent, smaller meals or a broader range of more appetising dishes, anything to encourage the consumption of nutritious meals. But Dr Achakzai notes that "in the public sector one of the barriers is that the tertiary care hospitals are heavily crowded. When a hospital is heavily crowded, you cannot, for example, calculate each and every individual's foodstuffs or the nutrition they need."
The nutrition strategy of Pakistan
Pakistan has included supplementation in its multi-sectoral nutrition strategy, which began in 2018 and spans to 2025. The strategy aims to create economies of scale in the areas of procurement, capacity building and logistics. As a result of its multi-pronged strategy, Pakistan hopes to reduce anaemia among women of reproductive age by 50 per cent, low birth weights by 30 per cent, and stunting in children under age the of five by 40 per cent. They also hope to stabilise the rate of overweight children.
But there remain big gaps in the plan, including clinical malnutrition and there is little on the monitoring and evaluation of whether the strategies are effective and if the desired outcomes are being met. Dr Achakzai acknowledges this gap. "We have a strategy on nutrition in emergencies. We have a strategy for micronutrient deficiencies. But clinical nutrition, as policy measures, so far we have not addressed that." But it's not only policies which are needed, but regulation of the sector too. There is no regulatory body that can regulate the practice of dietitians.
However, since Pakistan's healthcare system is not solely governed by the centre, reforming and refining the health system elements can be arduous tasks that require lengthy negotiations and many compromises. "Hospitals come under the provincial government domain, so in Pakistan, the healthcare services are decentralised to the provinces, and we cannot interfere in what policies they have, what SOPs (standard operating procedures) they adopt," says Dr Achkazai. "But regulation is the domain of the federal government," he shares, and federal government officials are aware that a paradigm shift related to clinical nutrition needs to take place.
A potential solution
To tackle the situation, the Pakistan Nutrition and Dietetic Society is encouraging hospitals to make a conscious approach to hiring nutritionist specialists. "Our society is actually networking with all hospital managements to hire only registered dietitians in the hospital so that medical nutrition therapy can be successful," says Anwar. Subsequently, the Government of Pakistan is now developing accreditation for nutritionists and dietitians. Doing this will help ensure standards of practices for these professionals, that there is a regulation set in place for what they do and how they do it. It will also, it is hoped, lead to better dietary practices in clinical settings.
The evidence suggests that a multidisciplinary approach to care improves outcomes and that teams should ideally be comprised of nurses, pharmacists, physicians and, of course, dieticians, who would work together to provide screening, develop strategies to educate patients and develop an evidence-based care plan. The team would also be a tether to primary care, creating a longitudinal care plan link. Such units, with nutritionists or dieticians on board, are rare in Pakistan. But while it will require some patience and work, Commander Anwar is somewhat hopeful. "Hospitals acknowledge that this is the need of the hour; that they have to have multidisciplinary teams in the hospital."
Suela Sulo says that "While healthcare policies focusing on elevating the role of nutrition care are needed, optimising nutrition care is everyone's job and responsibility – and only by working together can governments, hospital systems and healthcare professionals in public and private sectors manage and alleviate the significant burden malnutrition poses on society."
"Due to the pandemic, many patients may not be seeking regular health care or having in-person clinic visits, so it is essential for healthcare professionals to focus on and deliver nutrition care through other forms of healthcare, including telehealth or phone visits. It's also important for anyone who may think they or their loved ones are at malnutrition risk to speak with their healthcare professional."
Implementing processes that prioritise nutrition in all healthcare settings can lead to better patient outcomes, better healthcare system performance, and greater cost savings. The simple actions of screening and identifying individuals at malnutrition risk, implementing personalised nutrition intervention, education and follow-up care can help Pakistan and countries around the world reduce malnutrition, including stunting. It can also help alleviate the overall economic burden of malnutrition.
Professor Akram suggests that there is a need to teach people and kids about getting the proper nutrition. "Best teachers are mothers; nutrition cannot be taken for granted. We need to teach others what is a balanced diet," he concluded.