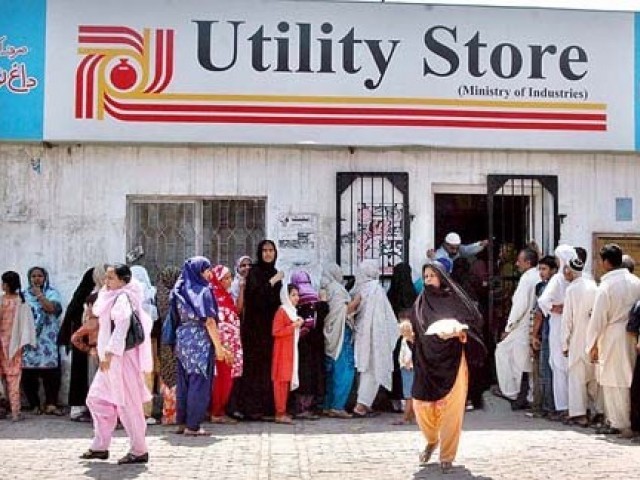 ---
ISLAMABAD:
The Utility Stores Corporation (USC) is going to offer 10% to 15% subsidy on 19 essential commodities during the holy month of Ramazan that is likely to start from April 12.
However, the subsidy is not going to provide much relief to the masses as the USC has hiked prices of a number of these commodities a couple of months before Ramazan.
The federal government has already announced a Ramazan relief package of Rs7.8billion.
During this Ramazan, the USC will offer subsidy on 7 brands of ghee, a food commodity whose consumption tremendously increases during the Islamic month. However, the popular ghee and cooking oils brands have already hiked their prices by Rs10 to Ra15 per kilogramme.
The USC also offers subsidy on lintels under the Ramazan relief package. However, the price of daal chana – which is among the most consumed lintels – has already been increased by Rs15.
Interestingly, the USC also recently increased the price of daal maash by Rs15. This hike will offset the benefit of an almost equal amount of subsidy offered under the package.
The prices of beverages have also been increased a couple of months back by up to Rs35. The price of some cold drinks is also increased by Rs20. The prices of a number of spices were also increased in February. This hike in prices ahead of offering a subsidy seems like a gimmick and not a true relief.
The federal government on March 11 endorsed Rs7.8 billion worth of Ramazan relief package to provide essential food items at controlled prices at the USC. The Economic Coordination Committee (ECC) of the Cabinet gave the nod to the package in a meeting chaired by then finance minister Dr Hafeez Shaikh.
The ECC decided that during Ramazan, the USC will subsidize 19 essential items under the proposed relief package. However, a major chunk was proposed to be spent on giving subsidies on wheat flour, sugar and ghee which have significant differential vis-a-vis prevailing prices in the domestic markets.
The ECC also approved a proposal to provide 70,000 metric tons wheat flour at Rs30 to Rs50 per kg reduced rates. The 50,000 metric tons sugar was to be provided at Rs40 per kg lower than market rates, and the 30,000 metric tons ghee was to be sold at Rs43 lower than the market rates.
The USC managing director had told the ECC that procurement would start from April 1 to ensure availability of basic items at discounted prices across 4,000 outlets of the USCs throughout the country.
(With input from News Desk)
COMMENTS
Comments are moderated and generally will be posted if they are on-topic and not abusive.
For more information, please see our Comments FAQ