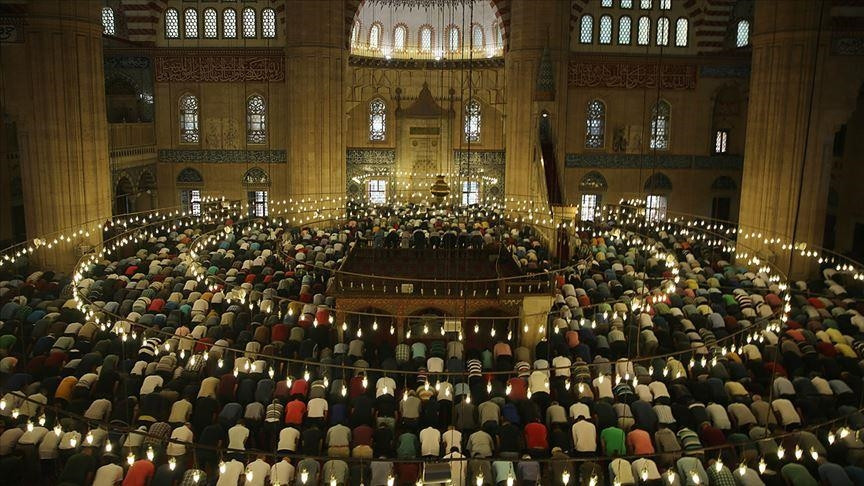 ---
ISTANBUL:
Six Arab countries will allow mosques to hold Taraweeh prayers during the holy month of Ramazan, while three will continue to ban the special night prayers because of the coronavirus pandemic.
Saudi Arabia, the United Arab Emirates (UAE), Kuwait, Iraq, Egypt, and Algeria, announced that they have allowed the five daily prayers at mosques, Friday sermons and Taraweeh during the holy month of fasting.
Taraweeh will be subject to precautionary measures, including a time limit, keeping social distancing and wearing masks.
Qatar, Oman, and Jordan announced Taraweeh will not be held in mosques during Ramazan, which begins on April 13 and ends on May 12.
Read more: Despite third Covid wave, mosques to open doors for Taraweeh in Ramazan
Saudi authorities announced on March 28 that mosques would be open for all prayers and Taraweeh as well as distribution of meals to break the fast at the Grand Mosque in Makkah, for those who obtain a permit from the Etamarna mobile application. A similar motion was issued earlier regarding Madina's Nabawi Mosque, or the Prophet's Mosque.
A partial curfew in Kuwait will continue during Ramazan, from 7pm (1700GMT) until 5am (0300GMT), with Taraweeh held at mosques within walking distance from homes, according to a statement earlier this month by the Minister of Endowments and Islamic Affairs Issa Al-Kandari.
The General Authority for Islamic Affairs and Endowments of the UAE announced on March 17 a 30-minute limit for Isha and Taraweeh. It banned iftar at mosques and their courtyards. The agency will later decide about the last 10 days of Ramazan.
The Ministry of Health in Iraq announced on April 4 it had "no intention of taking new measures during the blessed month of Ramazan," which means allowing prayers at mosques.
In Egypt, mosques will open doors only for prayers including Friday sermons and Taraweeh, according to a statement on April 1 by the Ministry of Endowments.
Read more: Holy month of Ramazan to begin from April 14, predicts sci-tech ministry
Algerian mosques will open for prayers including, Friday and Taraweeh with the latter not to exceed 30 minutes, according to a statement on April 1 by the Ministry of Religious Affairs and Endowments. Also, during Ramazan, a curfew will continue in nine of 58 provinces between 11pm (2200GMT) and 4am (0300GMT).
Qatar's Council of Ministers decided on April 7 to continue opening mosques to perform daily and Friday prayers in Ramazan provided that Taraweeh will be performed at homes because of the spread of the coronavirus.
The number of employees will be reduced at government institutions and in the private sectors to 50% alongside measures like preventing social gatherings and visits in closed places as well as closing public markets on Fridays and Saturdays.
In Oman, authorities announced on April 5 a ban on commercial activities and imposed a curfew from 9pm (1800GMT) until 4am (0100GMT) during Ramazan.
The decision also prohibits holding Taraweeh at mosques, a total ban on all Ramazan gatherings, social, sports, cultural and other group activities.
The Jordanian government decided on March 28 to prevent holding Fajr, Maghrib, Isha, Taraweeh, and Friday prayers at mosques while a comprehensive curfew will continue on Fridays.
A partial lockdown will be maintained during the rest of the week from 6pm (1600GMT) for institutions and individuals from 7pm (1700GMT) to 6am (0400). The measures will take effect until May 15.