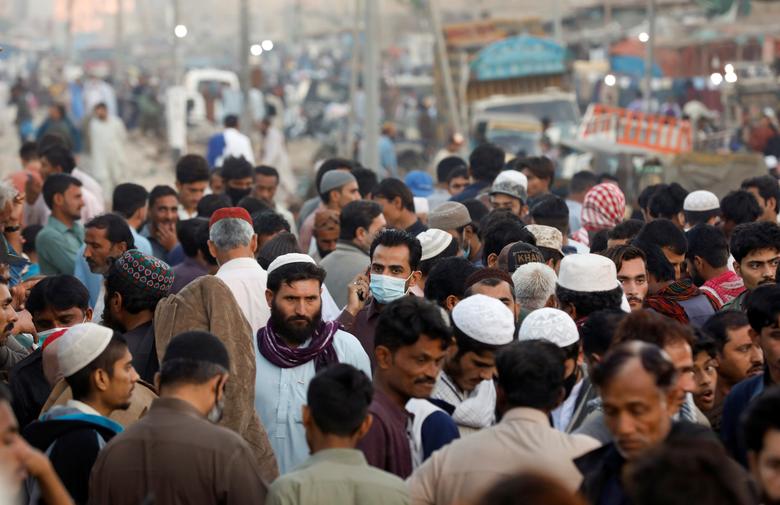 ---
Pakistan recorded 5,329 new coronavirus cases in the last 24 hours, the highest of the third wave, taking the country's Covid-19 tally to 705,517.
According to the National Command and Operation Centre (NCOC), the country's death toll climbed to 15,124 after 98 people succumbed to the deadly disease during the last 24 hours. Most deaths occurred in Punjab followed by Khyber-Pakhtunkhwa (K-P).
Meanwhile, 2,610 patients recovered from the deadly disease in a day taking total recoveries to 623,399.
According to NCOC, the total active Covid-19 cases across the country were reported to be 66,994.
The highest number of ventilators occupied in the country was found to be in Gujranwala with 84 per cent occupancy, followed by Multan at 81 per cent, Lahore at 75 per cent and Islamabad at 58 per cent. and at 54 per cent and Peshawar at 26 per cent.
Read more: Covid inoculation drive begins in prisons in Sindh
The NCOC further reported that the highest number of oxygen bed occupancy in the country was in Gujranwala at 84 per cent followed by Peshawar at 83 per cent, Gujrat at 73 per cent and Swat at 63 per cent.
About 49,816 Covid-19 tests were conducted in the last 24 hours out of which 9,411 were conducted in Sindh, 21,325 in Punjab, 8,292 in K-P, 8,433 in Islamabad, 816 in Balochistan, 474 in G-B and 1,065 tests were conducted in AJK.
Covid-19 related death by province
Out of the total 15,124 reported deaths, there had been about 4,520 deaths in Sindh, 6,793 in Punjab, 2,519 in K-P, 591 in Islamabad.
About 212 deaths were reported in Balochistan, 103 deaths in G-B and 386 in AJK.
The NCOC also reported that a total of 10,584,877 tests had been conducted since the outbreak of the virus. There are about 631 hospitals with Covid-19 facilities with more than 4,500 patients admitted across the country, it added.