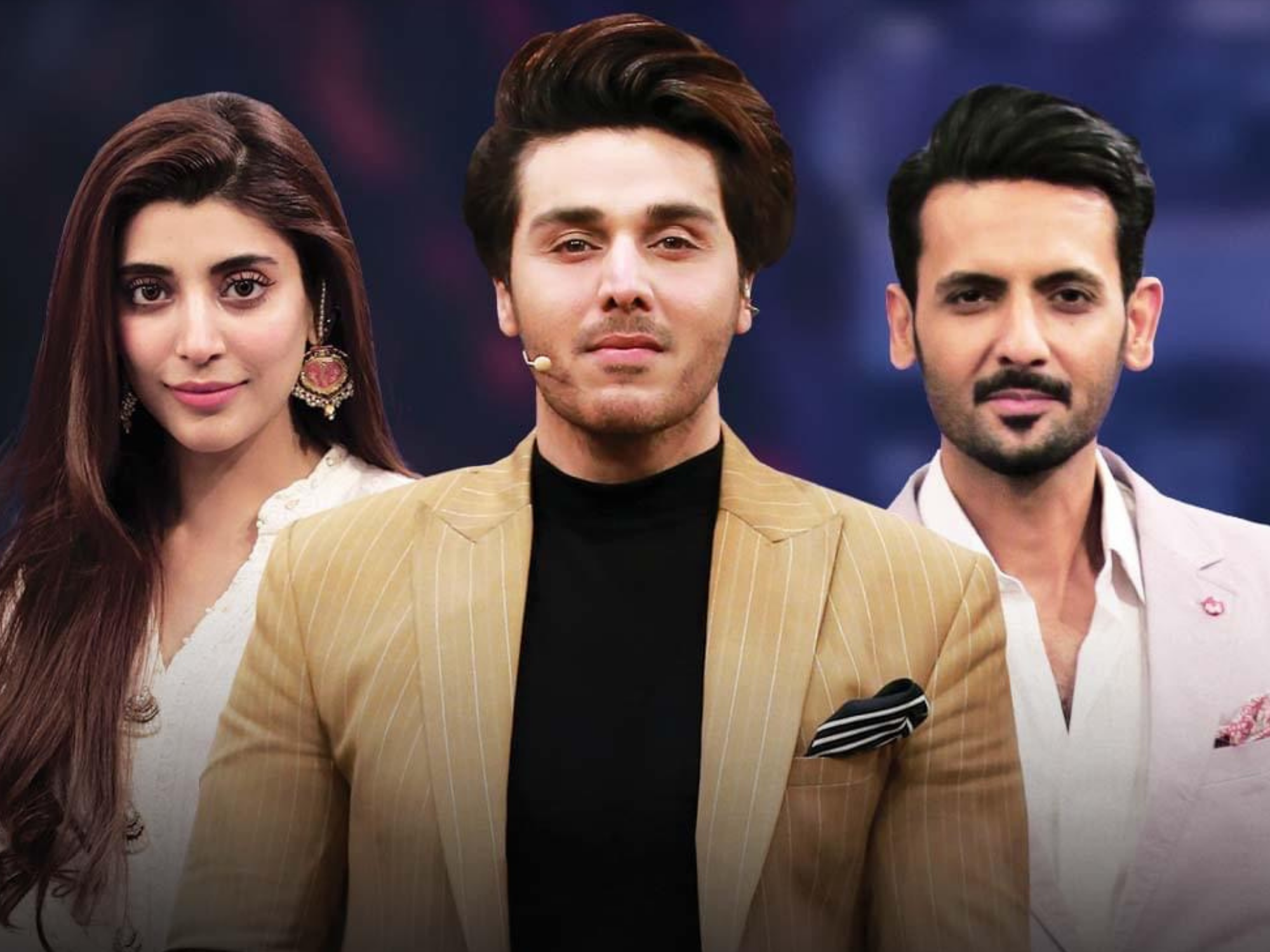 ---
Urwa Hocane and Mohib Mirza were the latest guests on Time Out with Ahsan Khan where the two actors candidly spoke about their projects, the portrayal of negative characters and venturing into production. Both are already quite well-known, Mirza through successful serials like Dil Ruba, Mera Saaein and Shehr-e-Zaat. Whereas, Hocane was seen in Udaari alongside host Ahsan Khan, Mushk and films like Punjab Nahi Jaungi, Rangreza and Na Maloom Afraad.
Khan began by asking Hocane what's more difficult, acting or working behind the screens. To this, she said, "I cannot compare the job of a producer and an actor at all. I couldn't act while I was working on my own project because it's something new and I was learning along the lines. I'm the kind of actor who cannot stand in two boats and keep them afloat. I like to focus on one thing at a time. Hence, you didn't see me on the small screen for some time."
Continuing the topic, Mirza added, "Producing is not the right term for me. I'd say it was rather directing a project because I had no other option other than forming a directorial team of my own. This was because some of the famous directors I chased were not available. Hence, I took the matter into my own hands."
Starting out as VJs
Mirza and Hocane were primarily known as VJs and presenters before making it big. "I've learnt that if you work hard for anything, you do get something out of it, be it love and respect from your followers." Hocane explained, highlighting that the key to success is consistency. "You can never take anything for granted. As actors, we have to keep working harder than we did a day before to prove ourselves. Now, I'm not boasting but whatever you do, whatever you're good at, it will teach you a lot one day."
Returning to TV
The two actors have recently made the news once again for appearing on the small screen after a long break that left many fans feeling left out. "I had done several negative roles; the ones who even 20 to 25 episodes in, stay the villains until they apologise and become the hero," began the Dukhtar actor. "My entire life, I've heard stories about the interconnection between good and bad so for me, one single project portraying all that in one go is simply the worse."
He continued, "When your kids return back from schools and see that LCD screen playing these dramas where throughout the father figure is either useless or completely ruthless, I ask why is that so? My father or uncles aren't like that, nor is anybody in the house. So for how long will I portray that? I left because I wanted the kind of content that did not portray men as wicked all the time."
Mirza furthermore highlighted that dramas need to depict the difference between a protagonist and antagonist. "Our people need to learn that a hero will remain a hero and villain will remain a villain. You cannot merge the two. There are several stories about our heroes, be it Edhi or Jahangir Khan. Why not make a biopic on them, instead of these repetitive villainous drama characters?"
Mirza and Hocane concluded by saying that the local drama industry needs to evolve, along with the people present on social media who judge actors by the roles they portray onscreen. Both Mirza and Hocane said that people need to be more kind and acceptable in order to maintain peace and harmony.