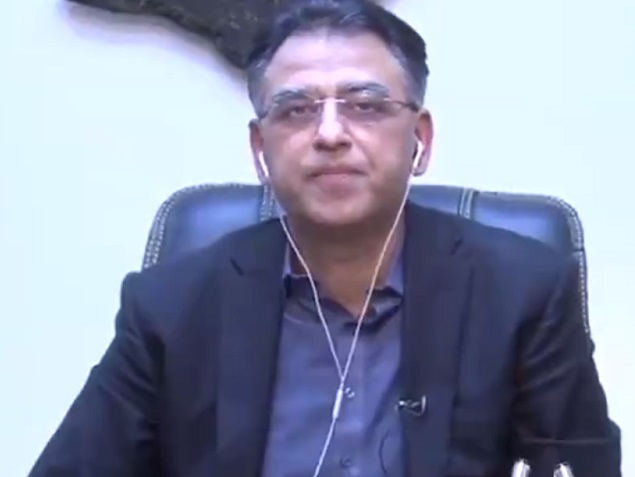 ---
KARACHI:
Federal Planning and Development Minister Asad Umar, who heads the National Command Operation Centre (NCOC), said on Saturday he supported the Sindh government's decision to close markets on weekends.
"These measures are necessary to reduce the risk and keep number of patients lower," the minister told reporters during his visit to the Federation of Pakistan Chambers of Commerce and Industry (FPCCI) in Karachi.
To a question on the Rs1.1 trillion Karachi package, Umar said most of the projects would be completed during the current year them.
"The buses under the mass transit project, Green Line, would start plying on roads of metropolis in August this year," the minister added.
"The design of the Karachi Circular Railway was completed as well and work could be started by the end of the year."
Umar said initial work on the Karachi Trade Corridor -- another important project for laying a dedicated railway line from Karachi port to Pipri ar estimated cost of Rs130 billion -- had started as well and it was expected that its tenders under the BOT mode would be floated this year.
The Water and Power Development Authority (Wapda) has resumed work on K-IV project that was suspended since previous two years and its completion might be achieved in second half of 2021, he maintained.
"The federal government has taken the responsibility for improving the rainwater drainage system of Karachi with a focus on Mehmoodabad, Korangi and Gujar Nullah and work is in full swing," he said.
"Encroachments have been removed and compensation money has been paid to affected population of Mehmoodabad."
Umar, while terming the electricity as a major issue of Karachi, said the federal government had committed to add 900 MW to the K-Electric's system but it was going to add more than 1,000 MW.
"A 450 MW project of KE would be commissioned in May while the NTDC would be able to provide additional 650 MW as well."
Speaking on the China-Pakistan Economic Corridor (CPEC), the minister said the government was expanding its scope as various important projects had entered their advanced stage.
The federal minister said in the second phase of the CPEC, projects related to agriculture, industry and employment were being planned.
"In the first phase of CPEC, basic infrastructure, energy sector particularly hydro-electrical power generation, were given priority," he said.
"A multibillion dollar railway project ML-I is in its in advanced stage and remarkable progress has been achieved in lieu of financing of the project."
The minister maintained that the rationalisation of the power tariff for the industrial sector by PTI government had accelerated industrial activities while large scale manufacturing sector had seen a record growth of over 10%.
Besides an increase in car production and cement manufacturing, for the first time in history of Pakistan the quantum of monthly exports remained above $ 2 billion for consecutive 7 months," he claimed.
To a query about trade with India, the minister clarified that Prime Minister Imran Khan had taken a principled step and directed to explore alternate avenues for expansion of regional trade instead of relying on bilateral trade with the eastern neighbouring country as oppressive actions of Indian Illegally Occupied Jammu and Kashmir could not be overlooked.
Replying to a question, Umar said he was optimistic that the Pakistan Steel Mills would be made fully operational and avprofitable entity and there was no reason to shut it down.
"Four international companies have expressed interest in the steel mill," he added.
With additional input from APP
Published in The Express Tribune, April 4th, 2021.
COMMENTS
Comments are moderated and generally will be posted if they are on-topic and not abusive.
For more information, please see our Comments FAQ