---
KARACHI:
Frontman of KW & the Facedown Movement and lead guitarist of former prog-rock band Qayaas, Khurram Waqar has launched a venture for the 'greater good' of Pakistani musicians.
In these hyper-digitalised times, it is only fair for artists to form online communities instead of affiliating themselves with associations to help boost each other's work. And amid the pandemic, when aspiring musicians have no one to turn to and live performers, nowhere to go, it only makes sense for the maestros to direct the lost and confused.
Thus, Waqar felt it was time for his colleagues and seniors to face the music before another lockdown suffocated the industry even further. He took to Facebook and wrote, "Hello everyone, a joint initiative called Guitar Collective is launched now. It comprises of some amazing guitar players and friends from Pakistan and Dubai."
He then tagged Asad Ahmed of Karavan and former pop band Awaz, Omran Shafique of Mauj and co-VEN, Shallum Xavier of Fuzon, Kashan Admani of Mizmar, Shahzad Hameed of kW & the Facedown Movement, Hamza Jafri of co-VEN, Shareb Jafar of Brain Masala and Arid Zone and Royden Mascarenhas of Point of View.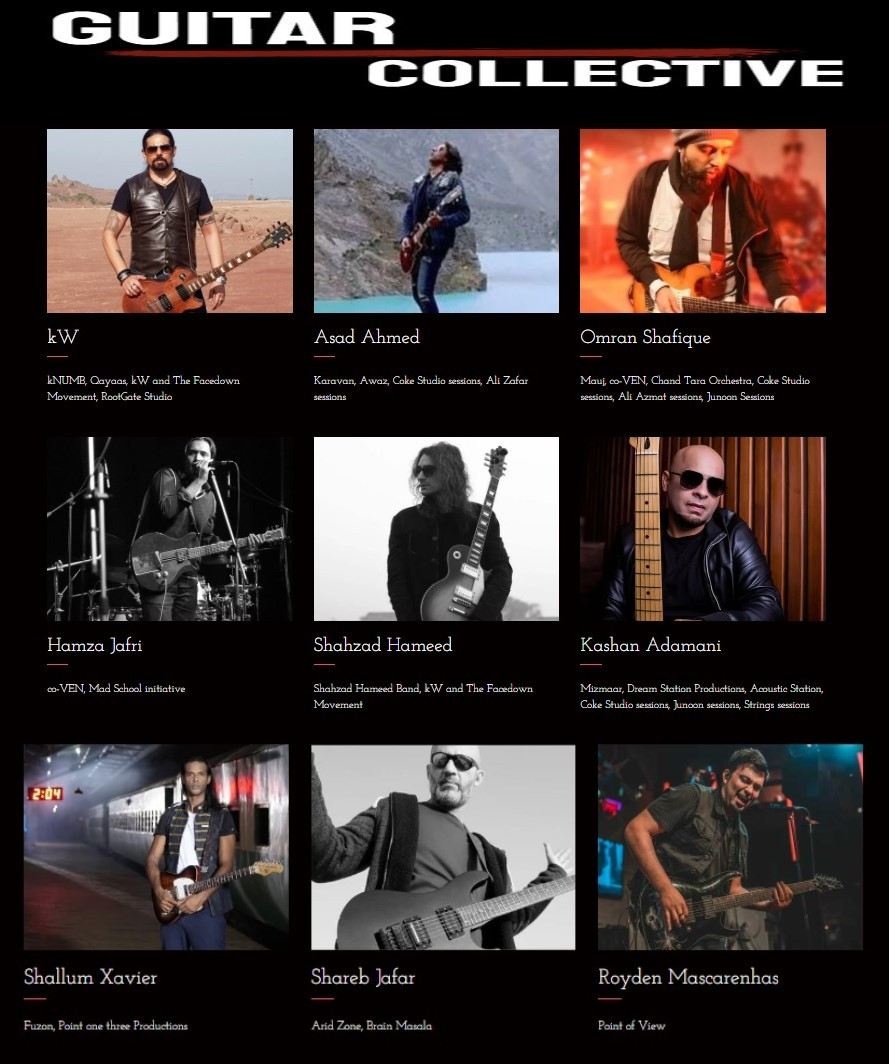 The Objective
"With Guitar Collective, we aim to create a strong online platform for independent musicians. We will do that by having online, live discussions about our individual musical journeys, how to approach instruments, songwriting, production, and what not," Waqar said in a video message.
If done right, he promised that the initiative is bound to empower and enable all the upcoming independent musicians, including existing ones. "It is a DIY effort by the musicians for the musicians," continued the artist.
He explained how the situation created by the pandemic had propelled his idea into action much earlier than he'd expected. Waqar also claimed that there's usually a lack of spotlight on the work musicians do behind the scenes to make what they make. "In other societies, a lot is written about musicians, their struggles, their lives, and all of us, we've read about it and learned from it. But that's not the case here. All we hear about are the sad examples of Mehdi Hasan and Aamir Zaki," he remarked.
"So it's about time that we, the musicians, empower our own selves. Share our collective experiences, which span between 30-35 years. And we're going to invite more artists from everywhere, not just Pakistan because music has a universal language," Waqar concluded.
Method to the madness
"Khurram got in touch with me to talk about how we can help upcoming artists. So we started roping in people and it turned into the Guitar Collective," Asad Ahmed told The Express Tribune.
To simplify how their objectives would be achieved, Ahmed said that the platform would increase communication between the younger and senior artists, while guests from newer bands share their struggles. And according to him, musicians of today primarily find it difficult to monetise online platforms which senior artists like him, can help with.
"All of our knowledge combined, is something that should be out there. We will talk about issues ranging from equipment, to sound, to mixing, mastering, online distribution and how to make money during the pandemic."
Ahmed revealed that the platform, which will feature the Guitar Collective sessions, will invite guests via Zoom, "one week I may be the guest, another week it maybe Shallum, another week it may be a guy from Takatak or Karakoram. The platform is inclusive."
He went on to acknowledge the sufferings of the younger lot today. "It's a tough time for most musicians right now, we are fortunate to come from where we come and have what we've made. But not everyone is as fortunate," Ahmed said.
Shallum Xavier of Fuzon echoed Ahmed's statement. "Khurram Waqar has been actively trying to engage people who have made a contribution to the Pakistani music scene so we can change the way Pakistani music is produced and received," Xavier told The Express Tribune.
­He also claimed that the guitarists of Pakistan are the spine of its music industry, so aside from imparting knowledge, the jams in Guitar Collective will impart a new sound.
Have something to add to the story? Share it in the comments below.