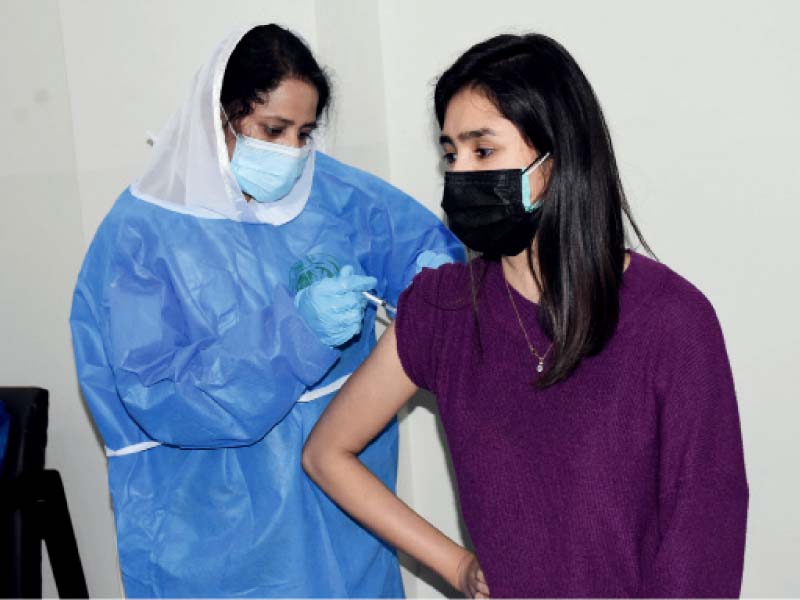 ---
PESHAWAR:
The Khyber-Pakhtunkhawa government has announced it will include the coronavirus vaccination in the Sehat Insaf Card and made all treatments related to the prevailing disease absolutely free.
Health Minister Taimur Saleem Jhagra said that this move comes in a bid to control the prevailing third wave of coronavirus. He urged people from all walks of life to assist the government in mitigating pressure on the health sector by adopting precautionary measures for Covid-19.
At least 35,000 people avail treatment through the Sehat Insaf Cards. Peshawar topped the list with 25 per cent patients getting their treatments on the card, followed by 19 per cent in Swat and Nowshera each, Mardan 18, Swabi/Buner 17 per cent, Malakand and lower Dir 14 per cent each.
13 per cent people in Charsadda, 11 per cent in Bajaur, 10 per cent in Kohat, eight per cent Dir Upper and seven per cent people in Haripur use the health insurance card.
Jhagra added that all patients would get their treatments under the Sehat Insaf Plus Programme, while 22 types of diseases are also treated under the health insurance programme.
"We have received scores of requests for inclusion of Covid-19 treatment in the cards, so we included it on public demand and soon the data would be shared with the public once it's final."
Two health workers die
Two health workers lost their lives in Khyber-Pakthunkhwa (K-P) on Thursday.
A technician of Tehsil Headquarters Hospital, Takhatbai Khalid Khan breathed his last at Lady Reading Hospital (LRH). He was admitted to the LRH Corona Ward a few days ago when his condition deteriorated suddenly. He was laid to rest at his ancestral graveyard in Takhatbai.
In Abbottabad a class four employee of the Ayub Teaching Hospital (ATH) Anwar Kamal also died of Covid-19 infection. He had been admitted to the hospital when he developed complex symptoms six days ago and succumbed to them last night.
It is worth mentioning here that around 80 health workers have lost their lives so far in the province, including 49 doctors, 12 paramedics, six nurses and 12 other hospital staff.
Talking to The Express Tribune the information secretary of the Provincial Doctors Association (PDA) Dr Saleem said that till date government had paid compensation package to the family of just one doctor in the province and other families are still awaiting it.
"Despite repeated announcements and assurances on the part of the K-P government, the package is not being paid and the number of health workers who lost their lives in the pandemic is increasing with each passing day," he said, adding that the health workers and doctors were also without corona risk allowance and even they were not being provided proper protective gear.
"N-95 masks are issued to only those doctors who are working at the corona wards at the hospitals and others are using simple masks which is unfortunate. The inoculation process has been underway but with a slow pace and it will take a long time to vaccinate all the health workers and hospital employees across the province," he said, adding that doctors and other health workers were risking their lives by working at the hospitals these days.
Published in The Express Tribune, April 2nd, 2021.