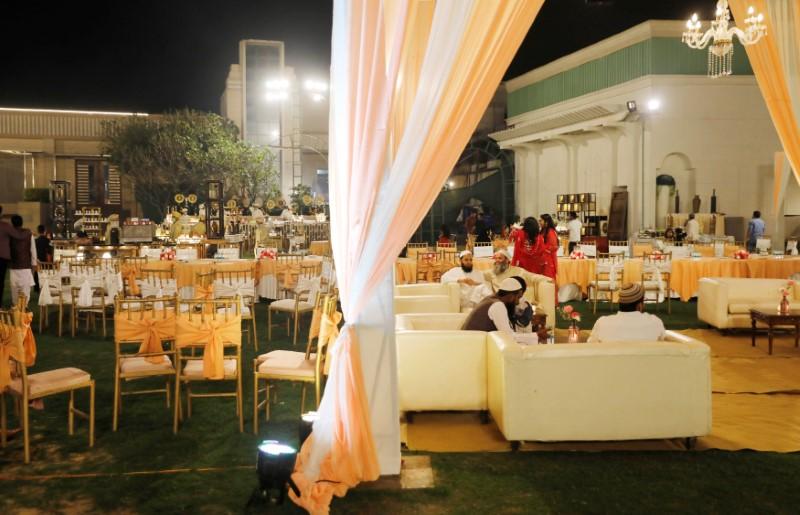 ---
Sindh bans wedding receptions
Broader lockdowns in areas with 8% positivity rate
---
KARACHI:
In light of the National Command and Operation Centre's (NCOC) instructions, the Sindh government has tightened Covid-19 restrictions, imposing a complete ban on wedding functions from April 6, has announced broader lockdowns in areas with a positivity rate of eight per cent or higher and has bound transporters to operate vehicles at 50 per cent capacity.
A notification issued by the Sindh home department additional secretary on Wednesday stated that in pursuance of the decisions taken by the NCOC and communicated via letters dated March 22, 2021 and March 29, 2021, the Sindh government, in exercise of powers under Section 3(1) of the Sindh Epidemic Diseases Act, 2014 was enforcing a new set of coronavirus-related restrictions with immediate effect until April 11, 2021.
Read: As deadly third Covid wave rages, Sindh bans all social gatherings
According to the new restrictions, broader lockdowns are to be imposed in areas with positivity rate of eight per cent or more. Commissioners and deputy commissioners have been directed to ensure stringent enforcement Covid-19 protocols based on risk assessment and restrict all mobility except for emergency purposes in virus hotspots.
While a complete ban on indoor dining remains in place, outdoor dining services are not to be offered after 10pm. However, eateries may continue to offer takeaway and delivery services after the stated time.
As per an earlier order of the Sindh government, issued on March 15, 2021, only outdoor wedding functions are allowed with limited guests until April 5, 2021. While the restriction is upheld until the said time, a complete ban on wedding functions will be imposed from April 6, 2021.
Besides, as stated in the earlier order, commercial activities are to take place between 6am and 8pm. These timings are to be followed by markets, shopping malls, marriage halls, and other businesses - with the exception of those offering essential services. The latter category includes pharmacies, clinics, hospitals, petrol pumps, bakeries, and milk shops. Commercial entities have also been directed to observe Saturday and Sunday as two "safe days", when all commercial activities, except for essential services, will remain suspended.
Also read: Sindh sees two more Covid deaths, 275 new infections
A complete ban has been placed on all indoor and outdoor gatherings, including social, cultural, political, sports, musical, religious and other events, and amusements parks, shrines and cinemas are to remain closed.
However, walking and jogging tracks will remain open for the public, but with the strict implementation of Covid-19 standard operating procedures (SOPs).
Under the new set of restrictions, 50 per cent staff are to be called to public and private sector office and courts. Strict compliance with pandemic SOPs, including the wearing of masks and maintaining social distance, is to be ensured at all workplaces.
Similarly, transporters have been directed to operate vehicles at 50 per cent capacity, in line with Covid-19 SOPs.
Deputy commissioners, assistant commissioners, labour officers and law enforcement have been instructed to take action against persons flouting the above-stated restrictions.
Published in The Express Tribune, April 1st, 2021.