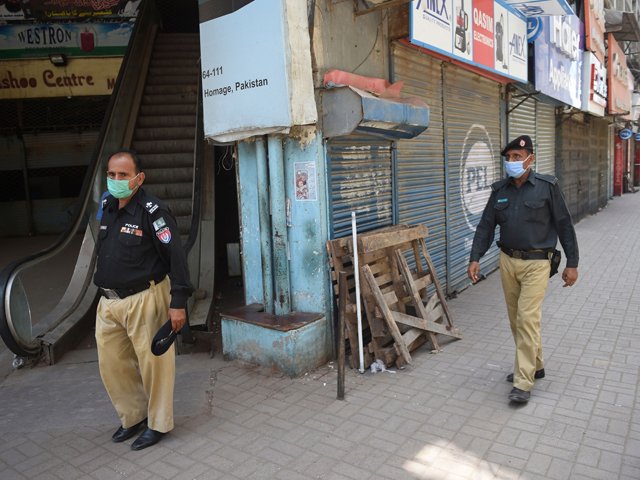 ---
KARACHI:
Sindh Chief Minister Murad Ali Shah has suggested to the National Coordination Committee (NCC) on Covid-19 to impose a ban on inter-city transport for the next two weeks in order to contain the third wave of coronavirus pandemic.
"Our overall detection rate of Covid patients is 3.5%. This shows that we, the province of Sindh, are less affected but the travelling of the people to and from Sindh is bound to aggravate the situation," Murad said on Wednesday at an NCC meeting.
The virtual meeting, chaired by Prime Minister Imran Khan from his Bani Gala residence, was attended by the chief ministers of all the four provinces. The chief minister said the third wave of coronavirus is very dangerous and is spreading furiously.
"I suggest that the NCOC [National Command & Operation Center] impose a ban on the inter-city transport for the next two weeks. However, goods transport may continue as usual. The third wave of COVID-19 has started spreading fast. Therefore a ban on inter-city transport would help to contain it."
Shah said the business centers operate under the standard operating procedures (SOPs) so that local business activities can continue as usual under the SOPs.
"We have to make necessary arrangements for procurement of Covid-19 vaccine in bulk so that each and every individual of this country can be secured," he said. He also told the meeting that the Infectious Disease Hospital established in Karachi for the treatment of Covid-19 patients is doing well.
The chief minister was assured that his suggestion would be discussed in the National Command and Operation Centre (NCOC) meeting to be held on Thursday [today].
Read more: Punjab govt announces amendments to Covid-19 restrictions
Talking to the media after the meeting, Murad said the steps that the Sindh government took last year helped to combat and control the virus in the country.
"Despite opposition from the center, we imposed lockdowns and banned intercity and interprovincial traffic. Now everyone is taking credit for our measures and I have no objection to that. All I want is to ensure that the pandemic is controlled," he said
He said the world is overcoming the crisis through vaccination while in Pakistan people are still waiting for the vaccination to begin. He said vaccines that have been administered are negligible. The world is opening up again after vaccination. However, we could not bring or administer the vaccine on time.
"I have repeatedly said that nothing is worth more than good health and life. The center opposed our measures and lockdowns but everyone followed suit afterwards. They were talking about saving the economy, but here we have the worst performing economy in the entire region."
Criticizing the federal government he said they devastated the economy to a point that they had to embarrassingly remove the finance minister.
"They are themselves admitting that he [Dr Hafeez Shaikh] was removed due to inflation. They did not achieve any objective while risking the lives of the people. I reiterate that the timely measures of the Sindh government benefited the entire country," he added.
At the NCC meeting, Murad was assisted by Sindh health minister Dr Azra Pechuho, adviser on law Murtaza Wahab, parliamentary secretary health Qasim Siraj Soomro, Karachi Additional Inspector General Police Ghulam Nabi Memon and personal secretary.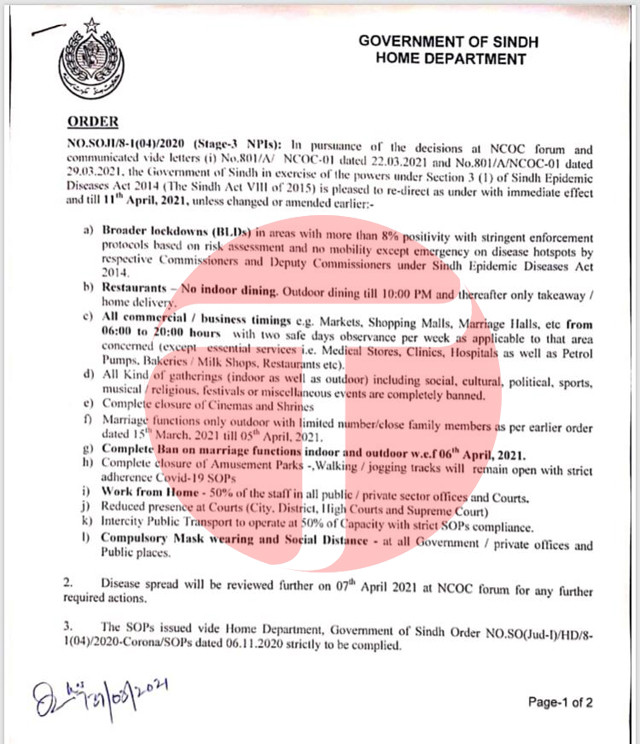 Sindh bans all social gatherings
Amid rapid rise in Covid-19 cases, fuelled by more infectious and potentially more lethal UK variant of coronavirus throughout the country, the government of Sindh on Wednesday announced further restrictions in the province to stem the spread of deadly contagion.
According to a Sindh Home Department notification, all kind of gatherings – both indoor as well as outdoor – including social, cultural, political, sports, musical, religious or miscellaneous events have been completely banned.
It said that indoor dining in restaurants has also been banned while outdoor dining is allowed till 10pm.
The notification said that all commercial and business activities will be allowed from 6am to 8pm. However, essential services such as medical stores, clinics, hospitals, petrol pumps, bakeries, milk shops and restaurants have been exempted.
The Sindh government has also ordered work-from-home policy for half of the staff in both public and private sector offices under the new restrictions.
The notification said that outdoor weddings would be allowed till April 5 with strict adherence to Covid-19 standard operation procedures (SOPs) and a ban will be in effect on all marriage functions (indoor and outdoor) from April 6.
The government has also made it mandatory to wear face masks and adhere to social distancing at all public and private offices as well as public places.
"Disease spread will be reviewed further on April 7 at NCOC forum for any further required actions," it added.
The restriction will be in effect till April 11.
COMMENTS
Comments are moderated and generally will be posted if they are on-topic and not abusive.
For more information, please see our Comments FAQ