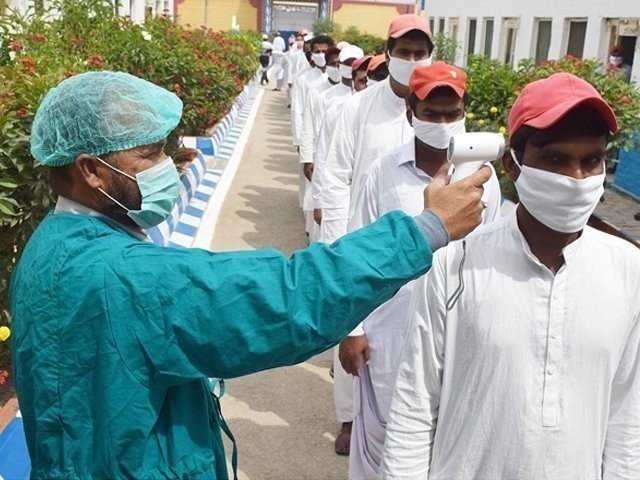 ---
Pakistan crosses grim mark of 50,000 active Covid-19 cases
Country records 4,757 new coronavirus cases, 78 deaths in the last 24 hours
---
ISLAMABAD:
As the third Covid-19 wave continues to grip Pakistan, the daily active Covid-19 cases reached 50,397 in the last 24 hours.
According to the National Command and Operation Centre (NCOC), about 4,757 new coronavirus cases were recorded in 24 hours, taking the country's Covid-19 tally to 603,126.
Pakistan's Covid-19 death toll climbed to 14,434 after 78 people succumbed to the deadly disease during the previous day.
Meanwhile, 2,848 patients recovered from the deadly disease in a day taking total recoveries to 603,126.
Out of the 14,434 total reported deaths, there had been about 4,497deaths in Sindh, 6,365 in Punjab, 2,342 in K-P, 568 in Islamabad.
About 207 deaths were reported in Balochistan, 103 deaths in G-B and 352 in AJK.
The NCOC also reported that a total of 10,197,032 tests had been conducted since the outbreak of the virus. There more than 600 hospitals with Covid-19 facilities and more than 3,000 patients, in critical condition across the country, it added.
Read more: Govt launches helpline to report violation of Covid-19 SOPs
Earlier, Pakistan's nerve centre monitoring coronavirus situation launched a helpline for citizens to report any violation of standard operating procedures (SOPs) against Covid-19 from anywhere in the country.
In case you come across any violation of Covid SOPs, please text at Whatsaap number 0335-3336262," the NCOC said on Twitter on March 29.
Violations of the coronavirus-related SOPs include non-wearing of the mask, non-adherence to social distancing, over-crowding at public places and others, it added.
"Please take a picture and brief account of the violation and send it to 03353336262 (0335333NCOC) along with the location name, district/city, date, time and event," the NCOC added.
Pakistan's coronavirus situation has worsened worryingly over the past month, with the Covid-19 positivity rate shooting past 11 per cent as the third wave showed no signs of abating.