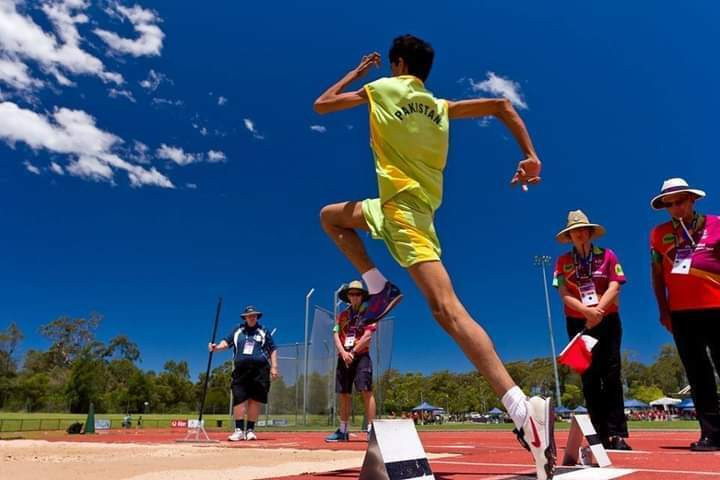 ---
KARACHI:
The tree of life is big and beautiful and full of chances along with the fact that mortality is what makes life worth living. Just before Ramazan, when the Muslim world observed one of the holier nights to worship, where it is believed that the fate is decided, special Olympian Imran Hussain's family is praying hard for his survival.
The 24-year-old track and field athlete, who participates in long jump, in 400m sprint along with being the 2015 Los Angeles World Games medal-winning goal-keeper has been battling testicular cancer since 2018.
He cannot speak, he cannot hear and has below 70 intellectual abilities, but he has been a hero for not just representing Pakistan, but also for not giving up the fight.
Maybe Imran's family's pleas become a way of spreading awareness for the special needs persons, maybe his gentle spirit proves that matters can change not only for him but for other special needs athletes and persons who maybe going through the same predicament as him. Having cancer and other diseases and still finding enough heart to smile and look intently when facing the cameras should any media outlets decide to do a story on his battle for life against cancer is a story of grit.
According to his coach, his height and his sharpness in sports made him a star athlete since he was a child and that alone was a good sign for his future until the news of cancer broke in 2018.
His cancer has reached the last stage, as his older brother Asif Hussain confirms, and his condition is deteriorating fast as the treatment for Imran's disease is not only extremely back-breaking for the family financially, but also because there is less optimism about Imran's condition from the local doctors.
"We are on the verge of begging. In fact, we did get financial help from some very kind people, but the fact remains that this country is not for athletes and even worse when it comes to special children," Asif told The Express Tribune. "I have been requesting the government officials for more than two years now. I have gone to every office I could. I just want to request the Prime Minister of Pakistan Imran Khan and other authorities to send my brother abroad for the treatment. All the big government officials called the Special Olympians for pictures and ceremonies, but none came to help in the time of need.
"The doctors at Shaukat Khanum Memorial Hospital have given up on us now, but another private hospital is looking at the case, while with some research and with the help of our friends we have found out that Imran's treatment is possible in the United Kingdom."
Asif, who has been a factory worker in the textile industry, lost his job this month as he had to take leaves to take care of Imran along with his family.
Asif is a sole bread-winner of the family as well and he believes that the only thing that has kept the family fighting was Imran's spirit.
"He had been very brave. We watch Lionel Messi and Barcelona matches. He gets happy, but he is growing weak and some of the symptoms I have been told about by the doctors about his condition are getting worse, "said Asif.
He added that the daily expenditure for the family is hard enough, but the treatment expenses are more of a task too. With his job gone, his only request from the government is to save the life of Imran.
"We are down to our last: mentally, physically and emotionally. We don't know how to go about it, except asking the Government of Pakistan to help because the cost of Imran's treatment is now increasing as I am told that his cancer has spread further. Meanwhile, the treatment abroad will require institutional help," said Asif. "We need the government's help in getting us travel visa and assistance in getting Imran there, because we can't give up hope."
Asif added that donations have been made for Imran, but the financial situation is a burden, and he is requesting proper assistance in the matter.
"We sold almost everything," said Asif, a resident of Gulshan-e-Hadeed. "The help came from places I never knew about. Not from the government, but people. Like Football Pakistan Dot Com, their founder transferred money, a little short of Rs1 million. They have been kind to us, they arrange funds, then there have been other donations that came from others too and I am very grateful to all.
"But the fact is that money doesn't last much longer with all the chemotherapy sessions and expenses and I am asking for help in getting my brother treatment from the hospitals abroad. That is what I need, government's help in getting us the right treatment, because there is a little hope. The expenses are too much and this is my brother. I can't give up this fight when he is not giving up the hope."