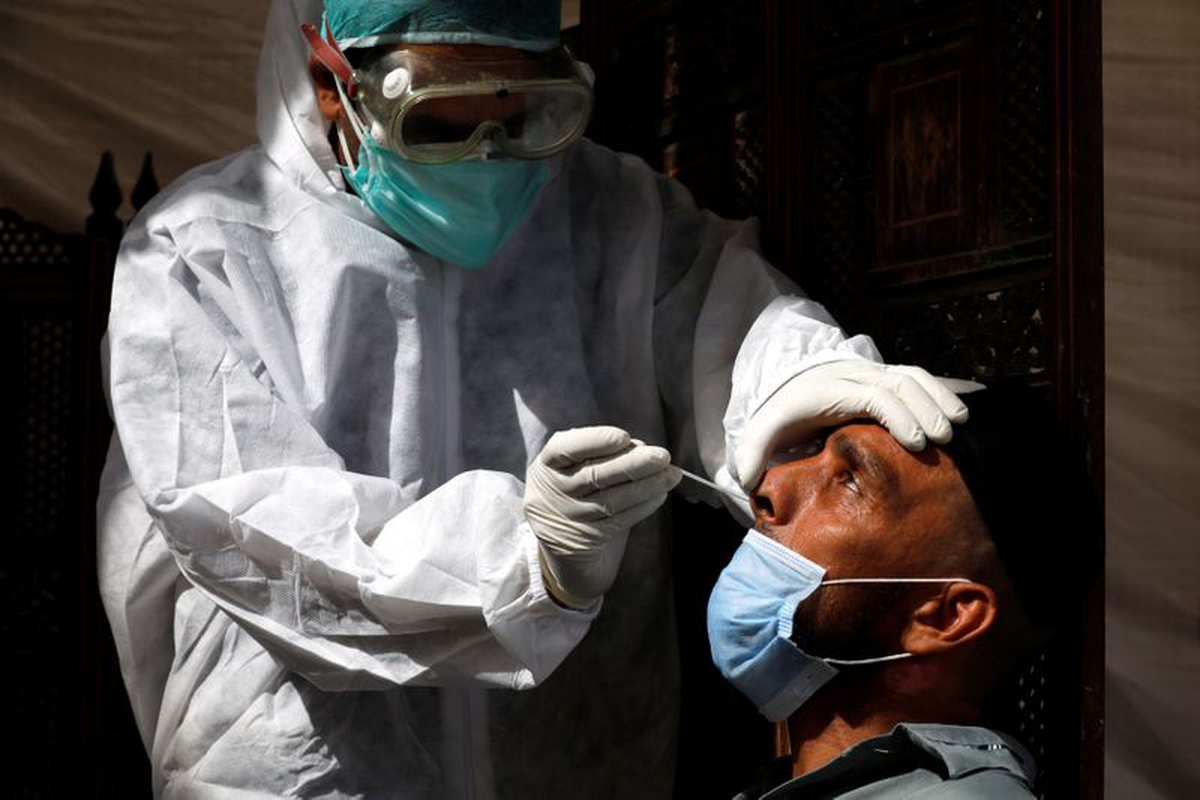 ---
ISLAMABAD:
At least 100 more people lost their lives to COVID-19 during the past 24 hours—the highest since December last year.
According to National Command and Operation Centre (NCOC), Punjab witnessed the most deaths during the period, totaling 73, followed by 18 in Khyber-Pakhtunkhwa, four in Sindh, two each in Islamabad and Azad Jammu & Kashmir, and one in Balochistan.
As many as 46,566 people have been tested for Covid-19 since Monday, of which 4,084 tested positive for the virus.
Also read President Alvi, Defence Minister Khattak test positive for Covid-19
The total cases across the country currently stand at 663,200, with the active cases touching the mark of 48,566. Some 600,278 people have so far recovered from the virus.
In Islamabad and in Multan, 67 per cent of the ventilators are occupied by Covid-19 patients, while the ratio is 63 per cent in Lahore, 60 in Peshawar and Gujranwala. 85 per cent of the oxygen beds in Gujranwala are occupied with the patients, 84 in Swat, 81 in Peshawar and 74 per cent in Gujarat.
Registration for vaccination
Meanwhile, registration for the vaccination of people above the age of 50 will begin today. According to the NCOC, those falling in the criteria may send their CNIC numbers to 1166 to get registered for the dose.
Metro-bus service closed
Metro bus service in Rawalpindi from Saddar to IJP section has been closed on the directives of Punjab government in a bid to curb the spread of coronavirus.
According to the management, the situation will be reviewed today regarding the resumption of the service.
Also read Punjab to tighten Covid-19 restrictions from April 1
However, the service has been functional from IJP section to the Islamabad secretariat with the management stating that they have not received any directions to close it in the federal capital.
It further said that the number of passengers in Islamabad is extremely low, adding that they are taking commuters onboard while observing the safety SOPs.
The indecision on whether the service should be closed in its entirety is reportedly due to the lack of coordination between the federal and Punjab governments.
COMMENTS
Comments are moderated and generally will be posted if they are on-topic and not abusive.
For more information, please see our Comments FAQ