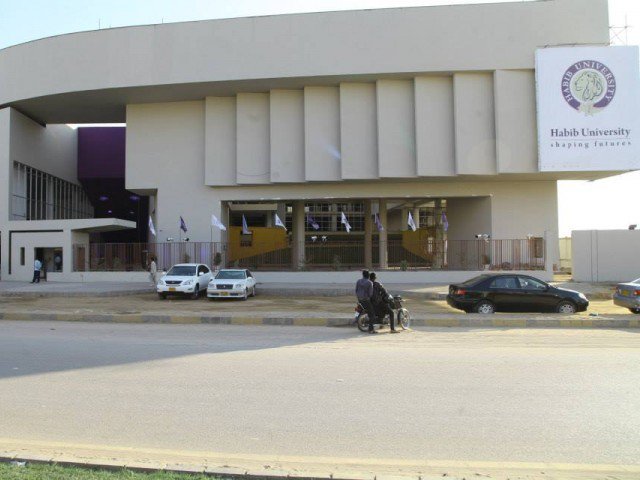 ---
KARACHI:
The collective alienation from our experience in a post-colonial world has driven humans to lose track of their own reality, pushing them to the brink of destruction, and the way forward must include a repair of the human cognition.
These views were expressed by speakers at the concluding session, 'Reparative Ends', of the fourth Post-Colonial Higher Education Conference, hosted by Habib University (HU), on Sunday.
The concluding session featured the chair and conceptualiser of the conference, Dr Nauman Naqvi and historian Dr Sajjad Rizvi. The session was chaired by HU president Wasif Rizvi.
Read: 'Decolonial thoughts': Experts discuss flipside of progress
Rizvi said the session was intended to highlight the response to the repeatedly raised question of purpose, objective and of feeling grief and catastrophic loss over ubiquitous human extinction.
Dr Naqvi, who is an associate professor for the Comparative Humanities program at HU, read his paper on 'Repairing Cognition: the Ends of Experience'.
He argued that colonialism had completely damaged human cognition.
Giving the example of the idea of colonising Mars, Prof Naqvi said that people wanted to inhabit an evidently inhabitable planet.
"Had our experience not been utterly pulverised, it would have been perfectly obvious that no matter how bad things get on Earth, they will still be nothing compared to the hellish landscape of Mars," he said, adding that he believed the primary agency behind this alienation of experience was the doctrine of progress.
Without a sense of finitude and cognition of ends, there can be no ends, he said.
Also read: 'Ideals of modern nation states deeply connected to racism'
Professor Rizvi, who is an associate professor of Islamic and intellectual history at the University of Exeter, presented the theology of the future and messianism with the messiah, noting that if humans had to deal with epistemicide, they needed to repair how they understood messianism.
He argued that an apocalyptic look towards the future and overcoming binaries and violence of imposition was, in itself, a reparative future.
"It is the narrative of Islam that we have forgotten," he said. "If we do not repair that narrative and if you do not repair that vision and that ability to dream… and if you cannot imagine a better future, you cannot think about it."
Published in The Express Tribune, March 29th, 2021.
COMMENTS
Comments are moderated and generally will be posted if they are on-topic and not abusive.
For more information, please see our Comments FAQ