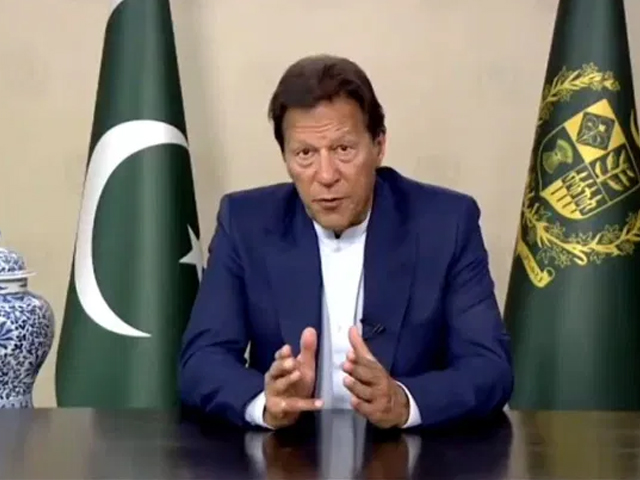 ---
Covid infected PM rules out complete lockdown in country, again
Imran Khan admits he caught coronavirus after flouting SOPs during Senate elections
---
Prime Minister Imran Khan has urged the masses to follow coronavirus standard operating procedures (SOPs), warning that the number of cases in the country are rising at an alarming rate.
"This third wave of Covid-19 is more lethal than the previous ones and I advise everyone to take precautions [against Covid-19] particularly wearing face mask," the premier who himself infected with the novel coronavirus earlier this month and is in self-isolation said in a recorded message on Sunday.
However, PM Imran again ruled out the option of imposing a complete lockdown in the country, saying the government did not have enough resources to afford the economic cost of the business shutdown.
He said hospitals in different parts of the country are nearing their capacity as those who returned from England have spread the new variant of coronavirus which is highly contagious.
He urged the masses to avoid going places which are termed superspreader of the virus like wedding ceremonies, restaurants and other enclosed spaces.
Premier Imran while disclosing the reason as to why he was infected with virus admitted that he flouted the SOPs during the recently-held Senate elections.
"Allah has been so kind to me and my wife [Bushra Bibi] but this virus can prove very dangerous if it enters into the human chest," said the PM while warning the public about the deadly virus.
As per the data updated by the National Command and Operation Centre (NCOC) today, Pakistan's tally for confirmed cases has reached 654,591, with at least 4,767 cases being reported only a day ago.
Moreover, the country's death toll now stands at 14,215 after it recorded 57 fatalities in the last 24 hours.
The country still has 3,043 patients in critical condition. As per the Covid portal, a total of 595,929 patients have recovered from the virus in Pakistan so far.