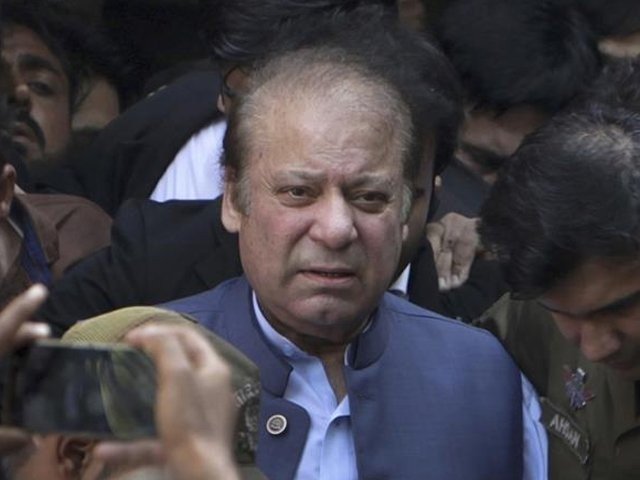 ---
ISLAMABAD:
The Ministry of Interior on Wednesday recommended the Foreign Office to not renew the passport of Pakistan Muslim League-Nawaz (PML-N) supreme leader Nawaz Sharif, saying that the former prime minister had failed to satisfy the government on why his passport should be renewed and therefore he cannot be given 'further relief' until he appears in court.
Sharif, serving a seven-year prison term after his conviction in December 2018, was given a rare permission in October 2019 to get medical treatment abroad in view of a debilitating health condition.
The Islamabad High Court (IHC), however, declared him a proclaimed offender on December 2 as the former premier failed to appear before the bench – originally formed to hear his appeals against his convictions – despite various notices.
According to a report published in London-based Financial Times newspaper in October last year, Pakistan also asked the British government to repatriate Nawaz Sharif through a letter that Adviser to the PM on Accountability Mirza Shehzad Akbar wrote to British Home Secretary Priti Patel.
Read more: Govt not to renew Nawaz's passport after Feb 16
The Ministry of Foreign Affairs had sent a request to the Pakistan High Commission in the UK to renew the passport of the three-time premier which was later sent to the interior ministry for further processing.
The interior ministry, while rejecting the request, said that both IHC and National Accountability Bureau (NAB) have declared Nawaz Sharif a proclaimed offender and therefore he cannot be given further relief until he appears in court.
The letter stated that the former premier was granted bail for eight weeks and it was not extended by the Punjab government. "Nawaz Sharif has to spend the rest of his sentence in Kot Lakhpat Jail. He fled the country to escape his punishment," it added.
The letter to the Foreign Secretary further stated that there were three cases pending against Nawaz Sharif in the IHC and one reference in the NAB.
"Nawaz Sharif could not satisfy why his passport should be renewed further. If he wants to return, he can apply for an emergency travel document (ETD). Pakistan High Commission should respond to Nawaz's request in writing that his passport cannot be renewed," the letter further stated.
Some experts believe it will be Nawaz Sharif who will benefit from a decision of not renewing his passport. They said if Nawaz's passport is not renewed, the British government may give an extension in his visa. They said the UK government has done the same in the case of PML-N leader Ishaq Dar.
When the Pakistan government refused to issue him a new passport after the expiry of the previous one, the UK government gave Dar permission to stay in Britain, they said, adding that Nawaz Sharif is not on the negative list of any security agency and there is no adverse report against him either.