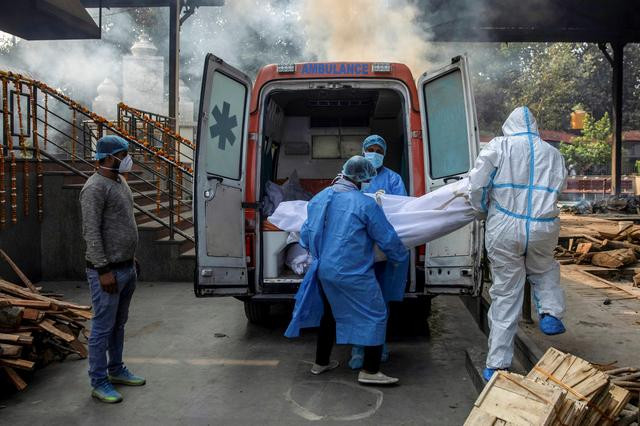 ---
NEW DELHI,:
India reported 275 new COVID-19 deaths on Wednesday, the most this year, as a second surge in cases fills up hospital beds in big states such as Maharashtra.
Infections rose by 47,262 in the past 24 hours, the highest since early November, to a total of 11.7 million, data from the health ministry showed. India has recorded the most number of cases after the United States and Brazil.
Total deaths have shot up to 160,441 in India.
Also read India's coronavirus infections rise by highest in three months
India's financial capital Mumbai is facing a second wave of Covid-19 infections that could overwhelm its health facilities, doctors said on Friday, after a record daily increase in cases in its home state Maharashtra.
New infections in India rose on the day by the highest in more than three months, heralding a return of school closures, shopping restrictions and other virus-fighting measures in parts of the world's worst affected country after the United States and Brazil.
Many Indians have also started questioning the government's highly publicised vaccine exports campaign when only a fraction of the country's 1.35 billion people have been inoculated.
Maharashtra authorities were meeting to draw up stricter guidelines to contain crowding, officials said, as a wholesale reopening of businesses last month brought back millions of people to the world's busiest urban rail network in Mumbai and to cinemas and malls.
COMMENTS
Comments are moderated and generally will be posted if they are on-topic and not abusive.
For more information, please see our Comments FAQ