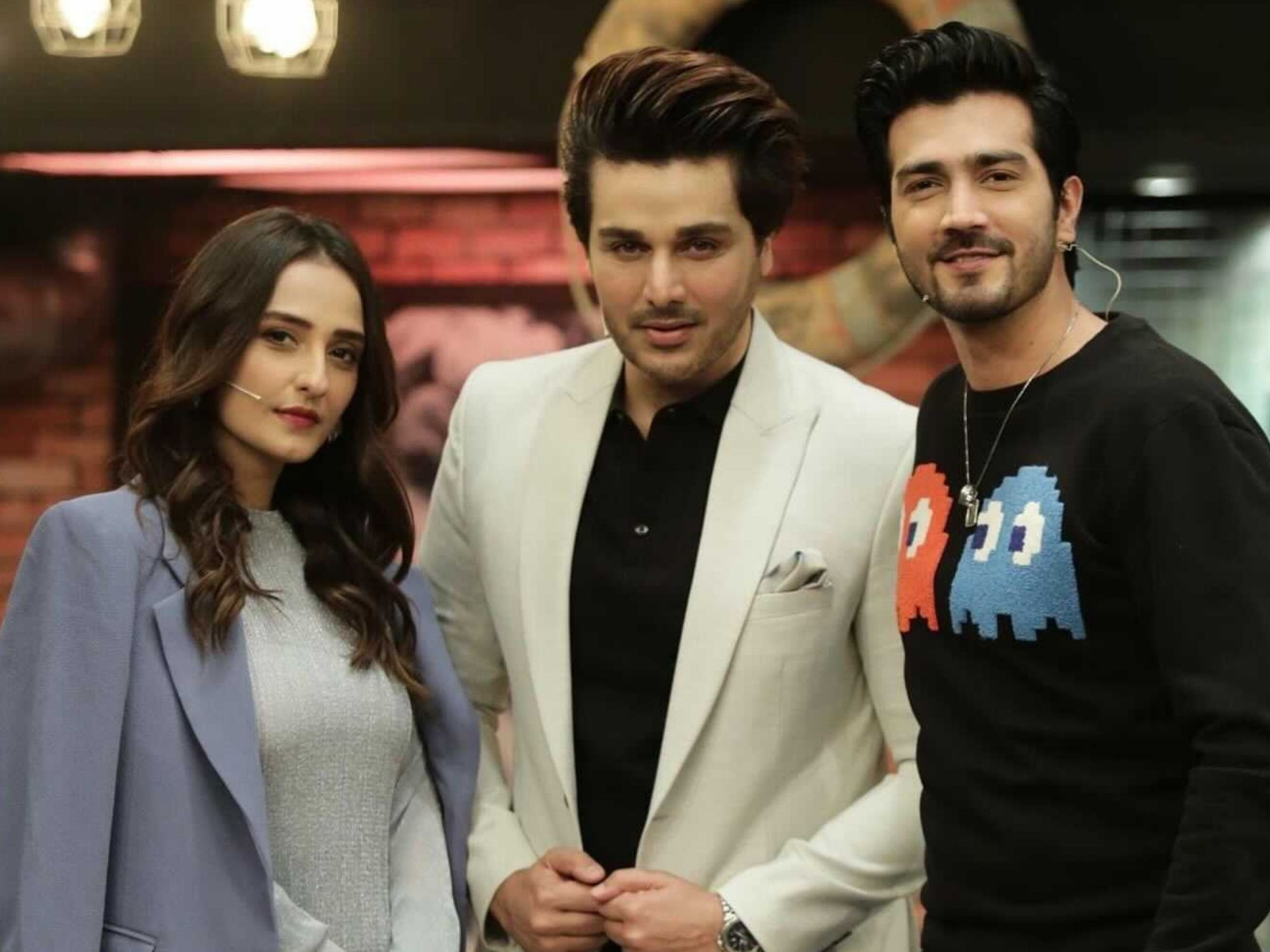 ---
Off-screen siblings, Shahzad and Momal Sheikh recently appeared on Time Out with Ahsan Khan, where they spoke about their family bond, personalities behind the screen, showbiz and future projects. Beginning the tell-all, the show host congratulated Momal on the latest addition to her family, a baby girl she gave birth to last year. Shahzad then praised his sister for being the one who keeps the family together.
Momal then revealed she is her father Javed Sheikh's favourite child. "I wonder why this question even came up about who our father's favourite child is. It's without a doubt me, because he also considers my birth year as lucky since he bagged at least 13 films during that time," she said.
Appearing in a film across the border, titled Happy Bhag Jayegi, Momal disclosed her three wishes. "Everyone person has a bucket full of wishes," shared the starlet, adding, "For me personally, the first one would be dancing in a movie because I can groove quite easily. Secondly, dancing along with you (Ahsan) in any upcoming award show and lastly, to host a show of my own."
She then weighed in on her Bollywood experience, admitting it did not turn out the way she had dreamt it to be. "When I went to Bollywood, I was hoping for the typical SRK moment that we grew up with. But to my dismay, I was sitting in a car and could only hear the dramatic music from afar," quipped Momal.
Switching from Momal to Shahzad, Ahsan asked the Raaz-e-Ulfat actor if there is any directorial in the works in collaboration with his father, the iconic Lollywood star. Shahzad responded, "On days like these, during the coronavirus lockdown, we got to spend time at home and talk about scripts, with one of them being our directorial plan too. So, here's the thing; it takes time for me to get comfortable around my father's ideas and plans because our concepts usually clash." He added, "If there were to be a project, I will play my part as an actor whereas he (Javed) will be directing it."
Coming to family matters and public interaction, Ahsan questioned the sibling duo about the fallout between their cousin Shahroz Sabzwari and his former wife Syra Yousuf. "I think Syra and Shahroz handled the announcement very professionally," began Momal, explaining how the negative feedback was handled very maturely by the two. "People are always going to talk, they have in the past as well and they will keep on doing it. My personal stance on their relationship is that they are two grown adults who will take a decision that they think is best for them."
Adding onto her two cents, Shahzad mentioned, "The third member, Sadaf (Kanwal) is the most mature and down to earth woman you will ever meet. And we are so proud of the way she handled the negative feedback online. So, I guess I can say on the basis of her pure heartedness, that God's will was always with her."