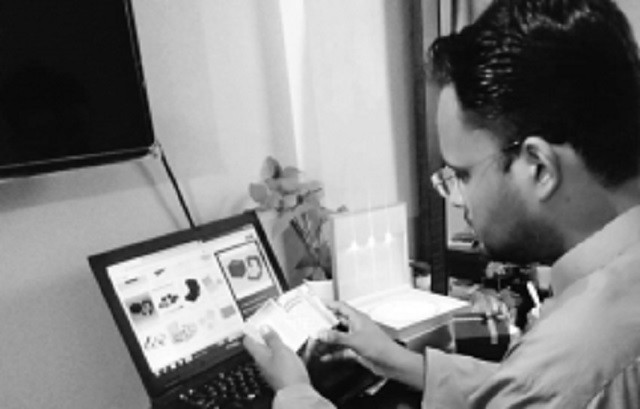 ---
KARACHI:
One day 33-year-old Shehryar, a resident of Karachi, was fired from his job of 15 years. Two months later, he had a plan in his mind - to set up his own business and grow. It was October 2020 and Pakistan was still struggling in the face of a pandemic.
He was one of the many unfortunate individuals who lost their jobs as the Covid-19 pandemic gripped the country. Having studied only till intermediate, hailing from a humble background and with little savings, Shehryar was nearly empty-handed when he set up his business, which is flourishing today.
"I only had strong faith and high spirits," he said, reminiscing his time of struggle.
Shehryar had started working right after he passed the intermediate exam to support his family. Even while studying, he used to give tuitions.
However, he gave up studies after intermediate and began working as an assistant accountant for an enterprise based in Jodia Bazaar that dealt in jewellery boxes. It was 2007 when he was hired there.
After 15 years, in 2020, he was sacked, and he embarked on a journey to reach greater heights. His savings were spent within two months after losing the job. But not losing hope, he established an online business on a small scale.
For the purpose, he rented a small office in Jodia Bazaar and began dealing in artificial jewellery.
However, he earned little and that was insufficient to meet his household expenses. Shehrayar's determination though, didn't let him give up and he found assistance from social media groups that supported young entrepreneurs.
He realised that in order to succeed he needed to work in a sector in which he had experience. And so, he began manufacturing boxes, but for clothes and cosmetics.
This was despite the fact that the company he was employed at had restricted him from working in the same sector as them. So much so, that he was even asked not to run a business in Jodia Bazaar.
Shehryar, though, stood firm in the face of these challenges and kept working towards the achievement of his goal until his business began flourishing.
According to him, consistency and a clear business strategy ensured that he stayed afloat.
"You need to take small steps and you will eventually reach your destination," he said.
It has been four months since Shehryar established his business, and he is again facing uncertainty with the reports of a third wave of the coronavirus hitting the country.
"The demand for my products is declining in the face of rising inflation as purchasing power continues to decrease," he said, adding that prices of his products had increased due to hike in cost of raw material.
This, in turn, is affecting sales, he explained. But his ambitions remain high.
"I am supplying boxes across the country and as soon as the situation normalises, I plan to import them," he said.
This story is part of a weekly series that seeks to bring to light the unsung heroes of Karachi - the hawkers, traders, doctors, teachers, engineers, lawyers and daily-wage labourers. It is they who make Karachi the city of lights.