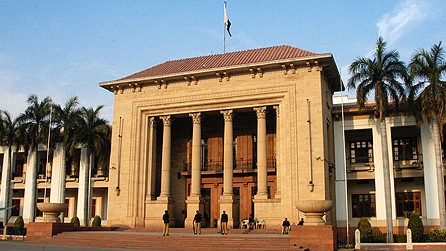 ---
LAHORE: The Punjab Assembly on Monday unanimously approved 43 demands for grants worth Rs583 billion.

Speaker Rana Muhammad Iqbal chaired the session.

The demands for the grants were read out by Finance Minister, Tanveer Ashraf Kaira. Since the opposition had boycotted the session, the demands were approved unanimously – without any cut motions.

The opposition had earlier moved seven cut motions, demanding the revision of allocations to police, health services, industries, irrigation, general administration and agriculture sectors. But due to the boycott, there was no debate on them and the demands were approved without any hurdle.

Some of the members criticised the statement of the US Special Representative to Pakistan and Afghanistan, Richard Holbrooke and called for moving a resolution against it. MPA Rana Afzal criticised Holbrooke's statement. He urged the assembly to take notice of the statement and pass a resolution condemning it. "This is an attack on the sovereignty of Pakistan," Afzal added. MPA Saeed Akbar Niwani also took a similar stance and spoke vehemently against the statement.

False report on south Punjab

Earlier, while summing up the budget debate, Kaira thanked the members for their suggestions. He criticised some of the opposition members for forging figures and defended the budget proposals. "We spent Rs110 billion by May this year on the development of the province," he said, adding that the opposition's claim of spending only Rs75 billion is false.

He also criticised Makhdoom Ahmed Mahmood for presenting what he called a "false report" about southern Punjab. Kaira said the World Bank (WB) had never presented any report, in which it had compared the spending of the Punjab government. "I have verified it from WB and would like to correct Makhdoom that no such report had ever been prepared for any of Punjab's cities," he said, adding that the current government has increased spending in South Punjab. The finance minister also said the government had allocated large amounts for agriculture and irrigation. "These sectors are the backbone of our economy. The government has allocated Rs200 million for the construction of 200 mini dams in the Potohar area," Kaira added.

Huge funds allocated

Kaira also informed the assembly that Punjab had started work on electricity generation from provincial hydel sources. "The Asian Development Bank has given Rs4 billion for starting construction work on five sites," he said. Kaira said South Punjab had been allocated a huge share; therefore, it was useless to criticise the government for ignoring the area. He said the government had also decided to establish committees, which would monitor disbursement of allocated funds and make sure the money was spent properly.

He also congratulated Punjab Chief Minister Shahbaz Sharif for a balanced budget.

Published in The Express Tribune, June 22nd, 2010.
COMMENTS (1)
Comments are moderated and generally will be posted if they are on-topic and not abusive.
For more information, please see our Comments FAQ