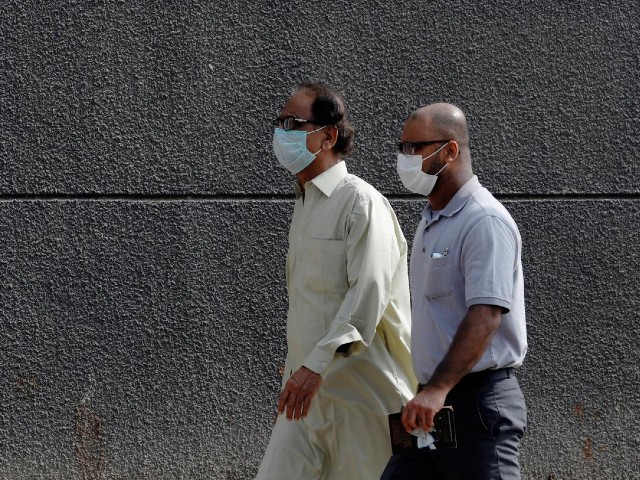 ---
Pandemic on the rise as positivity ratio hits 8%
According to NCOC, total active Covid-19 cases across the country were reported to be 27,188
---
The number of new cases of Covid-19 continued to rise this week, as the positivity ratio hit 8% on Friday amid the ongoing third wave of the coronavirus pandemic, data issued by the National Command and Operation Centre (NCOC) suggested.
The NCOC – the nerve centre of the government's unified effort to contain the spread of the contagion – confirmed the upward trend which started at the beginning of March, after an unprecedented fall earlier in the year when the number of new cases was reduced to around 1,000.
The number of active cases jumped to 27,188 with 3,449 more people testing positive for the virus in the last 24 hours, while the recovery of the patients declined to 819 for the first time in many months. It added 40 patients, 38 of them in hospitals, including 17 on ventilators, died during the last 24 hours.
The country is in the grip of a third wave of the disease. On Thursday, the NCOC reported more than 3,000 new infections for the first time since the last week of December 2020. The rise in the single-day tally also pushed the positivity ratio to 8%.
According to the data provided by the NCOC, most of the deaths on Thursday occurred in Punjab, followed by Khyber-Pakhtunkhwa (K-P). It added that 2,601 coronavirus patients were admitted to hospitals across the country.
Read more: Stricter Covid-19 restrictions might be enforced if SOPs flouted, warns Umar
The virus first emerged in the country in February, 2020. Since then, 619,259 cases have been detected, including 11,377 in Azad Jammu and Kashmir (AJK), 19,290 in Balochistan, 4,967 in Gilgit-Baltistan (G-B), 50,096 in Islamabad Capital Territory (ICT), 77,972 in K-P, 193,054 in Punjab and 262,503 in Sindh.
The NCOC said that so far, 578,314 people have recovered from the disease across Pakistan, including 813 recoveries in the last 24 hours, making it a significant count with over 90% recovery ratio of the affected patients.
As of Friday, the nationwide death toll stood at 13,757 – 4,473 in Sindh, 5,919 in Punjab, 2,196 in K-P, 536 in ICT, 202 in Balochistan, 103 in G-B and 328 in AJK. A total of 9,691,087 corona tests have been conducted so far, including 42,845 on Thursday.
(WITH INPUT FROM APP)