 ---
A video of two University of Lahore students embracing each other went viral on Thursday after the girl went down on one knee and proposed to her university classmate, as onlookers cheered them on. The clip shows the girl presenting a bouquet of roses to the boy. As he accepts it, the two lean into a hug, seeming like a rather movie-like scene.
The video went viral, garnering mixed reactions from netizens. While many lauded the couple, others called them out 'for promoting vulgarity'.
The hoo-ha was massive, which resulted in the duo being called in by the varsity's management on Friday. However, according to the notice issued by the University of Lahore, the students "failed to appear in the special meeting of Disciplinary Committee on March 12." The notice further shared that the two students are expelled and "debarred" from entering the university premises for "violating University rules and regulations and serious infraction of the code of conduct."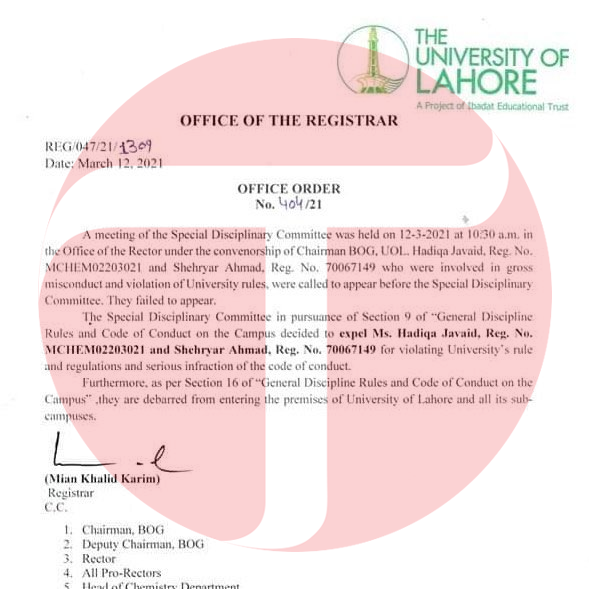 Many took to Twitter and called out the decision to expel the students, making #UniversityofLahore the top trend on the micro-blogging website on Friday. Jibran Nasir, Mira Sethi and others shared their two cents on taking such a grave action over a harmless video.
"Two Lahori students expelled because of a public marriage proposal and subsequent display of affection," Mira wrote on Twitter. "What a violent, toxic mess this is. A State that surveils, censors and bans all things natural and joyous, not realising THIS is how you brutalise a society."
The activist-turned-politician, too called out the institution's decision to expel the students and penned, "A country where pedophiles are defended and protected in the name of child marriage and converting religion of little girls we are uncomfortable with two consenting adults expressing love for each other. We reduce our so-called morals to a joke every day."
He further added, "People are mad because two young adults had the courage to not give a damn about this hypocritical society where we top the google list for searching all sorts of perverted sexual fantasies, where harassers are celebrated and pedophiles are protected. May their true love shine bright."
A user shared, "Expressing love in this country led 2 college kids to expulsion," adding, "But sexual harassers can roam freely. Rapists are given the benefit of the doubt. Animals are shot multiple times. Endangering the lives of women in the Aurat March has no consequences. No room for love."
Another tweet read, "They expelled two students for being in love meanwhile the teacher who sexually harasses students in the campus still stays."
One more remarked, "I don't wanna live in a world where expressing affection is restricted. George Orwell predicted this future in his novel 1984 and he was right."
The Outrage:
Have something to add to the story? Share it in the comments below.