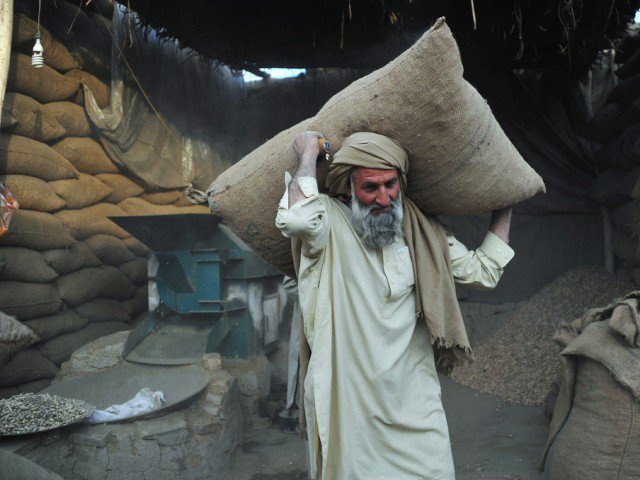 ---
KARACHI:
Labour activists called on Thursday for changes and improvement in legislation to benefit the labour class and decried industrialists for not fulfilling their responsibilities to ensure that workers are given due rights.
Even when labour laws in the country state that workers' rights be displayed in factories, industrialists are simply not interested in making their workers aware of their rights, said Sindh Labour Federation (SLF) President Shafiq Ghauri at a stakeholder's meeting focusing on 'Labour Laws Campaign to Upgrade and Secure the Coverage of Labour Laws and Social Protection of the Workers'.
"It is the labour inspection system's responsibility to check which law is implemented in workplaces and to what extent. However, they also fail to do their job," said Ghauri.
The SLF president added, "Industrialists only seem to be interested in depriving their workers of their rights and exploiting them."
He asserted that there was no justice for the working class, although industrialists were in a position of power to help the poor workers.
"With regards to trade unionism in the country, we need to figure out how to bring a revolutionary change in the thinking patterns of the working class. Labour laws are ideally welfare laws. However, the situation seems different in all our provinces," he said.
Read: Activists gear up for sit-in at Frere Hall
Ghauri lamented that despite having rich history of labour laws, Pakistan lagged behind in the execution of those laws.
The SLF president claimed that consultation committees on labour also failed to do their job.
"Government officers and certain trade union representatives in these committees have no interest in the welfare of the workers," he maintained.
In this regard, he pointed out that the Sindh Industrial Relations Act, 2013 had a duplication, which had not been removed to date.
"I say this with deep regret, but there is simply an inability, a lack of will among our parliamentarians to fix these legal issues and execute laws."
Proposals to amend legislation
At the consultation meeting, the Pakistan Workers Federation (PWF) shared its position paper with stakeholders.
Speaking on the Sindh Employees Social Security Act, 2016, PWF General Secretary Zahoor Awan stated, "The PWF understands that the Act provides social protection to the workers of industrial and commercial establishments and their dependents. However, the PWF has also noticed some issues with this Act. Rectification of this law will make it more effective."
According to the position paper, the term 'establishment', which refers to industrial, commercial and other organisations, does not cover agriculture workers.
Regarding, the medical care of domestic servants, efforts should be focused on extending social security to domestic workers, it reads. "The government should initiate special steps to encourage maximum coverage of women workers and construction workers under the social security scheme."
Another proposed amendment to the existing law states, "Home-based workers may also be brought into the ambit of the Sindh Employees Social Security Act, 2016."
Worsening condition
Speaking to The Express Tribune, PWF Sindh General Secretary (GS) Asad Memon said that the working conditions for people in Sindh had worsened over the years.
"It is same in Punjab, Balochistan and Khyber-Pakhtunkhwa (K-P). The contemporary issue is that after the 18th Amendment, when provincial autonomy began across the country, the Employees Old-Age Benefits (EOBI) institution was formed at provincial level. PWF demands this institution remains with the Centre because Punjab and Sindh have so many industries that the tremendous revenue they generate will simply benefit said provinces. Balochistan and K-P, which lack these industries, will not be able to pay pensions and other benefits to their registered workers," he explained.
Also read: Activists urge end to cruelty against animals
He added that while the situation was better in Punjab with regards to social security benefits, it continued to worsen over the years in Sindh.
"In Sindh, labour colonies have existed for the past seven to eight years, yet people living there are deprived of basic amenities. Sindh social security hospitals are providing poor quality medicines," he said, giving the example of Baldia factory fire.
"Investigations into the 2012 Baldia factory fire incident revealed that only 50 workers were registered in the records," he said. "But around 300 bodies of workers were taken out of the factory."
Need for better legislation
Besides, PWF Sindh chapter GS Asad asserted that labour laws and their execution could be improved through labour institutions, such as the social security department, EOBI and workers welfare board.
"The governing bodies have worker and government representatives but PWF has not been included. Due to this exclusion, labour rights are not implemented. The rightful representatives of the working class who have a strong record of voicing support for the working class must be included," he said.
He added that, "The PWF has been making proposals to bring improvements in the legislation on labour. However, there is an onus on the stakeholders to sensitise themselves on labour issues. Awareness among workers is not enough when the upper class does not care."
Published in The Express Tribune, March 12th, 2021.