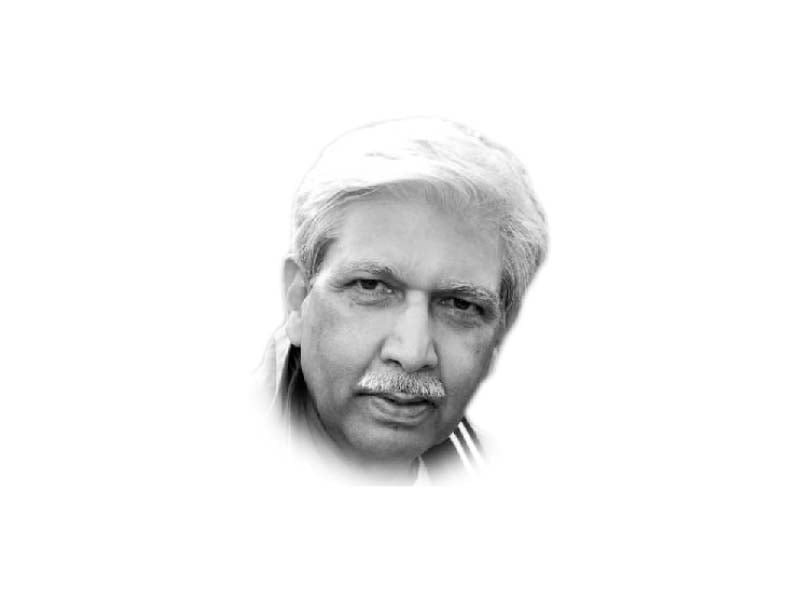 ---
India and Pakistan have always had someone knocking sense into them. Rarely have they conceived a path of good by themselves. Moeed Yusuf, our veritable SAPM and the NSA, has done a whole lot of work on it. Other than the initial few years when the British had to work through the issues they had left behind the Americans took over to come in to keep the two feuding children of the Subcontinent from coming to blows. Sometime the two did come to blows and shattered the family china. This involvement of the US has increased ever since the two sides went overtly nuclear though that happens only when both are beyond themselves in anger and are on the path to mutual assured destruction. For other times they just let them bicker on. Kashmir and the Kashmiris thus continue to suffer under this quixotic broad-brush the world paints the two sides with. We remain muddled in legacy and core issues.
Far more serious things have happened to reduce the fracas of South Asia to merely a bicker. China has reached the borders of Indian-occupied territory in Ladakh and with its muscle has reacquired what had always been its claim forcing the Indians to acquiesce to 1959 Line of Actual Control for peace. This has meant a readjustment of tens of thousands of square kilometres' territory in China's favour. This came about without a shot being fired and both sides literally coming to blows in physical brawls. Geopolitics and force differentials have that kind of an effect. At the same time a change in the administration saw India on a limb in its northeast bereft of the cover it thought the Trump administration had held out to her. Joseph Biden instead wants to shift back to the progressive themes of global governance especially after reeling badly under the Covid pandemic. One-on-one India had no chance against China. It chose to cut its losses under newer geopolitics.
Then there is an even bigger homemade omelette in America's Afghan problem. It isn't as many here tend to believe, 'to go or not to go' — they are already reduced to 2,500 with a promise to evacuate entirely save some contracted security arrangement by May 1 this year; or the Democrats may lose the next election to Trump who will grill Biden and Co on charcoals for lacking the courage to implement what was decided in American interest. The issue for Biden is 'how to go'. To go is determined and his previous boss had already declared Afghanistan and Iraq, America's unnecessary wars. In its scheme to do what is needed in terms of going back home with the remaining troops the US needs Pakistan and its assurance of influencing the Taliban to let the peace plan take effect.
This would have happened already since both the Taliban and Pakistan seek peace and an end to war but for the two spoilers: the Afghan government which wouldn't sustain without American presence in the form of boots-on-the-ground, and India which likes strife to persist to fish in the muddy waters and keep Pakistan diverted from a wholehearted attention to a simmering eastern front with India. Biden's agenda only gets served if India can keep its finger out of the Afghan pie and to that end it must pause its kinetic and persistent mischief against Pakistan using Afghan soil. That much Pakistan has repeatedly conveyed to the US and those yearning for stability in Afghanistan. One of many factors for Afghanistan to find peace is to obviate the use of its soil by malignant powers in the region to pursue their nefarious objectives.
There is no appetite for war in a world riven by pandemics and climate catastrophes. Biden will be asked what he did to control and end the pandemic even before he answers on the economy. For it to materialise US must put an end to its hostility with China and whoever else is needed as a potential partner. Russia may not count as much as it is a regressing power but China is the new leader of the world in both economic and strategic terms. In each of what Biden outlines as imminent concerns — climate change, pandemics and economic slow-down — China will need to be on-board to work out a common stratagem to help find the world new pathways. If this is what Biden's and the Democratic Party's future success is staked on he cannot be as audacious as Trump was in supporting those meaning to take on China. India thus finds itself on a limb in the new construct. Without active US support it has limited potential to contain China even if it remains a US interest which India is willing to assist as a conduit. Trump was reckless about it; Biden will be cautiously guarded.
India thus finds itself on the wrong side of time with most of what has been its policy measures in the new environment. Its August 5, 2019 attempt to change the status of Kashmir brought China on its borders in a near-war and made it cede to China's long-held claim of going back to the 1959 LAC. She has piled international infamy for its suppression, oppression and near-genocide of the native Kashmiris. India finds itself sandwiched in two hostile fronts and despite claims of a capacity to fight on both simultaneously has found itself adequately short. Internally the farmers agitation compounds a growing unrest among the civil society about Modi's highhandedness against minorities and his outlandish support for right-wing Hindutva domination. It is thus that Modi seems to be backtracking on its policy on Pakistan to return to the 2003 unilateral ceasefire at the LoC.
It will give India space to adjust to newer geopolitical realities, especially the changes in the US, while it works through difficulties emanating from China. Since India has had to cede dignity in agreeing to China's assertiveness in Ladakh she has also twisted the need to find accommodation with Pakistan — for helping foster peace in Afghanistan as an imperative to US policy there — into a moral gain of a nation seeking peace all around. How will such moral embellishment of a strategic necessity bolster his position against domestic political predicaments will need to be seen but it isn't incomprehensible for him to revert to India's warring ways on the LoC if the situation within so demands for a political ploy. This should place the sudden change of heart in perspective.
Every time Modi is due for elections he triggers the western front to make a case for hyper-nationalism as his plank for political gain. 2020 saw more than 5,000 violations of the LoC which has been the trend since 2013 when BJP came to power. The LoC had touched similar numbers in 2002 in a tense stand-off when a war seemed imminent. The 2003 'Understanding' — it is not an 'Agreement' — between the two sides to observe unilateral ceasefire brought an end to this mindless bellicosity. Will it survive Modi's opportunism and pave the way for what has remained an unfulfilled promise of South Asia remains as enigmatic as is the uncertainty of South Asian peace.
Published in The Express Tribune, March 5th, 2021.
Like Opinion & Editorial on Facebook, follow @ETOpEd on Twitter to receive all updates on all our daily pieces.