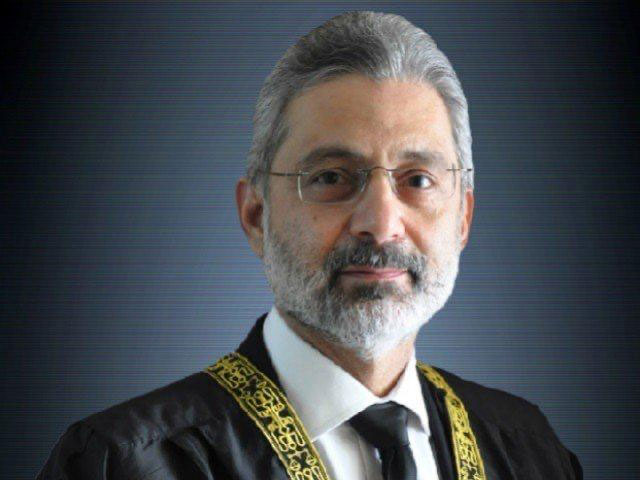 ---
ISLAMABAD:
The federal government has decided to oppose Justice Qazi Faez Isa's application seeking the apex court permission to allow live TV coverage of the proceedings of his review petition against the majority judgment that had referred the matter of his family's properties to the Federal Board of Revenue (FBR) for inquiry.
Additional Attorney General Chaudhry Amir Rehman told a 10-judge larger bench headed by Justice Umar Ata Bandial that the federal government would oppose Justice Isa's application.
Later, the bench issued a notice to the government on Justice Isa's review petition as well as his application requesting a live broadcast of his case.
During the hearing, Justice Syed Mansoor Ali Shah, a member of the bench, said that science and technology should be welcomed to bring transparency to the justice system.
He observed that science and technology had played a great role in improving and ensuring transparency in the system.
The judge also referred to innovation in DNA research, as hundreds of convictions had been overturned. Likewise, cameras were installed in the district courts for supervision. However, Justice Shah wondered about the downside of live coverage of court proceedings.
According to Justice Isa, two members of a bench could negate administrative decision taken by the full court. However, he said that the court should keep in mind that a decision by the 10-judge larger bench cannot be overturned by a full court from the administrative view.
Justice Isa while referring to the judges' code of conduct said that justice should not only be carried out but should be done.
He described the judgment in the Zulfikar Ali Bhutto murder case as the "most controversial" and also referred to Justice Naseem Hassan Shah's interview wherein he had revealed that there was pressure by the government to issue a verdict against the PPP leader.
The senior judge said that if a recording of the case was available, it could also be used for educational purposes.
"Why [do] we bury history," he asked the bench. At this, another member of the bench Justice Manzoor Ahmad Malik urged him to avoid referring to the judgments that could be cited before them in a case.
Later, Justice Isa wondered if a judge could be maligned publicly and asked why their case could be heard publicly.
He noted that the main stakeholders of the justice system were the litigants and highlighted that the live coverage was beneficial for education, ensuring discipline and improving quality of the justice system.
When Justice Isa referred to a question as to what "establishment" was Justice Bandial replied that it was a political argument. However, Justice Isa responded by saying that it was not a political question but an avoidance of the truth. The SC judge also lamented that military dictators ruled the country for 35 years.
The hearing of the case was adjourned until Monday.
COMMENTS
Comments are moderated and generally will be posted if they are on-topic and not abusive.
For more information, please see our Comments FAQ